A "Plan B" on currency arrangements for an independent Scotland "implies settling for what's second best", Alex Salmond has said, as he insisted there will be a deal on a currency union with the rest of the UK.
The first minister has written an open letter to voters, published in The Sun, setting out why he has not yielded to calls to disclose a back-up plan, should his favoured option of sharing the pound and the Bank of England fail.
The letter comes after Salmond has come under sustained pressure from his political opponents to announce his "Plan B", with future currency arrangements dominating the independence debate.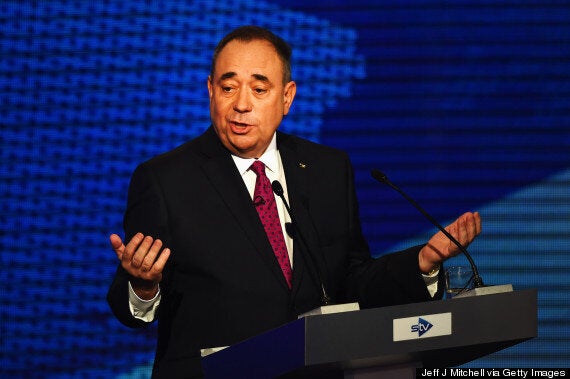 Alex Salmond said talk of a 'Plan B' showed his opponents think Scotland should 'settle for second best'
In the debate on Tuesday, Alistair Darling pushed Salmond on his "plan B" should the UK refuse to countenance a currency agreement, however Salmond demurred, refusing to answer beyond saying that Westminster would ultimately agree to a union, saying an agreement would not only be good for Scotland but the rest of the UK.
In his open letter, he wrote: "It is revealing that our opponents in the No camp like to talk about a 'Plan B' on currency.
"It's revealing because it says it all about what they think of Scotland.
"Plan B implies settling for what's second best. And neither myself, my colleagues in the SNP, or the wider Yes campaign will ever settle for second best for Scotland.
"The last thing I would do is back a plan which wasn't the best one for Scotland."
He said Scotland would be "willing and able" to take on its share of national debt, but could not be expected to do so if it does not get a fair share of the Bank of England.
"That means taxpayers in the rest of the UK would be lumbered with up to £5 billion a year in debt interest payments. And Scotland would start life as an independent country debt-free," he wrote.
"That's just one of the many good reasons there will be a currency union."
The First Minister's stance is at odds with the three main parties at Westminster who have already ruled out the prospect of a formal currency union, which would see Scotland retain the Bank of England as its lender of last resort.
Ed Miliband has said he will make a veto on a currency union a general election pledge should Scotland vote Yes in next month's referendum.
The Labour leader said: "I don't want there to be any doubt about it because I don't want people to be making this decision with ambiguity about Labour's position."
Better Together campaign director Blair McDougall said: "Alex Salmond doesn't get it. His campaign is in chaos and confidence amongst his own supporters is crashing because he can't even tell people what currency we would use in a separate Scotland.
"This is the defining question of the referendum. Every claim the nationalists make between now and September 18 will be undermined by their failure to tell Scots their Plan B on currency."
He added: "By claiming that a Plan B would be second best for Scotland Alex Salmond has given the game away. All of his options for currency in a separate Scotland are second best compared to what we have now - a strong pound as part of the UK. Only separation puts that at risk."