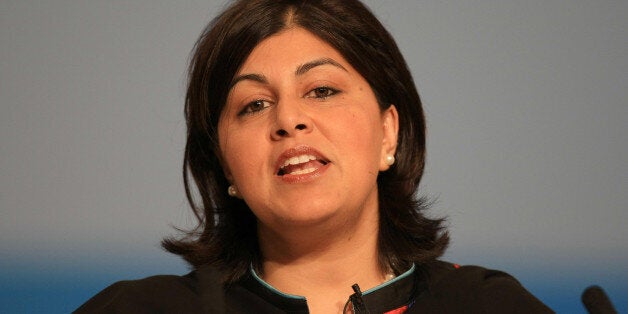 Last week Baroness Warsi quit the cabinet. In her first interview after resigning, Warsi focused on David Cameron's Gaza policy. She told The Huffington Post that Britain was not acting as an "honest broker" in the Middle East and called for an arms embargo.
However since then the former party chair has stepped up her criticism of the prime minister's handling of domestic politics and management of the party. Warsi, it seems, does not intend to quietly disappear on the dusty backbenches in the House of Lords.
On why Cameron will not win in 2015

"The electoral reality is that we will not win outright Conservative majorities until we start attracting more of the ethnic vote."

On Cameron's public school educated inner-circle

"I'd say I've done all right. I don't hold the fact that someone went to public school against them. I don't hold the fact that they haven't had the breadth of experience that some of us who didn't go to public school have had. I don't hold against them that they haven't had to fight as hard to get the jobs that we have had to fight as hard to get."

On male MPs

"Some of the bitchiest women I've ever met in my life are the men in politics."

On Philip Hammond's approach to Israel's action in Gaza

"I was absolutely unconvinced that there would be any accountability for what had happened."

On Sajid Javid being the only Muslim in the cabinet

"He does not define himself in the way that I define myself in terms of background and identity. That is a choice for him. I sincerely hope he steps into that role now that I'm not there."

On George Osborne and Michael Gove

"People like George Osborne and Michael Gove are very, very close to the Israeli leadership. What is the point of having that relationship if you can't use it to move them to a position which is in their interest and our interest?"

On the Liberal Democrats approach to Gaza
"The Lib Dems on this are being quite disingenuous. At the big meeting on this, where were the Lib Dems? Danny Alexander turned up and said nothing. It would have been helpful if I'd had two or three Lib Dem voices giving support to me. The fact is that they didn't."
Popular in the Community