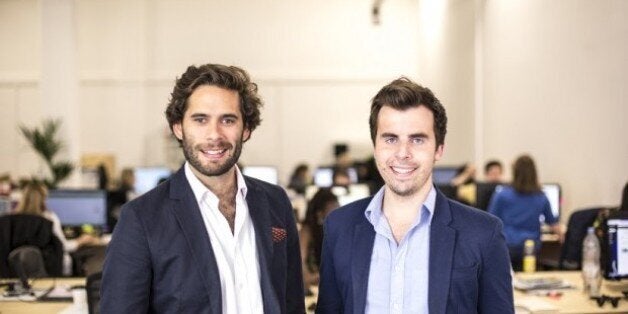 University friends Tom Brooks and Peter Dowds decided last year to pack in their high-flying City careers to go into business together after throwing a Christmas party and struggling to find a decent cleaner to help with the aftermath.
29-year old Brooks and 28-year old Dowds, after seven years respectively as a commodities trader and a lawyer, spotted an opportunity in the market - setting up somewhere for people to find a good cleaner online.
And so the pair ended up launching an online cleaner booking site, Mopp, which an accompanying app. Mopp is already growing quickly, with it expanding by 900% just this year, so the entrepreneurs are moving quickly.
HuffPostUK caught up with them to find out their story and what their plans are for the business.
How did you got the idea to set up Mopp?
We threw a party! Literally, we had the idea after we'd thrown a Christmas party at our flat and spent 2 hours online the next day looking for a cleaner, with no luck.
Every company we found had no online booking, tried to tie you into a contract or was just impossible to contact! It was very difficult to trust the services listed online as there was so little information provided, like the cleaner's experience, if the cleaner has been vetted and that the company itself could be trusted.
Why go into the cleaning business though?
Having repeated bad personal experiences was definitely the catalyst. Once we started digging into the industry, we saw a multi-billion market that had completely shied away from innovation and remained offline while other industries moved online with their customer base.
The high frequency of service and customer loyalty was other encouraging features. Having seen the success of offline to online shifts like Uber in the car travel space and JustEat in the delivery space, we felt that customers and cleaners deserved the same service in this industry.
We launched the first version of Mopp while still in our previous jobs but left a few weeks later when we started getting our first customers. It has been a roller coaster last 12 months and it was certainly tough going without a salary for the first 10 months of the business - we became very well acquainted with the Tesco Value range last year!
As with most start-ups, you put the rest of your life on hold to launch and gain initial traction. We were putting in 16 hour days, 7 days per week but it doesn't feel like work when you see the growth of the business each month and it turns from an idea to a proper business.
The biggest challenge has been building liquidity on both sides of the marketplace and growing supply and demand together across multiple cities. It seems obvious but the complete focus required on the quality of clean and reliability of the cleaning professionals rather than building a flash booking site has also been a big learning experience.
How's business doing now?
2014 has been a very strong year so far from Mopp. We have grown 11x in the first 6 months of the year going from a low six figure annual run-rate to a multi-million run rate and now have more than 1,000 cleaners using the platform in major cities across the UK.
We've also just moved into a great new 3,000 sq.ft office in Netil House, Broadway Market. It seems to be going down well with the team as we'd slightly outgrown our previous one...
What's your business inspiration?
As a brand and a business model, we're really inspired by companies like Uber and WarbyParker, who disrupted and accelerated established industries. We admire the brands that move fast and innovate to improve the customer experience. Additionally, we really care for our employees, in particular our cleaners who are the beating heart of the business and we take a lot of inspiration from companies like Zappos and Innocent.
Mopp is a closed marketplace and we want to make the customer experience as quick and painless as possible initially and then at a consistently good level going forwards so we take a stronger control of the supply side of the business.
The cleaners that we work with are the centre of our business and I think the dedicated cleaner support team we have here at Mopp sets us apart. We are also very mobile-focused and have been the first to market in Europe with an app service for our customers.
What's the aim for the next few years? And ultimately - to sell it on?
Our aim is to be the leading online home services business in Europe. The first 12 months of the business has been a fantastic grounding in the industry and we will build on this over the next 12 months as we scale across further cities in the UK and Europe.
The cleaning industry is still in the very early stages and 99% of consumers remain unaware that there is a far better online cleaning experience now available to them. Our job is to change that!