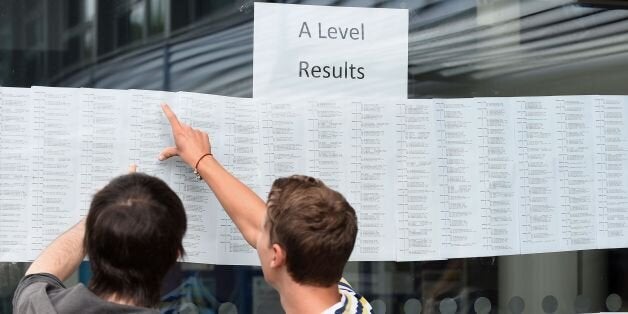 More A-levels were handed the very highest grade this summer, but the overall pass rate fell for the first time in more than 30 years, official figures show.
In total, just over one in four (26%) of exams were awarded an A* or A grade, down 0.3 percentage points on last summer.
But the proportion of A* grades handed out rose to 8.2%, up 0.6 percentage points on 2013.
And the overall A*-E pass rate fell by 0.1% to 98% - the first time it has fallen in 32 years.
Boys have outdone girls at A* grade for the third year running, with 8.5% of boys' entries attaining the top mark, compared with 7.9% of the girls.
The latest results come amid major changes to the system, with January exams scrapped, leaving fewer opportunities for students to re-sit papers. All exams are now taken in the summer.
Schools have been warned that they could see changes to their results this year due to the overhaul.
Exam chiefs today suggested that those schools which have traditionally used January exams for re-sits could see "greater volatility" than those who enter pupils for papers at the end of courses.
The latest results, which show how pupils in England, Wales and Northern Ireland have performed, show that an increasing number of students are choosing science, with the number electing to study biology, chemistry and physics rising by 2%, while those taking maths has gone up by 0.9% and further maths by 1.5%.
The number studying English has gone down by 4.6%, but even greater decreases can be seen in subjects such as political studies, which is down by 10.6%, and general studies, which has dropped by a massive 24.3%.
Results for other "facilitating subjects" - traditional subjects often favoured by top universities - remain relatively unchanged, the Joint Council for Qualifications (JCQ) said, with the majority seeing increases in A* grades but small declines at A.
JCQ said that there could be "several factors" contributing to this pattern in results, such as teachers working in different ways following the removal of January exams, a shift towards "facilitating subjects" affecting the proportion getting A grades and the A* becoming more important for universities and students.
Commenting on the results, Michael Turner, director general of the JCQ, said: "Although the system has undergone change, this year's national results are very stable.
"As ever, students and teachers across the country have worked hard to achieve them and should be congratulated for their efforts and the fruits of their labours.
"It is possible that due to the removal of the January series some schools and colleges may experience volatility in their results, depending on how they have adapted to the changes. But it is important to remember that standards have been maintained and, despite the changes, are comparable with previous years.
"The increase in the number of students taking Spanish and some other EBacc subjects at AS will be welcomed by many and it will be interesting to see if these rises follow through to next year's A-levels."