A senior member of Hamas has appeared to admit the kidnap and murder of three Israeli teenagers was carried out by his organisation.
The murder of Naftali Frenkel, Gilad Shaar and Eyal Yifrach, whose bodies were found more than a fortnight after they disappeared while hitch-hiking home to West Bank settlements, sparked a chain of events that culminated in a full-scale war between Israel and Hamas forces in Gaza, with more than 2,000 Palestinians killed.
Saleh al-Arouri, a senior Hamas figure originally from the West Bank who now lives in Turkey, told a press conference in Istanbul that he knew there was "speculation" over the killings. Israel has always said it believes the militant group co-ordinated the murders.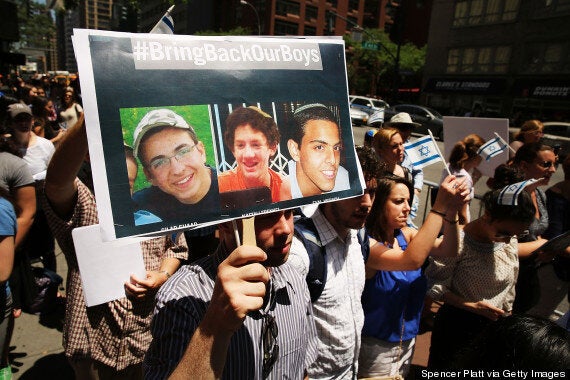 Gilad Shaar, Naftali Frenkel and Eyal Yifrach were killed in the West Bank
"The popular will was exercised throughout our occupied land, and culminated in the heroic operation by the Qassam Brigades in imprisoning the three settlers in Hebron," he said. The Qassam Brigades is the name of Hamas' military wing.
Israeli officials have repeatedly made claims in the media that al-Arouri was behind the deaths of the three teens, sponsoring "cells" in order for them to take hostages. "Al-Arouri has financially sponsored these cells, which were trained and directed to abduct Israelis. Often that money was transferred through charities to obfuscate their real destination — the would-be kidnappers," the Times of Israel reported in July.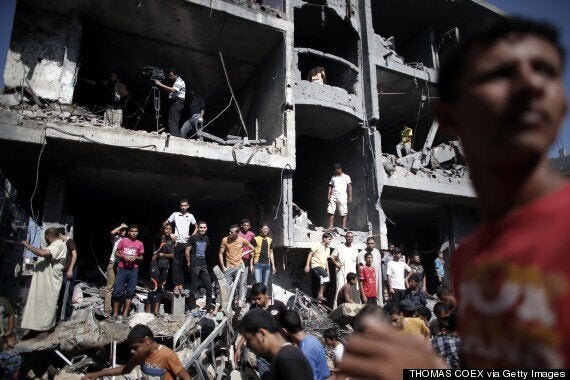 Palestinian gather around the rubble of a building destroyed following an Israeli military strike in Rafah in the south of the Gaza Strip
A recording of a desperate phone call to a police hotline by one of the Israeli teens before he was killed was released on Israeli media. A voice, believed to be Shaar's, is heard saying in Hebrew "I was kidnapped" followed by another voice shouting "head down." The police man attempts to get the boy to speak more, but the abductor continues to shout "head down". Then a voice says in Arabic: "Bring it here, bring here, take the phone from him."
Intelligence officials believe that the boys' abductors had planned to hold them to ransom, but panicked when Shaar used his phone, and shot the three teens.
Following the funeral of the boys and mass arrests of Palestinians in the West Bank, tensions swelled, with intensifying rocket attacks from Gaza into southern Israel, the killing of seven Hamas members in an airstrike, and the brutal murder of 16-year-old Palestinian Muhammad Hussein Abu Khdei in a suspected "revenge" attack by Israelis.
The ensuing conflict, named Operation Protective Edge by Israel, has lasted 45 days, with more than 2,000 Gazans killed, the deadliest operation to have taken place since the Second Intifada.
Three senior Hamas commanders and four children were among at least 15 Palestinians killed in Gaza overnight as the conflict's longest ceasefire crumbled and Israel stepped up air strikes.