Dan Osborne is clearly suffering from a very serious condition. The 'TOWIE' cast member appears to be allergic to clothes. That can surely be the only reason that he's decided to take on the ALS Ice Bucket Challenge completely in the buff, right?
While the Ice Bucket Challenge has so far been a brilliant way to raise awareness of Amyotrophic Lateral Sclerosis - better known as motor neurone disease here in the UK - and make some money for the ALS Association, it's also given us a pretty decent excuse to look at stars like Calvin Harris, Justin Bieber and David Beckham soaking themselves in water with their tops off.
Talk about a win/win.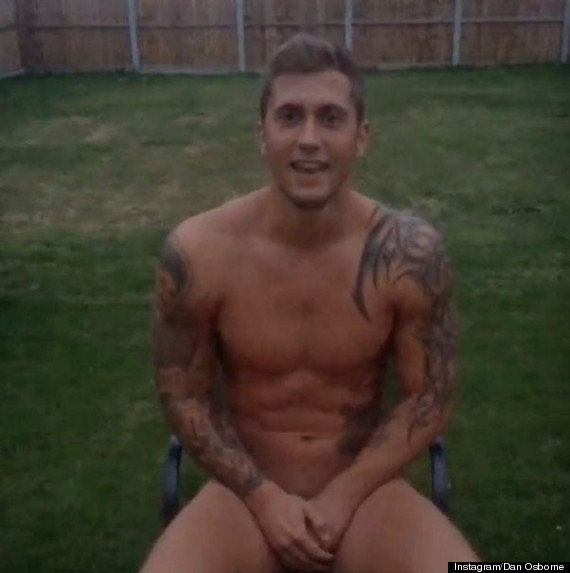 Dan Osborne takes on the Ice Bucket Challenge
However, Dan has now taken this to the next level, and undergone the challenge completely in the nude, while sitting in what appears to be his back garden.
Before being doused in the ice cold water himself, Dan nominates fellow 'The Only Way Is Essex' cast member James Lock, TV presenter Vernon Kay and former 'X Factor' singer Rylan Clark.
He then finds himself soaked in the freezing water, only to run off, but not before giving us a glimpse of his bum.
Cheeky.
Phew, we think we might need to douse ourselves in some ice water after seeing that...
Dan recently announced that he is to become a father for the second time, with his 'EastEnders' actress girlfriend Jacqueline Jossa breaking the news of her pregnancy last week.
Thankfully, Dan seemed a bit more willing to take part in the Ice Bucket Challenge than 'Top Gear' star Jeremy Clarkson, who blasted his kids when they woke him up from his nap, only to soak him in water.
Meanwhile, Pamela Anderson has outright refused to take part in the challenge, claiming the ALS Association's animal testing goes against her beliefs as an animal rights activist.
LIKE US ON FACEBOOK | FOLLOW US ON TWITTER