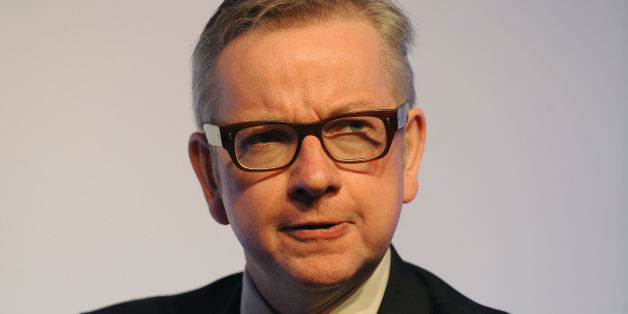 Joe Giddens/PA Wire
Michael Gove has faced a barrage of online abuse as teenagers turned on the former education secretary after collecting their GCSE results.
To the shock of many pupils, the proportion getting at least grade C in English fell drastically on Thursday, as 500,000 students received their results for the first time since the now Tory chief whip overhauled GCSEs to make them more rigorous.
Overall, the results for England, Wales and Northern Ireland showed a tiny increase in the proportion of pupils getting at least grade C, up 0.7 percentage points to 68.8%.
But the overall A*-G pass rate has fallen for the second year running, and is down 0.3 percentage points to 98.5% from 98.8% in 2013 - leading teachers' representative to brand the outcome "a disgrace".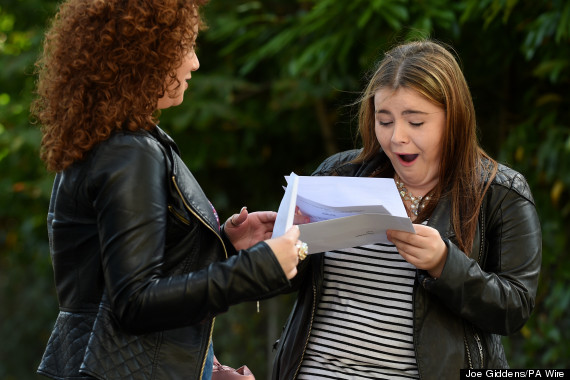 Leah Willis (left), 16, and Steph Bailey, 16, celebrate as they open their GCSE results
The proportion of entries awarded the highest grade has also fallen slightly, with 6.7% gaining an A*, down from 6.8% last year - it is the third year in a row that the percentage has dropped.
Within minutes of teenagers picking up with their exam results, many took to Twitter to blame Gove personally for their poorer than expected grades.
From vented rage, to misspelt insults, here's how disgruntled students responded to Gove's GCSE revamp:
Mr Gove, come visit me in McDonalds. #failed #GCSEResultsDay2014

— Nick Cooper (@NickCooperMCW) August 21, 2014
Our school got 60% A*- C grades. Michael Gove fucked every single one of us over 😊

— Jack Levins (@JackLevins) August 22, 2014
Can't stop crying I hate michael gove

— two worlds away (@_SallyCharlton) August 21, 2014
Fucked over by Michael Gove. Would have had 4 A*'s and 7 A's if he hadn't changed the rules

— sarah help me (@Cutt4Hayley) August 21, 2014
Just because my results aren't as bad as they could of been, doesn't mean I don't want to hurt Michael Gove with a cast iron skillet

— Dr. Wondertainment (@GoodenJarvis) August 21, 2014
If you didnt do so well with GCSEs, blame Michael Gove, he's the reason I got a U in geography anyway

— Stan Elwick (@StanElwick) August 21, 2014
But others defended the former education secretary saying pupils should take responsibility for their own grades.
Crap GCSE/A Level results? Just blame Michael Gove. Because it's definitely his fault, not yours.

— Will (@WillMcHoebag) August 21, 2014
It's not Michael Gove's fault that you're a moron. Self responsibility is dying out in this generation of vacuous, ignorent jackass's.

— Jon Connell (@jkconnell86) August 22, 2014
Teenagers giving Michael Gove abuse online because they got poor GCSE results just sums up everything that's wrong with Britain.

— Jon Connell (@jkconnell86) August 22, 2014
I bet the online abuse teenagers aimed at Michael Gove confirmed the fall in standards of English.

— Fallacio Hornblower (@INewpersona) August 22, 2014
Brian Lightman, the general secretary of the Association of School and College Leaders (ASCL), told The Times Educational Supplement some schools had experienced "nasty and demoralising surprises" and that "it seems to be schools with a larger number of disadvantaged students, who are working at the C/D border line, that have been hit the hardest".
"The arrogant refusal to listen to the justified warnings from school leaders about rushed reforms has once again affected the life chances of some young people. That is a disgrace," he wrote.