A British national living in Sierra Leone has tested positive for the Ebola virus and is currently being assessed by medical experts, the Department of Health has said.
The Department said medical experts were assessing the situation "to ensure that appropriate care is delivered" and that consular assistance is being provided. It refused to give any further details on the victim or their condition.
Professor John Watson, deputy chief medical officer, said in a statement following the revalation: "The overall risk to the public in the UK continues to be very low. Medical experts are currently assessing the situation in Sierra Leone to ensure that appropriate care is provided. We have robust, well-developed and well-tested NHS systems for managing unusual infectious diseases when they arise, supported by a wide range of experts."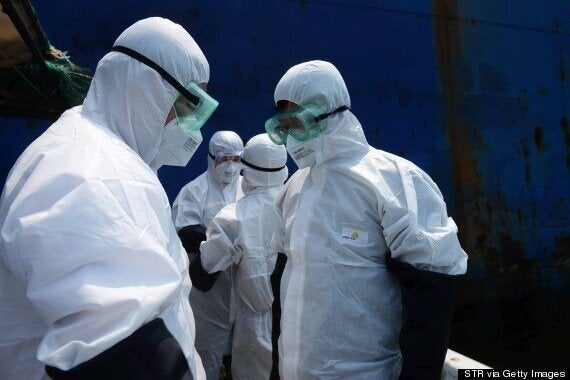 Quarantine officers inspecting cargo from Sierra Leone
The World Health Organisation (WHO) has put the number of people infected with the deadly virus at 2,615. Some 1,427 have died since the disease was identified in Guinea in March and spread to Sierra Leone, Liberia and Nigeria.
Dessie Quinn, 43, was being treated for malaria after returning two weeks ago from the west African country and was found dead in bed in Co Donegal by a friend in the early hours of Thursday.
The Health Service Executive said test samples had proved negative for Ebola.
The virus has no cure and rigorous quarantine measures are used to stop its spread, as well as high standards of hygiene for anyone who might come into contact with sufferers.
Symptoms of Ebola appear as a sudden onset of fever, intense weakness, muscle pain, headache and sore throat. According to the WHO, this is followed by vomiting, diarrhoea, rash, impaired kidney and liver function and, in some cases, both internal and external bleeding. The effects of the disease normally appear between two and 21 days after infection.
It is transmitted to people from wild animals and spreads in the human population through person-to-person transmission. Outbreaks have a case fatality rate of up to 90%.
The WHO says the disease can be passed between people by direct contact - through broken skin or mucous membranes - with the blood, secretions, organs or other bodily fluids of infected people, and indirect contact with environments contaminated with such fluids.