"That is not good enough for Manchester United," Louis van Gaal bemoaned. He was actually referring to the team's hopeless passing at Sunderland, a shadow of the fluid, incisive, one-touch style that illuminated a captivating pre-season tour, but he could have been referring to anyone.
Like Sir Alex Ferguson, Van Gaal resisted the temptation to specifically criticise players outside the dressing room. United's midfield quartet, bereft of Michael Carrick, Ander Herrera, Marouane Fellaini and the recently departed Nani, resembled an aspiring top 10 side. Darren Fletcher played like Per Mertesacker in slow motion, Ashley Young dived again and Tom Cleverley reminded everyone why he is the supporters' scapegoat but they're easy targets.
Wayne Rooney, though, was terrible again. He admitted he played badly against Swansea on the opening day yet some newspapers awarded Rooney an exceedingly generous "7". Few players can distort reality or polarise opinion like Rooney and he was woeful on Wearside. Ponderous, lax and careless, the one moment that summarised his afternoon was his attempt to outpace the Sunderland right-back Santiago Vergini, almost three years Rooney's junior, yet just as he attempted to overtake the Argentine Vergini dispossessed Rooney effortlessly.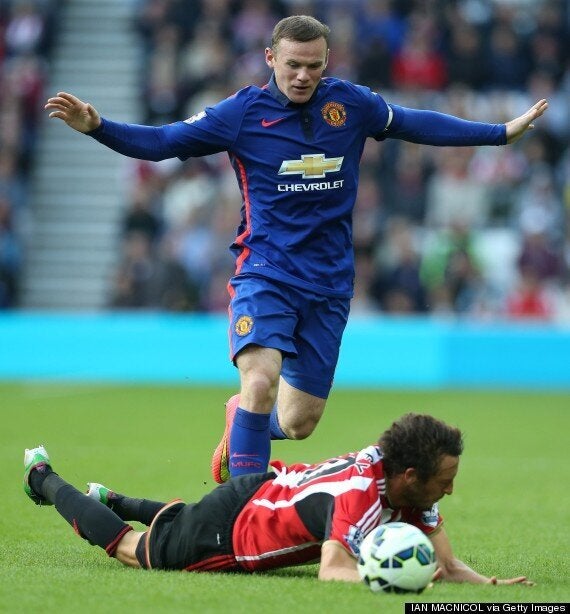 Rooney played poorly again for United at Sunderland
It evoked memories of Ferguson's verdict of Rooney's display against Aston Villa on United's coronation night in 2013. "I took him off because Villa were a very fast, young side, full of running, and their substitute was running past Wayne."
Rooney's aura was waning long before Ferguson withdrew him that night, or omitted him from United's Champions League last 16 tie with Real Madrid. He has, arguably, never recovered from the ill-conceived transfer request he submitted four years ago, only withdrawn when United increased his salary. He volleyed in that unforgettable bicycle kick against Manchester City, scored the goal that clinched United's record 19th championship, and played an underrated role in the 20th title triumph, but Rooney is just not that important anymore.
Four years ago, he questioned Ferguson on why United didn't sign Mesut Özil. Angel di María will arrive this week, intensifying the attacking competition following Adnan Januzaj's emergence and Juan Mata's signing, and as Rooney and his teammates struggle to fulfil Van Gaal's 3-5-2 wishes, it already feels inevitable either he or Robin van Persie will be demoted.
Di María could be as destructive as Arjen Robben in Van Gaal's formation. He excelled as a box-to-box midfielder under Carlo Ancelotti and United supporters might argue the one area desperately in need of an injection of pace is central midfield, however Van Gaal is unlikely to switch systems just yet. And as shattering as it may be for Rooney's brittle ego, he is not as vital to United as Van Persie.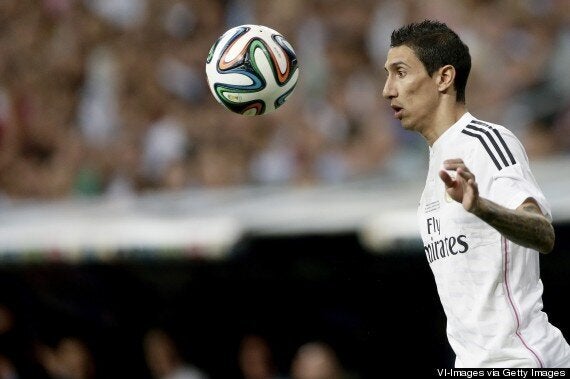 Di María's arrival could have a huge impact on Rooney's role
Van Persie's hat-trick against Olympiakos in March reprieved David Moyes, for a month at least, however without him United - and especially Rooney - were profligate against Bayern Munich in the following round. Van Persie, without the benfit of a fruitful pre-season, was peripheral at Sunderland and not fully match fit but nearly procured a penalty.
Making Rooney captain was a dubious decision by Van Gaal after he held United to ransom twice. His predecessors, Nemanja Vidić, Gary Neville, Roy Keane, Eric Cantona, Steve Bruce, Bryan Robson and Martin Buchan were popular with supporters when they inherited the armband whereas a vocal portion of United's following have refused to chant Rooney's name since he fluttered his eyelashes at Manchester City. And although he is just two games into his leadership, the added responsibility appears to be weighing heavily on Rooney.
At the Stadium of Light he seemed withdrawn as Sunderland steamrollered over United in the first 15 minutes. Players like Cleverley and Fletcher are not good enough to sit on the United bench, but they received no guidance or encouragement from Rooney, prone to histrionic fits of exasperation rather than bullish cries of encouragement. They won't be climbing the tables at Carrington to holler "O Captain! My Captain!"
Van Persie was gently invited to undermine Rooney by Sky Sports' probing Geoff Shreeves after Sunday's draw but responded diplomatically. He was less reticent in defeat at Olympiakos in February when he lamented his "fellow players are sometimes occupying the spaces I want to play in" and his dynamic with Rooney could be a fascinating subplot of United's campaign.
It is disheartening for English football that its best talent of the 21st century is now a problem for both club and country when, in the clichéd peak years of his career, Rooney should be talismanic. Di María could, finally, decide whether Rooney is good enough for Manchester United.