Ariana Grande and Nicki Minaj both make appearances in Jessie J's brand new music video for their single 'Bang Bang', a collaboration which we're sure came about totally organically, and not at all in a board meeting.
With three of the biggest names in pop music right now (well… two and a half, sorry Jessie) all appearing in the same video, the stakes were always going to be high, and we're pleased to say the clip delivers the goods.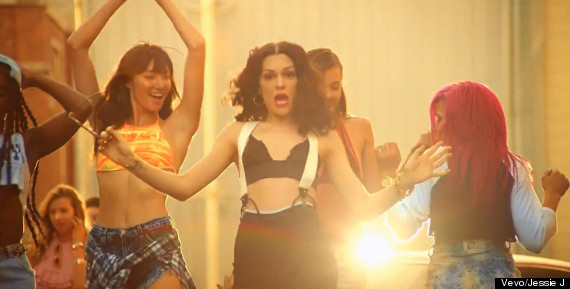 Jessie J pulling one of those faces that have made her so popular over the years
The three stars each perform their part of the song in separate scenes - Jessie sings for a crowd in a city street, Ariana lounges with some friends at what looks to be a 'Grease'-esque girlie sleepover and Nicki raps while getting in and out of a helicopter, seemingly unable to make her mind up about whether she wants to fly somewhere or not. Possibly to go and yell at the tailor who made the dress she performed in at the VMAs.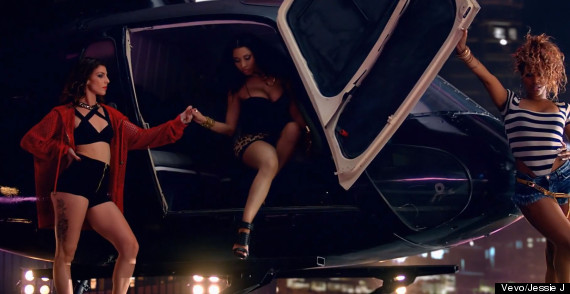 Nicki Minaj emerges from a helicopter. So relatable.
Just when it looks like the three of them aren't going to be in the same room at the same time - y'know, the exact way they recorded the song in the first place - they appear together to dance on a helipad. This might seem like a brilliant way to mess up your hair and little else, but that doesn't affect Ariana Grande, who hasn't had her hair out of a ponytail since the mid-2000s.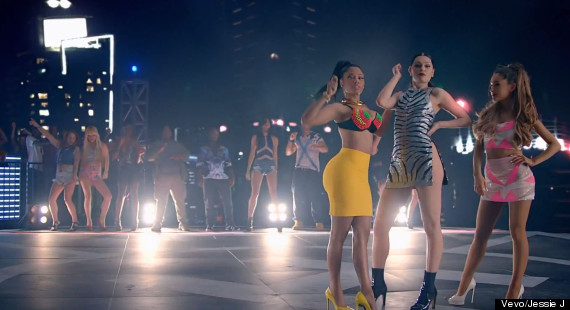 Conclusive proof these three women have met at least once
As if it wasn't already stonkingly obvious that this was going to be the song that we're all going to be humming to ourselves in the weeks and months to come, the trio opened up the VMAs on Sunday night with a performance of the track.
Ariana and Nicki both recently unveiled music videos for their solo efforts 'Break Free' and 'Anaconda' - the former being a camp tribute to low-budget sci-fi films and the latter being a love letter to women with giant bums.
Lovely.
LIKE US ON FACEBOOK | FOLLOW US ON TWITTER