Alex Salmond has been forced to deny "ridiculous" claims he is orchestrating a campaign of abuse, after a pro-unionist MP claimed he has been called "paedophile and terrorist" on the campaign trail as part of "co-ordinated" attacks by Scotland's Yes campaign.
Jim Murphy, who suspended his national tour after being repeatedly egged, said persistent abuse was a common theme during his speeches.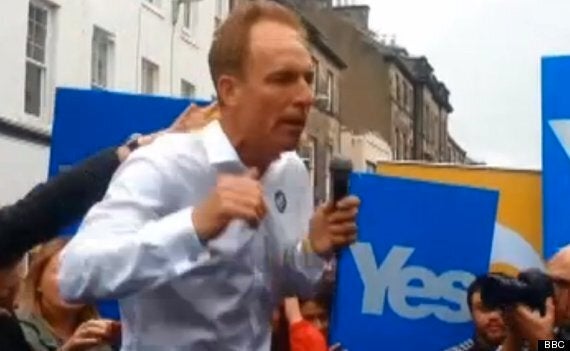 Jim Murphy, pictured being egged, said abuse was organised via Yes campaign pages on Facebook
"Ugly. But is it spontaneous ugliness? No, it's not. The organisational tools are the various Yes sites on Facebook, affiliated to the official Yes Scotland campaign.
"It's coordinated, determined and increasingly aggressive. I don't know how high up it goes in the Yes campaign but I do know how widespread it is."

But Mr Salmond said this was ridiculous and urged Yes supporters to simply "ignore" Mr Murphy if his tour resumed and he came to their town.
He referred to abusive attacks he himself has received - including a road-rage incident where someone pursued him in a car with a No campaign sign and a Twitter threat to "assassinate" him.
"I condemn any egg throwing or any intimidation from any side," Mr Salmond told Sky News' Murnaghan show.
"Somebody was convicted, of course, of online threats against me. Somebody thought his car should be a political weapon. There was a woman, a Yes campaigner, assaulted on the streets of Glasgow.
"I don't hold press conferences accusing Mr Murphy of orchestrating these events, because I know that would be ridiculous to do so."
Mr Salmond continued: "So let me be absolutely clear to people watching, if Mr Murphy comes balling and shouting in a street corner near you any time soon keep doing your shopping, keep doing what you were doing."
"He's just like the guy with 'The End Is Nigh' round his neck - he'll go away soon."
Mr Murphy, who was on the show, said: "I don't mind heckles and, d'you know what, I don't even mind people throwing eggs - that's just a dry cleaning bill.
"But what happened after the first televised debate between Alistair Darling and Alex Salmond is that things took a sinister turn.
"Instead of turning up in crowds of people on all sides there was an organised mob of Yes supporters, facilitated through Yes Scotland and local organisations through websites, Facebook and other social media."
Afterwards, he tweeted that Mr Salmond had been "a wee bit grumpy" on the show.
Mr Murphy is expected to resume his tour in Edinburgh tomorrow.
Mr Salmond has also called on "the missing million" who have not yet registered to vote to make sure they have their say in the independence referendum.
Scots must register today for the referendum, which is also open to 16 and 17-year-olds.
Mr Salmond said: "David Cameron said this weekend that he is 'nervous' about the referendum result - and he is right to be so, with the most recent polls putting a Yes vote within touching distance, and hundreds of thousands of Labour voters set to back independence as momentum is now firmly with the Yes campaign.
"If you have friends or family who want to vote and are not registered, they have just hours to do so - this is their last chance to seize the wealth of opportunity offered by Scotland's historic referendum."
A Better Together spokesman said: "We can have what the majority of Scots want - more powers for Scotland without taking on all the risks of independence. It's the best of both worlds.
Or we can take a leap into the unknown with separation. We don't know what currency we would use, how pensions would be paid for or how we would fund our schools and hospitals.
"That's why more and more Scots are saying no thanks to the risks and uncertainties of independence."
Meanwhile, Mr Darling is due to talk to police about security arrangements for polling day.
Campaigners for a No vote have expressed concerns over the potential for trouble as voters cast their ballots on September 18.
Assistant Chief Constable Bernard Higgins, from Police Scotland, told the Herald newspaper: "The referendum is a significant event which is expected to attract a higher than normal turnout.
"Policing arrangements for the referendum are well in hand and will be appropriate and proportionate."