The Telegraph has been urged to prioritise "ability not fertility" after facing a fierce backlash for referring to a top BBC executive as a "mother of three."
The unfortunate headline about Rona Fairhead earlier this week was slammed by those who saw the description of the BBC Trust's top boss as "sexist."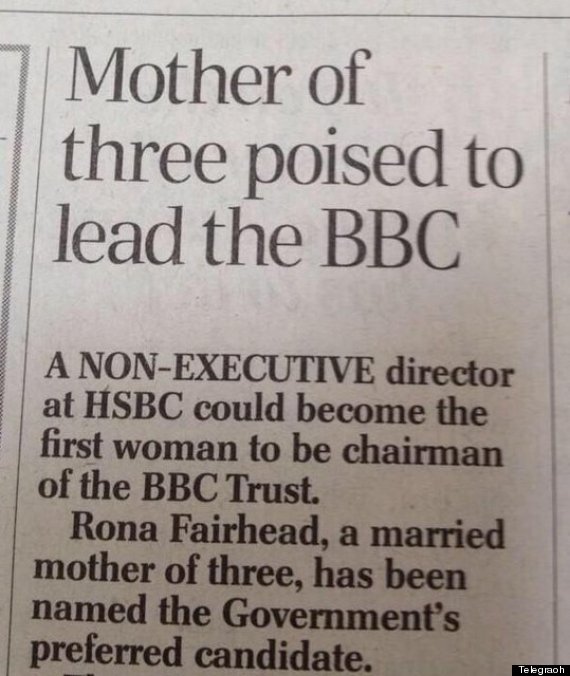 The Telegraph snippet
Fairhead, the former CEO of the Financial Times Group and non-executive director at HSBC, is set to be the first woman in charge of overseeing the BBC after being named as the government's preferred candidate, replacing Lord Patten who stood down in May.
Her impressive CV boasts a first-class degree in law from Cambridge and more than 30 years at top-ranked British businesses.
But the Telegraph's article on Fairhead following the announcement on Sunday focused on Fairhead's family life - in both its headline and in the second paragraph that reiterated that Fairhead was a "married mother of three."
Laura Bates, the founder of the Everyday Sexism Project, said this type of headline "urges the reader to do what society largely does anyway – to consider her sex more relevant than her credentials."
"To think of her, not as a new appointee to an important role, not as a highly talented person taking the next step in her career, but as a woman and a mother.
"And in our gender biased society, such an angle brings with it subtle doubts about her ability," she said, writing for the Guardian.
Many angrily took to Twitter to query whether a male business leader would be given the treatment.
"Mother of three poised to lead the BBC" BUT WHAT WAS SHE WEARING?

— Janet N. Hatcher (@jnhatcher) August 31, 2014
Daily Telegraph's recent 'Mother of Three' headline sits perfectly against this old advertisement #telegraph pic.twitter.com/OVwZinkz1n

— Explovia (@explovia) September 1, 2014
Father of two hopes Daily Telegraph subs will one day get a fucking grip. pic.twitter.com/XxFzgeclyR

— Robert Webb (@arobertwebb) September 1, 2014
@arobertwebb @fil5000 First par: "A lady who has pushed three sprogs out of her mimsy is tipped to venture out of the kitchen..."

— Louis Barfe (@LFBarfe) September 1, 2014
@arobertwebb It's a perfectly pertinent fact, actually. I do wonder how she's going to run the BBC in between all the cooking and ironing.

— Σίμων (@Mirthematician) September 1, 2014
@Mirthematician @arobertwebb I reckon it's very modern of her husband to allow her to have a little job to earn housekeeping money.

— Bert Swattermain (@BertSwattermain) September 1, 2014
Mother of none feels unaccomplished reading it.What am I doing in life?No chillun,no headline! http://t.co/u5MHdOtk4j pic.twitter.com/24hMmbYsVd

— Samira Sadeque (@Samideque) September 2, 2014
"Mother of three to lead the BBC." Imagine thinking you can run a huge corporation when your uterus is utterly exhausted.

— Deborah Orr (@DeborahJaneOrr) August 31, 2014
@DeborahJaneOrr @drphilhammond Can't remember the headline when Lord Patten took over "Man with three children to run BBC"

— Lynn Faulds Wood (@LynnFauldsWood) August 31, 2014
Fairhead, meanwhile, is set to be asked whether she thinks she got the job because she is female, an MP has said.
Philip Davies, a member of the Culture, Media and Sport Select Committee, told the Guardian that Fairhead will be grilled next week on her vision for the corporation.
She will appear before the committee for pre-appointment scrutiny on September 9.
On Sunday, Culture Secretary Sajid Javid said: "Rona Fairhead is an exceptional individual with a highly impressive career history. Her experience of working with huge multinational corporations will undoubtedly be a real asset at the BBC Trust." Rona Fairhead is the preferred choice to lead the BBC Trust
Davies told the Guardian he would ask Fairhead some tough questions.
"We will want to find out her vision for the BBC - what she thinks it is doing well, what it is doing badly and where it needs to improve, and her lack of experience in broadcasting and regulation and whether or not that will be a problem," he said.
"Some people might argue that is a good thing, coming to it with a fresh pair of eyes. I go into it with an open mind."
He also said the question of Ms Fairhead's gender and its relevance to the role is a valid question after reports the Government wanted to place a woman in the senior role for the first time.
Fellow committee member Angie Bray told the newspaper she had concerns about the appointments process, adding that she had been unimpressed that a preference had been announced for the job before the process to appoint someone is complete.
Quoted in The Sunday Times, Ms Fairhead said: "The BBC is a great British institution packed with talented people and I am honoured to have the opportunity to be the chairman of the BBC Trust."
She said she was "under no illusions about the significance and the enormity" of the job.