Jack Straw has blasted Barack Obama's foreign policy and backed British launching air strikes against the Islamic State (IS), saying we should not be "paralysed" by regret over the Iraq War.
Straw, who was foreign secretary in 2003 when US and British-led forces invaded Iraq to overthrow Saddam Hussein, said IS's genocidal violence in that country and Syria were a "threat to civilisation" and he said Britain should "probably" consider bombing them.
He also said Obama was "long on analysis" but not good at "being decisive" and said the ongoing Nato summit in Wales offered a chance for "decisive" leadership for the US.
But the comments of one of the key cabinet members responsible for the Iraq War - which many blame for enabling IS's rise in the first place - have been attacked on social media and by Straw's political opponents.
Straw was speaking after IS were confirmed to have executed a second US journalist by beheading - and threatened that a third British hostage would be next.
David Cameron led an emergency meeting of COBRA to decide on next steps this morning.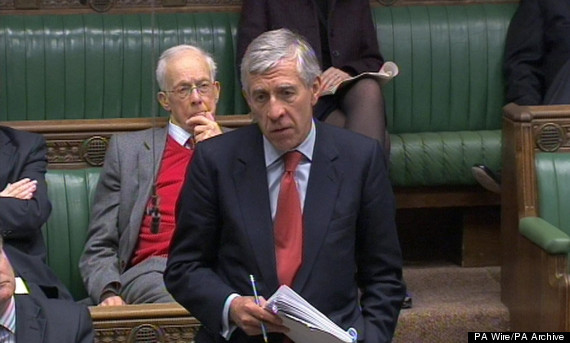 Jack Straw said Britain should "probably" begin bombing IS
While the US has carried out airstrikes to assist the Kurdish fighters battling IS, Britain's military involvement has been limited to humanitarian aid drops for the refugees fleeing the Islamist fanatics.
When asked whether Britain should follow "My instincts would be probably to do so."
He added: "No one is more aware than I am of the legacy of the 2003 Iraq war. Of course we should learn the lessons of the past, but we should not be paralysed by the past at the same time.
"These barbaric jihadists were doing this kind of atrocity before the Iraq war, and they would do it irrespective of the Iraq war.
"They are a serious threat to civilisation."
STEVEN SOTLOFF MURDER:
On Obama, he said: "Much though I respect him, I think, if you like, he is very long on analysis and not quite as fleet as foot at being decisive, and you need a balance if you are the president of the United States.
"It's a difficult job being the president of the United States, but I certainly think this Nato summit provides an opportunity for some very clear leadership by the United States."
Yes, cos Jack was so right last time, MT @guardian: Straw: My instinct is for UK to join US airstrikes against Isis http://t.co/MVZsOwcpTV

— Arthur MacMillan (@arthurmacmillan) September 3, 2014
Jack Straw tells @BBCr4today that Obama is long on analysis and short on action: Not sure that the opposite worked brilliantly 11 years ago.

— Jim Pickard (@PickardJE) September 3, 2014
Awful listening to Jack Straw brand executions of US journos as "barbaric" whilst rationalising British Slaughter of million Iraqis #r4today

— Rachel Harger (@RachelHarger) September 3, 2014
Let's all remember what happened the last time we listened to Jack Straw and co's instinct https://t.co/ufgMM6NWGp

— General Boles (@GeneralBoles) September 3, 2014
Jack Straw on @BBCr4today BBC saying that he thinks UK should just bomb IS without the ok of parliament. They never learn do they ?

— Bethemedia (@Bethemediauk) September 3, 2014
Jack Straw not in possession of all the intelligence. That didn't stop him before. #r4today

— Frank Ledwidge (@frank_ledwidge) September 3, 2014
Yes, go on your instinct, Jack! RT @GuardianUS: Jack Straw: my instinct is for UK to join US air strikes against Isis http://t.co/hvAHDBvsPb

— Graham Linehan (@Glinner) September 3, 2014
Straw: "We have made errors, but truth is al-Qaida were committing atrocities before 9-11." Not in Iraq they weren't. http://t.co/SBtkUGz3UX

— Glenton (@joejglenton) September 3, 2014
Twitter's London trends showed 'Wormwood Scrubs' above 'Tony Blair' & 'Jack Straw' and for one brief moment of glorious hope and optimism I…

— David Morton (@dhmorton) September 3, 2014
When is Jack Straw's instinct worth trusting? http://t.co/xuqpfKetrt

— Paul Bernal (@PaulbernalUK) September 3, 2014
Speaking from Tallinn, Obama said: "We will not be intimidated... Our reach is long and justice will be served."
He said the US would fight "the kind of barbaric and empty vision that [ISIS] represents."