The campaign to keep Scotland in the UK has become "engulfed in panic" after the latest poll showed the independence campaign has a narrow lead for the first time, Nicola Sturgeon has said.
The Scottish Deputy First Minister said that "although it will take really hard work", she is confident that voters in Scotland will opt to leave the UK in the forthcoming referendum.
She spoke out after a YouGov poll for the Sunday Times put the pro-independence campaign ahead by 51% to 49%, when undecided voters are excluded.
The poll prompted Better Together leader Alistair Darling to say it had to be a "wake up call" for the No campaign and that the result is far from a "fore-gone conclusion".
Chancellor George Osborne promised a timetable for further devolution would be outlined in the next few days.
With Scots to decide the future of the UK next Thursday, September 18, Ms Sturgeon said: "I think what we will see is the No campaign engulfed in panic."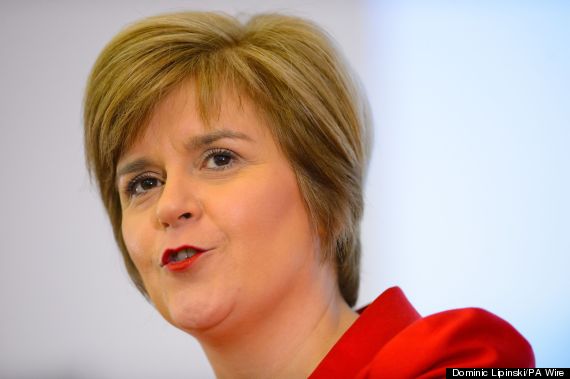 Nicola Sturgeon says the No campaign was 'engulfed in panic'
"I think the No campaign is missing the fact that this campaign in Scotland has moved beyond any place where people can have the wool pulled over their eyes.
"One of the really invigorating things about this campaign, and for politicians one of the challenging things, is that we have now got a well-informed population that is capable of seeing through what the politicians say and coming to their own decision.
"That's why we see the Yes campaign ahead and why I'm confident, although it will take really hard work, we will see Yes win on September 18."
She claimed that it "increasingly looks as if the No campaign think people in Scotland are daft", adding: "If the No campaign parties had any serious intention of delivering substantial new powers for Scotland, then why has it taken until 10 days before polling day, with a poll showing Yes in the lead, for them to come up with this?
"There is no option of more powers short of independence on the ballot paper, there is no guarantee whatsoever that if Scotland votes No we will get a single additional power for the Scottish Parliament.
"If people want the powers we need to protect our public services, protect the health service, ensure that we can create jobs, grow our economy, protect the vulnerable through a decent social security system, the only way to get that is to vote for the powers a Yes vote will deliver.
"That's the only option that puts control into our hands, to vote No leaves these future decisions in the hands of the Westminster establishment and I don't think that after this wonderful, invigorating debate that we've had in Scotland, that that is what people want to do
"I think the debate in Scotland has gone beyond the point where people can be fooled and taken in by empty promises from Westminster parties."
But Mr Osborne said it was ''clear'' Scotland wanted more autonomy and the Tories, Labour and the Liberal Democrats had agreed to ''deliver'' on that.
He told BBC's Andrew Marr show: ''You will see in the next few days a plan of action to give more powers to Scotland.
"More tax powers, more spending powers, more plans for powers over the welfare state.
''That will be put into effect - the timetable for delivering that will be put into effect the moment there is a No vote in the referendum.
"The clock will be ticking for delivering those powers, and then Scotland will have the best of both worlds.
''They will both avoid the risks of separation but have more control over their own destiny, which is where I think many Scots want to be.''
These reforms would include ''much greater'' fiscal autonomy and control over tax rates as well as more powers over welfare rates, he said.
#INDYREF:
Mr Osborne denied that dire warnings from the unionist parties about the dangers of splitting up the UK had backfired.
He said: ''This country faces a very, very big choice. Scotland faces a very big choice.
''If people were in any doubt that they can stay at home, that they don't need to go out to the polls and vote No to avoid separation, they won't be in that doubt today.
''They should also be in no doubt about the consequences of this decision - one of which is that Scotland will not be sharing the pound as an independent country with the rest of the UK if the separatists win the vote.''
But the poll is the latest indication of a dramatic surge in support the pro-independence Yes Scotland campaign, which has seen it overturn a 22-point deficit in just a month.
Support for a Yes vote is said to have soared four points in a week while No dropped by the same number.
The headline figures exclude those who would not vote or are undecided. With those groups included, independence was backed by 47% and staying in the UK 45%.
The two-point gap is within the margin of error for such polls, meaning the contest is effectively too close to call.
A particularly alarming aspect for unionists is the suggestion that 35% of Labour voters now back independence, compared to 18% a month ago.
Ms Sturgeon said YouGov research was a "really encouraging poll" but added another survey today by Panelbase for Yes Scotland still had support for the union ahead.
When undecided voters are excluded, it found 52% of people are planning to vote No, with Yes on 48%
"We're taking nothing for granted. We've still got work to do," Ms Sturgeon said.
The Deputy First Minister, who was addressing a group of undecided female voters this morning, added: "I think what the polls show is increasing numbers of people are coming to the conclusion that independence is the best way to protect our National Health Service, to create jobs, grow our economy and ensure that we always get the governments we vote for.
"I've always been confident the Yes campaign will win, that there will be a Yes vote, but we take nothing for granted.
"It's really important that the Yes campaign continues to do what we have been doing for months now, that is patiently persuade people of the positive case for independence, it's about putting control of Scotland into the hands of people who live and work here, and we will continue with that job in every single minute of the campaign that remains."
She said that over the next few days there would be a "concerted attempt" to win over older Scots to independence, using the message: "Independence is the opportunity to leave a better country for your children and your grandchildren, because it puts control of Scotland and the kind of country we will be in the future into our own hands.
"Of course its not a magic wand but it is a massive opportunity to be the ones who are shaping the future of this country, and not be bystanders as Westminster governments - often Tory Westminster governments that we don't vote for - take decisions that we don't agree with."