Left-wing polemicist and author Owen Jones turned down a request to stand as an MP - against Lib Dem leader Nick Clegg - he has told the Huffington Post UK.
He also denied that he wanted to ever be an MP, saying he did not see his journalism and writing as a launching pad to entering the House of Commons.
He said Labour asked him to stand against Clegg in his Sheffield Hallam constituency in 2015. "I said no," Jones said.
He was speaking before an audience with HuffPost UK's Mehdi Hasan, who pressed him on whether he sought political office and asked about "rumours" he was considering a parliamentary bid against Clegg.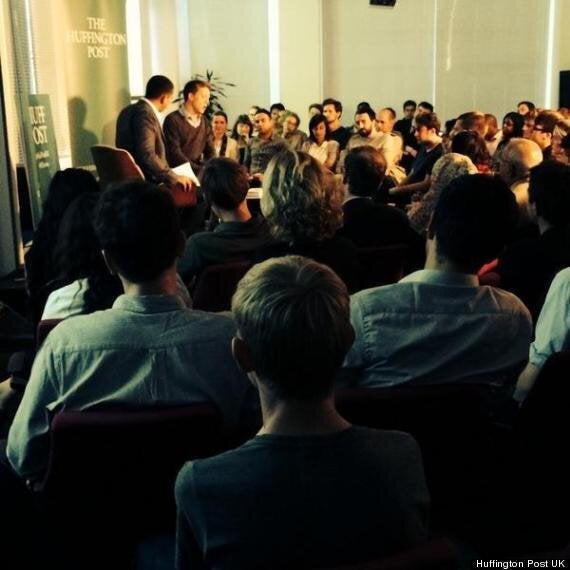 Owen Jones in conversation with HuffPost UK's Mehdi Hasan
Jones said: "I'm just not attracted by the idea of being an MP. I really don't want to be an MP."
Under pressure from Hasan to rule it out completely forever, Jones said: "I am not going to be an MP. Probably not ever."
He said the question was "frustrating" and "missing the point".
"There's no point in people like me becoming MPs," he said, adding he had worked to encourage "working class women" to stand, who he described as being particularly underrepresented in parliament.
He added: "It's not an issue of background. I want representation, working class representation in parliament."
Jones was discussing his new book The Establishment, which describes how the wealthiest of the wealthy operate together to preserve their interests.
When asked whether he agreed that Clegg, Ed Miliband and David Cameron were "the three most powerful men in Britain," he said: "It's wrong to reduce the establishment to a figure here, a figure there. It's about how they operate."
He described the establishment as a "globally interconnected" network that includes politicians, the media and high-ranking business people who exercise "unaccountable power".
He deplored the fact that those at the "top of society" were not representative of it.
"All unaccountable power has to be taken on. For me that's the point," he said.
"It's not just about making the top of society more representative, it's about making it more accountable."
When grilled about his background, the left-wing polemicist joked he was actually to the right of his parents - his parents having been members of the Trotskyite group Militant Tendency.
He also said he did not grow up wanting to be a writer.
"(Writing) is boring. It's such a tedious, long process," he said. "For me, it's a means of getting ideas across."
Popular in the Community