Three of the new polls paint a confusing picture that suggests the result is too close to call.
A survey by Panelbase for the Sunday Times gave the No campaign a lead of just over one point when undecided voters are excluded.
It put support for No at 50.6%, narrowly ahead of Yes on 49.4%.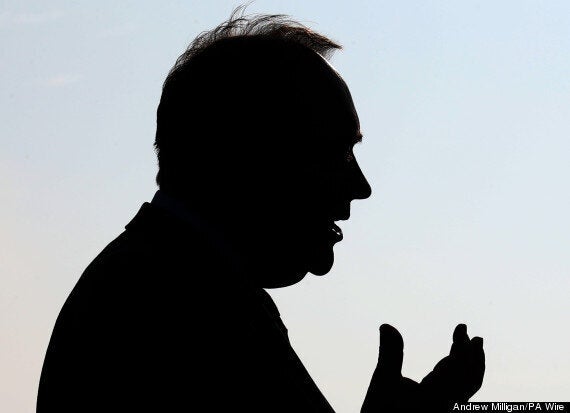 We'll find out the result early Friday morning...
A rival ICM poll meanwhile has recorded an eight-point lead for the pro-independence campaign - but experts urged caution because of its smaller than normal sample size.
Survation survey for the Better Together campaign has put No on 54% and Yes on 46% while an Opinium survey for The Observer had No on 53% and Yes on 47%.
The Prime Minister, who campaigned in Edinburgh last week, will be back in Scotland today and is expected to warn that there would be "no going back" if Scotland votes yes on Thursday.
First Minister Alex Salmond will be meeting business leaders - including Brian Souter of Stagecoach and former William Hill chief executive Ralph Topping - in a bid to highlight the economic opportunities a Yes vote on Thursday could bring.
It comes in the wake of warnings from business and financial chiefs about the impact independence could have, with stores such as John Lewis and Asda last week suggesting prices could have to rise, while Deutsch Bank likened a vote to leave the UK to the mistakes which led to the Great Depression of the 1930s.
When Mr Cameron addressed financial services workers last week he told them it would break his heart if Scots voted Yes and split apart the UK "family of nations".
Mr Salmond has said Thursday's referendum could be a "once in a lifetime opportunity" for people in Scotland.
Speaking yesterday, he said that the Yes campaign was aiming to win a "substantial majority" in Thursday's referendum.
He told the BBC: "We're not aiming to win by one vote, we're aiming to achieve a substantial majority if we can."
The SNP leader went on to describe the referendum vote as a "once in a generation opportunity for Scotland".
When asked if he would pledge not to stage another such vote if the majority of Scots vote No to independence, the First Minister said: "My view is this is a once in a generation, perhaps even a once in a lifetime, opportunity for Scotland."
His deputy, Nicola Sturgeon, will also be out on the campaign trail this morning, alongside former Labour MP Dennis Canavan - now the chairman of the Yes Scotland campaign - and former Labour Lord Provost of Glasgow, Alex Mosson.
Meanwhile, two Liberal Democrat members of Mr Cameron's coalition Cabinet will be urging Scots to vote No, with both Scottish Secretary Alistair Carmichael and Chief Secretary to the Treasury Danny Alexander stressing the promises of more powers that are on offer from the pro-UK parties.
SNP MSP and Justice Secretary Kenny MacAskill told BBC News: "I think our campaign is one of hope over fear.
"This is our chance to make sure that we end a situation where we have a Tory Government that we never voted for. And it has happened not once but many times.
"There's something odd when the Prime Minister and indeed the leader of the Opposition come up and say that they care and love us and in the next sentence say that pestilence and plague will befall our land if we have the audacity to vote for independence."
Mr MacAskill said the people of Scotland "won't be fooled again" by the promise of extra powers.
He said: "It was David Cameron who refused to put devo-max on the ballot paper.
"Secondly, we had the Queen's speech, when he laid out a programme for government just a few months back and he didn't lay out any extra powers.
"We also know from history, we remember back in 1979, a former Tory premier said vote No and we'll make sure you'll get a better scheme and all we got was Margaret Thatcher."
He added: "The tragedy in Scotland is not how bad things are, it's how much better they should have been, and why are so many people not benefiting from that union at the moment."