The far-right, pseudo-militia group Britain First have "desecrated" the memory of Afghanistan's fearless first female police officer by passing her off as a terrorist on their Facebook page.
The original photographer of the iconic picture, Canadian Lana Slezic, has revealed her outrage at the use of her photograph of the famously brave officer Malalai Kakar, who was assassinated by the Taliban in 2008.
The original image, taken in 2005, is now being used by the far-right group to promote banning the burka and was edited with an "inflammatory" caption that reads: "Terror attack level: severe – an attack is highly likely. For security reasons it's now time to ban the burqa."
Britain First's Facebook page has almost half a million likes, with up to two million people a day engaging with their "patriotic" pictures of soldiers, Union Jacks and... puppies. Many do not realise they are interacting with the extreme right.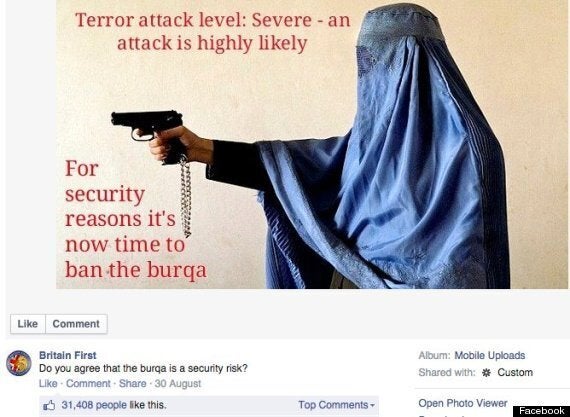 Now the group has been accused of desecrating the image of Kakar, who bravely fought against extremism and for women's rights before she was shot dead outside her home in front of her son, on the way to work at a Kandahar police station.
She set up a policewomen's department in the hometown of the Taliban where started out working alone, using her burka to her advantage so she could pass unrecognised - not, as Britain First are suggesting, to engage in terrorism.
The photographer said she was outraged that her image of Kakar was manipulated by Britain First for their own agenda, and was even more horrified that their post was then shared by a prominent Australian senator.
"This is not what a wanted for this photograph," she said.
Britain First's leader, Paul Golding, told The Guardian that his group found the image on the internet and shared it, without bothering to check its origins.
When informed about the truth behind the powerful image he told the paper that it was "very upsetting", but that he would nevertheless not be taking it down.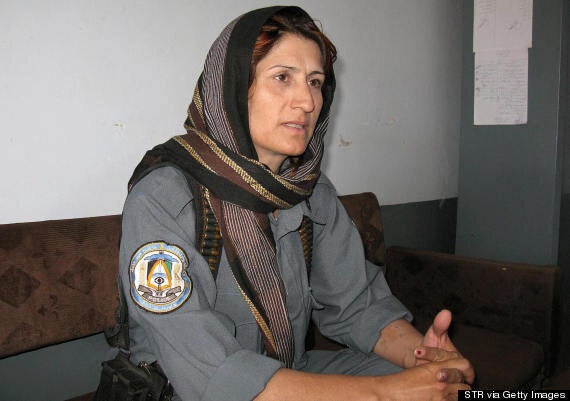 Malalai Kakar, who was assassinated by the Taliban in 2008
Meanwhile, Australia's Palmer United party senator Jacqui Lambie has since hit back at Slezic who slammed her for sharing the post, saying the photographer's comments were "a gross overreaction."
But Lambie failed to actually explain what sharia was, saying: "It obviously involves terrorism. It involves a power that is not a healthy power."
Asked in what way it involved terrorism, Lambie replied: "Well, I just think sharia law, you get it mixed up in, well, if you are not going to show, if you are going to be a supporter of sharia law and you are not going to support our constitution and allegiance to our constitution and Australian law, then, you know."
In a Facebook post, Lambie claimed Kakar "would have been the first to agree with my call to ban the burka".
"She would have known how much safer it would be in public if the burka was banned."
But, her comments are far from the truth. Kakar said in a documentary (available to watch below) before her death: "I am not forced to wear the chaudari [burqa], my husband or the police force does not require it. I want to wear it because it gives me advantages. I wear it to protect my family and myself."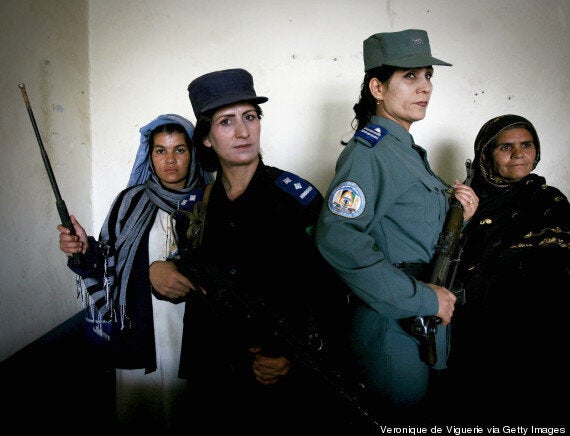 Kakar (2nd-L) set up a policewomen's department in Kandahar, the home of the Taliban
Slezic said the use of the image by Britain First and Lambie was unacceptable. "Everything she stood for, everything she fought for, for herself, her family, her daughters and future of her country, everything has been desecrated by how Jacqui Lambie and Britain First have used this photograph," she told the Australian Associated Press.
Slezic described the image as "inflammatory," to The Independent, and said the thousands of likes and shares it had gained on Britain First's Facebook page were "disturbing".
"It shows the message they are trying to send has spread quickly," she said.
Popular in the Community