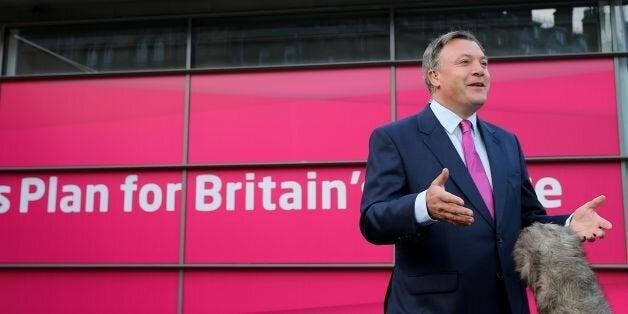 David Cameron is "not being straight with the British people" over the cost and complexity of constitutional reform, Ed Balls said.
The shadow chancellor accused the prime minister of talking "complete nonsense" over his demands that Scottish MPs be quickly stripped of the right to vote on laws affecting only England. And he said rushed reforms risked "undermining the Union we have all just fought to save".
Cameron's move to link the change to the cross-party timetable agreed for new powers for Holyrood in the wake of Scotland's rejection of independence in last week's referendum has angered Labour and dominated the start of its annual conference in Manchester.
The Prime Minister announced within hours of the No vote that the process for looking at the so-called "West Lothian question" would proceed at the same pace as the settlement for Scotland - putting pressure on Labour to agree to the move.
Ed Miliband has backed greater "scrutiny" of England-only legislation by English MPs but stopped short of a pledge on votes, arguing that a major constitutional change should not be drawn up in a rushed "back of the envelope" way.
He is calling instead for a Constitutional Convention to be held - based on a consultation across the UK.
Labour, which has 40 of Scotland's 59 MPs, has most to lose from any measures which would restrict the voting rights of MPs representing constituencies north of the border.
Cameron is gathering senior MPs at his official country retreat today to consider his proposals, with some senior figures in his party urging him to go further and introduce a separate English parliament.
Balls told ITV's Good Morning Britain: "Are we really going to start dividing our Parliament in this way? I don't think it's the best way at all to deliver the fairness we need to see. I want more devolution in England, I want a fair deal for my constituents. We should start by listening to people, rather than William Hague deciding it in a Cabinet committee.
"But David Cameron, giving the impression that he can do it in a couple of months, I think he is not being straight with the British people and we are not going to play those kinds of games.
"There is no easy solution to that and we are not just going to come along with something which is half-baked. It can't be decided by Conservative Cabinet ministers."
He went on: "That is a complete nonsense from a Prime Minister, David Cameron, who is desperately trying to hold his fractured party together. It is a rubbish thing to say.
Balls was repeatedly asked on BBC Radio 4's Today programme if the current constitutional situation was "unfair", a question he did not give a direct answer to.
He noted he wanted things to be "made fairer". Balls added Cameron is "playing fast and loose" with the union and constitutional settlement.
He said: "I do think this is possibly the most un-prime ministerial thing I've seen David Cameron do in the last few years. I think he should have more responsibility to think about the public interest rather than the political interest. It's what he does on Europe, he's doing the same on the constitution and I'm just not going to play that game."