The English band's tune, I See You, was played before Miliband came on stage, however the indie rock group is not so pleased about being played for a Labour audience.
Band member Tom Cowan expressed his annoyance on Twitter to the music website Gigwise and Buzzfeed journalist Siraj Datoo after being alerted to the fact that their song being used.
"Fucks sake," he wrote. "Leave it out Ed. Keep your outdated political ideologies away from us. Our colour isn't red, it isn't blue, it's black."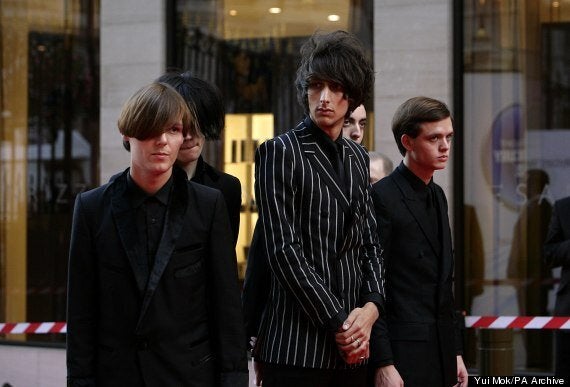 The Horrors are not very happy with Miliband...
Besides the Horrors, Miliband's team also picked tracks by Embrace, Gordon City, Laura Mvula and Pharrell Williams. Luckily for the Labour leader, these artists have yet to complain.
Last year, Radiohead frontman Thom Yorke threatened to "sue the living shit" out of David Cameron if he ever used one of its songs at a campaign event.
"I can't say I love the idea of a banker liking our music, or David Cameron," he said. "I can't believe he'd like [2011's] King of Limbs much."
Here's the tune Labour members heard that lead to a stinging rebuke for Ed Miliband
The Labour leader said it was "one of the perils" of talking for more than an hour without notes, but insisted that the whole address was focused on Britain's economic plight and he had touched on immigration too.
Chancellor George Osborne was among those who were quick to criticise Miliband, saying it was "extraordinary" that he did not mention the deficit. Tory MP Henry Smith said the Labour leader had "no plan" for the economy.
Related