RAF warplanes have been sent to Iraq after Parliament gave the green light to launch Britain's first air strikes against Islamic State (IS) jihadists.
Tornado GR4 fighter bombers stationed in Cyprus have taken off for the first time since MPs approved them to spearhead an assault on IS targets in northern Iraq, The Ministry of Defence confirmed.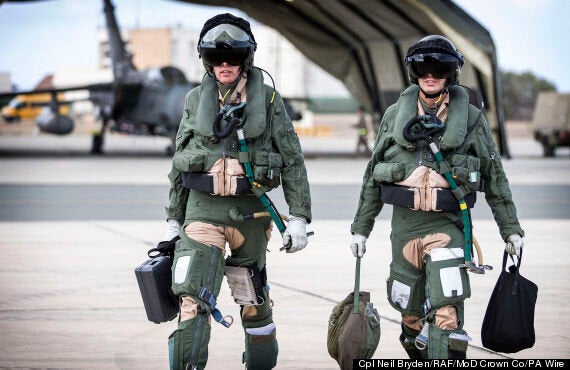 Royal Air Force Tornado GR4 aircrew preparing to depart RAF Akrotiri Cyprus ahead of the RAF's first combat mission against Islamic State militants in northern Iraq
It is not known if the planes, which are loaded with laser-guided bombs and missiles, will be immediately carrying out strike missions or when they will return, the BBC reported.
The Ministry of Defence said: "We can confirm that, following parliamentary approval given yesterday, RAF Tornados continue to fly over Iraq and are now ready to be used in an attack role as and when appropriate targets are identified.
"For operational security reasons we will not be providing a running commentary on movements; we will provide an update on activity when it is appropriate to do so."
David Cameron said the first RAF sorties would happen "relatively rapidly" now MPs had sanctioned action as he called the fight against IS and other extremism in general a "generational struggle".
He told the Sun: "Wherever there are broken states and instability, this poisonous narrative of Islamist extremism causes problems for those countries and for us back home.
"This is a very long term, generational struggle that we are involved in.
Cameron also suggested the campaign to defeat IS could take longer than three years.
"Hopefully we will be able to achieve success faster than that. But you know, it might take longer. It will take time," he told the paper.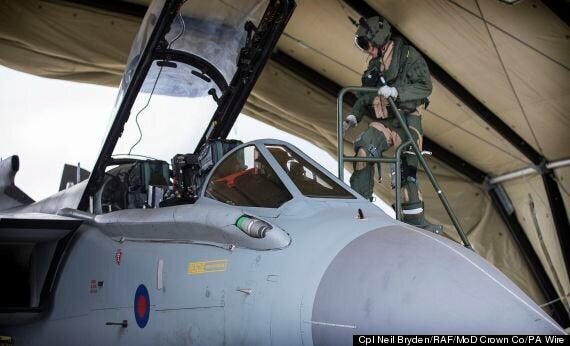 Royal Air Force Tornado GR4 aircrew preparing to depart RAF Akrotiri Cyprus ahead of the RAF's first combat mission against Islamic State militants in northern Iraq
Six jets have been based at RAF Akrotiri on the island since last month but have so far been restricted to reconnaissance flights.
The timing of their first bombing raids against IS - also referred to as Isil (Islamic State in Iraq and Levant) - will depend upon when suitable targets for attack can be identified.
The United States has been carrying out air strikes in northern Iraq since mid-August - and supported by the French since last week - and most of the obvious targets have already been hit.
"You should not expect immediate shock and awe - a wave of fighters or bombers taking off. It isn't that kind of campaign," Defence Secretary Michael Fallon told BBC News last night. "You will not see an immediate series of particular threats."
The RAF also has a Rivet Joint spy plane in the region and surveillance efforts will be stepped up in the coming days, while intelligence will also be sought from Iraqi and Kurdish forces on the ground.
"There are moving targets obviously - convoys of Isil fighters whom we can identify with the surveillance that we are going to intensify," Mr Fallon said.
Yesterday, at the end of of a six-and-half hour Commons debate, MPs voted by 524 to 43 - a majority of 481 - to endorse attacks on the militants in Iraq in support of the United States-led coalition, with Labour backing the Government's motion.
But despite the overwhelming majority in favour of military action, there were concerns on all sides of the House that - 11 years after the invasion of Iraq - Britain was again embarking on military action in the Middle East.
Labour MP Rushanara Ali resigned as shadow education minister over the vote, choosing to abstain on the decision to back air strikes in Iraq on IS terrorists, popularly known also as ISIS and ISIL.
Tory MP Mark Reckless explained his decision to vote against air strikes, writing on Twitter: "A year ago we were asked to bomb other side in Syria +what good did 557 MPs voting to attack Libya do?"
I voted against bombing ISIL in Iraq. A year ago we were asked to bomb other side in Syria +what good did 557 MPs voting to attack Libya do?

— Mark Reckless MP (@MarkReckless) September 26, 2014
But Deputy prime minister Nick Clegg told MPs: "Just because you can't do everything, it doesn't mean you should do nothing."
"We should avoid repeating the mistakes of the past, but it doesn't mean we should be trapped by the past."
At the same time, there was criticism from both Conservative and Labour MPs that UK air strikes were being restricted to Iraq and that IS targets in Syria - the movement's birthplace - were excluded.
Cameron said the motion had been limited to Iraq in order to secure cross-party consensus and avoid a repeat of last year's damaging Commons defeat when Labour combined with Tory and Liberal Democrat rebels to block air strikes against the Syrian regime of President Bashar Assad.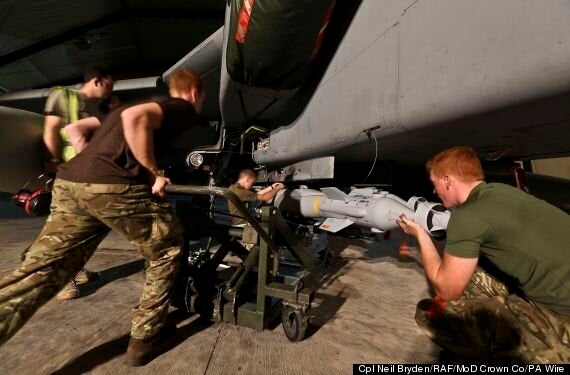 RAF Tornado GR4's at RAF Akrotiri Cyprus being armed with the Paveway IV Laser Guided Bomb ahead of the RAF's first combat mission against Islamic State militants in northern Iraq
But Fallon later indicated that the Government may well eventually have to come back to the House again to seek support for extending military action into Syria - where the US and Arab allies have already carried out air strikes.
"Isil can only be defeated in both Iraq and Syria. Isil is headquartered in Syria, that is where its command and control is, that is where its resources are and a lot of its people are," he told BBC2's Newsnight.
A YouGov survey for The Sun yesterday showed the most staunch support yet for RAF airstrikes in Iraq against Islamic State targets, with 57% of the British public now in favour and just 24% against. And voters also support bombing IS targets in Syria, with 51% in favour and 26% against, though Prime Minister David Cameron has ruled out such raids.
Cameron said the shadow of the 2003 decision to join the US-led invasion of Iraq "hangs heavy" over today's vote but told MPs: "We must not use past mistakes as an excuse for indifference or inaction. We will play our part in destroying these evil extremists, we will support our Muslim friends around the world as the reclaim their religion and, once again, our inspirational armed forces will put themselves in harm's way to keep our people and our country safe."
He also said IS has "already murdered one British hostage and is threatening the lives of two more", plotted attacks which would have affected British tourists and were "a terrorist organisation unlike those we have dealt with before".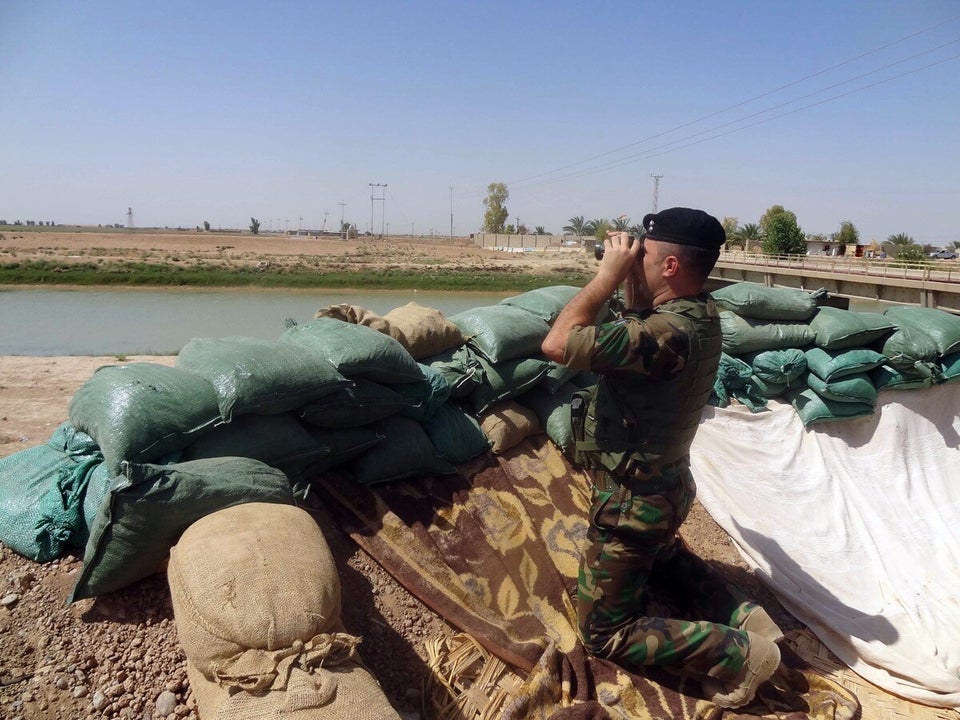 Iraq unrest
Related