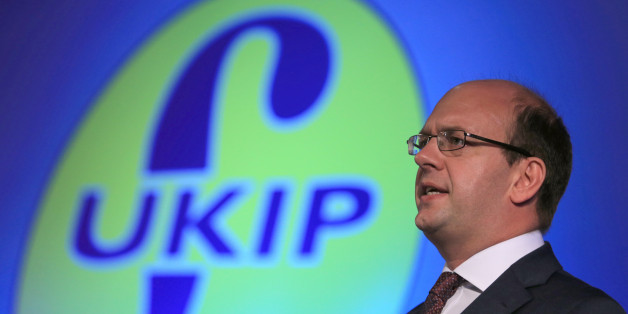 Gareth Fuller/PA Wire
Conservative backbencher Mark Reckless has announced he is defecting to Ukip, and Twitter users have united to all make identical "reckless" jokes.
The Rochester and Strood MP said today he had not taken the decision to leave the Tories lightly but claimed the Conservative leadership was "part of the problem that is holding our country back".
While Downing Street is said to be less than happy with his decision, particularly as the shock move comes on the eve of the Tory Party conference, Ukippers were literally dancing at the news.
How they are celebrating in the UKIP conference hall: https://t.co/KI28iBjLvV

— Harry Cole (@MrHarryCole) September 27, 2014
Although he has constantly denied he would be turning to team Farage, Reckless appeared on stage to a rapturous reception at the eurosceptic party's conference in Doncaster today and said voters felt "ripped off and lied to".
"Today I am leaving the Conservative party and joining Ukip," he told the ecstatic crowd.
Reports reach me that Mr Cameron has told the Tornados to turn back from Iraq and head for Rochester and Strood.

— Andrew Neil (@afneil) September 27, 2014
Then, as news hit the Twittersphere, the Reckless jokes began to make their way onto the web…
#Reckless by name, #reckless by nature

— George Osborne (@George0sborne) September 27, 2014
Mark "Reckless" ....by name and by nature...just saying...

— Hannah David (@HannahDavid_HW) September 27, 2014
An MP called Mark 'Reckless' has defected to UKIP... reckless by name, reckless by nature. You can't make this stuff up, lol 😋

— Iain Faulds (@iainfaulds) September 27, 2014
@HuffPostUK @MarkReckless haha Reckless by name, Reckless by nature.

— Martyn Norman (@marty_norman) September 27, 2014
No, Twitter stop…
Losing one Tory MP is a misfortune, two is Reckless

— Alistair Bunkall (@AliBunkallSKY) September 27, 2014
A Reckless defection

— Jules Mattsson (@julesmattsson) September 27, 2014
Come on now.
Tories are leaving to join UKIP with reckless abandon. #Reckless

— Paul (@bingowings14) September 27, 2014
It has been a very Reckless afternoon indeed...

— Mike Czerski (@angrysmiley) September 27, 2014
Another defection to UKIP!! Talk about reckless... http://t.co/Au8Vy2wtWU

— Callum Shannon (@callum_shannon) September 27, 2014
stop with the reckless jokes now

— Harry Cole (@MrHarryCole) September 27, 2014
Please, no more #reckless puns. Theresa May did that a year ago

— Nigel Morris (@NigelpMorris) September 27, 2014