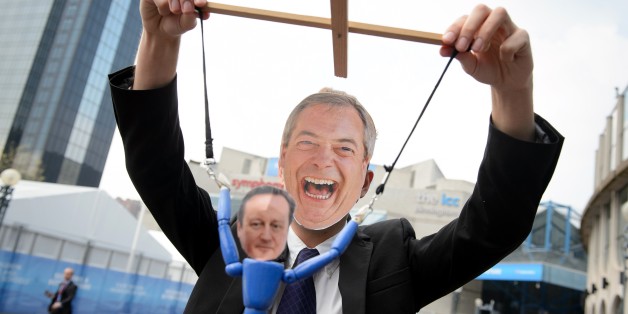 LEON NEAL via Getty Images
The Tories have been accused of trying to "appease" Ukip by hosting the leader of a controversial Finnish eurosceptic party at their annual conference.
Timo Soini, leader of the Finns party, spoke at a Conservative fringe meeting organised by its Brussels EU grouping -- The European Conservatives and Reformists (ECR) on Tuesday morning, after doing so again on Monday night. Billed as a "great friend" of the party, Soini raised the Tories's Eurosceptic stance towards the European Union and lashed out at "over-regulation".
Soini is a political ally of Ukip leader Nigel Farage, who previously spoke at his party's conference in 2012. His party joined the Tories' ECR grouping in Brussels this year, breaking away from Ukip's Europe for Freedom and Democracy grouping, sparking accusations that the Tories were teaming up with "anti-immigrant xenophobes".
Liberal Democrat MEP Catherine Bearder told the Huffington Post UK: "First Conservative MPs threaten to "punish" pro-European business leaders, then their MEPs invite some of Europe's most far-right politicians to their conference.
"It's about time the Tories realised that allying with these fringe parties only isolates Britain in Europe and makes significant reform harder to deliver."
This comes after the Tories were left reeling by the defection of its second member of parliament, Mark Reckless, to Ukip, with Richard Barnes, former deputy to London Mayor Boris Johnson, doing the same today.
Soini's anti-immigration party won 19% in its country's 2011 general election. The Finns party, formerly known as the True Finns, has garnered controversy in the past, with MEP Teuvo Hakkarainen suggesting gay people and Somali refugees be exiled to an island in the Baltic and is alleged to have used the N-word to refer to black people.
Meanwhile MEP Jussi Halla-aho was briefly suspended for the party after comparing Islam to pedophilia and suggesting Greece might need a military junta to sort itself out.
"By inviting Farage's friend Timo Soini to speak at this morning's Conservative-led ECR Group fringe meeting, Conservative MEPs want to snub Cameron," said Dirk Hazell, leader of the European People's Party and former Tory London regional chairman.
In reference to influential Conservative MEP Daniel Hannan, who is boycotting the Tory conference, Hazell added: "The Hannan bandwagon of UKIP sympathisers is in charge and fighting to secure Brexit. This is no longer a rebellion, but a takeover.
"Timo Soini's return to Birmingham exposes Cameron's misguided appeasement of the UKIP Militant Tendency within the Conservative Party."
Soini spoke alongside Syed Kamall MEP, the Tories' leader in the European Parliament and Tory peer Martin Callan, Kamall's predecessor as the party's European leader. After the event, the Huffington Post UK asked Kamall to defend Soini's appearance at the Conservative conference, but he declined to reply.
Great to have our great friend and the most popular politician in Finland, Timo Soini, with us at our #CPC14 fringe. pic.twitter.com/252vB2zhrg

— AECR (@AllianceECR) September 29, 2014
This comes after the Tories were forced to cosy up to the FInns Party in a bid to stop their ECR group from collapsing in Brussels.
Daniel Hannan reportedly visited Helsinki to have talks with Finns Party leader Timo Soini, prompting Labour's Gareth Thomas, the shadow Europe minister, to remark that a Tory alliance with parties holding "dangerous, extreme-right views, is a very troubling development".
See also: Are The Tories Trying To Steal Ukip's Far-Right Friends In The European Parliament?