The murderers of Islamic State put the media in a difficult position - how to report their videos of beheading hostages while denying them the oxygen of publicity the gruesome footage is designed to give them?
Alan Henning, a taxi driver and father-of-two who was inspired to travel to Syria to deliver aid, was beheaded in a video released on Friday - the fourth Westerner to die on film in this way in recent weeks.
On Saturday, papers chose to use older images of him, rather than the ones from the video of him in an orange jumpsuit, waiting to be killed.
The Sun wrote: "We refused to give his killers the absurd killers the publicity they crave.
"Instead we choose to remember Alan Henning. The taxi driver from Eccles. A hero."
But The Independent On Sunday has nailed it with its front page today.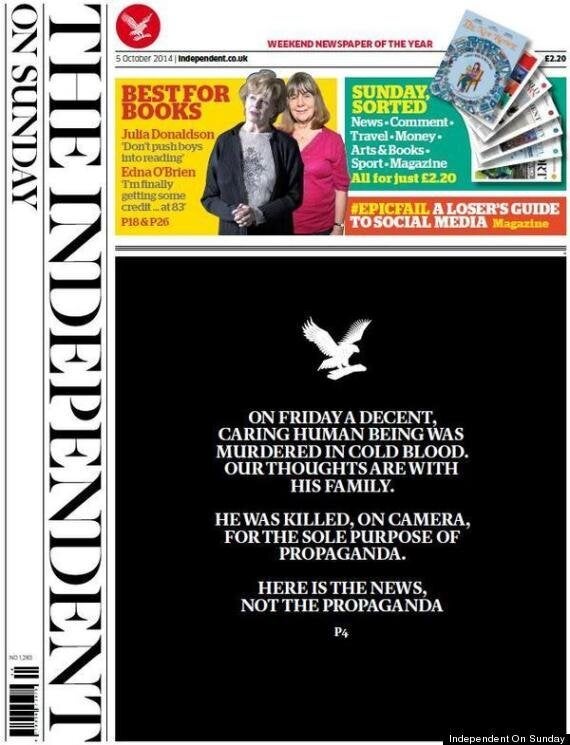 Today's Independent On Sunday
There is no picture. The paper's logo sits on a simple black page with just a few lines in white text.
"On Friday, a decent, caring human being was murdered in cold blood," it says.
"Our thoughts are with his family. He was killed, on camera, for the sole purpose of propaganda.
"Here is the news, not the propaganda."
Tweeters praised the front page, describing it was "powerful" and "superb", with one saying: "If only all news outlets followed this example."
As well as images, another issue for the press has been what name to give the terrorist group.
IS is the name they prefer to be called by - though they used to call themselves Isis and politicians usually refer to them as Isil - the Islamic State of Iraq and the Levant.
The group started calling itself IS in August to emphasise its territorial ambitions.
Ronald Noble, the secretary general of international law enforcement agency Interpol, said the group should be renamed "Cowardly Murderers", even suggesting that CM be used as their acronym.
He said this would "remove their efforts to legitimise their crimes".
"The cruel murder of an innocent man who freely gave his time to assist the people of the very region where he met his death is a testament to the depravity of this terrorist group, which is seeking to create a reign of terror across the region," he said.
"I ask the global community: why should we allow a bloodthirsty group of terrorists to name themselves after a religion as a pretext to justify their heinous crimes that no religion would justify?
"I propose that the global community and law enforcement rename this group as CM for Cowardly Murderers.
"By doing this, we will remove their efforts to legitimise their crimes and put would-be foreign fighters on notice that if they join this group, then the world will see them as nothing more than cowardly murderers.
"Finally, let me stress that the cold-blooded and barbaric murder of Alan Henning only serves to harden the resolve of the global community to increase our efforts against the growing threat posed by militant terrorist groups, and bring those responsible for committing such atrocities to justice."