Tory defector Mark Reckless is on course to win back his Commons seat in a stunning victory for Ukip, according to an opinion poll.
The eurosceptic party enjoys a nine-point lead in Rochester and Strood, the latest research conducted by Survation for the Mail on Sunday found.
It suggests David Cameron faces a tough fight to avoid a highly-damaging by-election defeat in the Kent seat.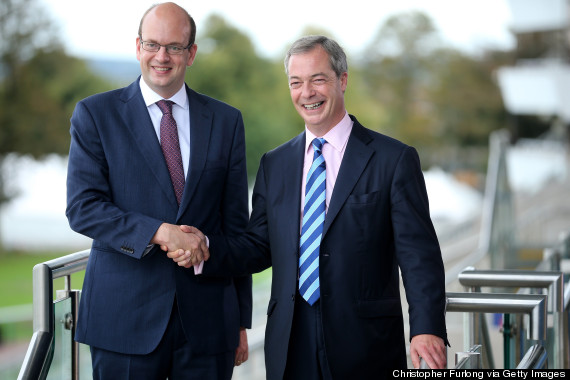 Mark Reckless' by-election is expected to be more difficult for Ukip than Douglas Carswell's
Mr Reckless rocked the opening of the Conservative Party conference with the announcement he was quitting to stand for Nigel Farage's outfit, just weeks after Douglas Carswell also made the switch.
While Mr Carswell is the clear favourite to become the first MP elected as a Ukip candidate in Clacton on Thursday, Mr Farage had conceded the lower personal following enjoyed by Mr Reckless made the second seat a harder prospect.
But the telephone polling, which puts Ukip ahead by 40% to 31%, will encourage his supporters and concern Conservatives, with 40% of those who voted Tory in 2010 now saying they will switch.
More than two thirds (70%) of those planning to back Ukip said it was in support of the party's policies as opposed to 18% who said it was an anti-Government protest and 12% who said they liked the candidate.
The vast majority - 88% - said they would maintain that support at next year's general election.
SEE ALSO:
Survation chief executive Damian Lyons Lowe said: "If our polling, representing a snapshot of opinion taken in Rochester and Strood between October 1-3, reflects the final outcome of the by-election, the Conservative Party will be deeply worried.
"When academics Rob Ford and Matt Goodwin recently ranked every seat in the country in terms of their favourability to a Ukip win based on demographics, this seat was ranked 271, just 15 places behind Newark where the Conservative party cruised to a comfortable by-election victory.
"Should Reckless become Ukip's second ever-elected MP - despite the Conservative campaign machine threatening to 'throw the kitchen sink' at the election - certain Conservative MPs may conclude that it is actually safer for their careers to cross the floor to Ukip than stand and fight Farage's insurgency."
In a warning to people considering switching their vote, the Prime Minister used his party conference speech to suggest people would "go to bed with Nigel Farage and wake up with Ed Miliband" by opening the door to a Labour victory.
The poll suggested that might have backfired - with more saying it pushed them towards Ukip than away (23% to 21%).