The debate over whether to negotiate with Islamic State over their hostages has intensified, after former Guantanamo detainee Moazzam Begg said he offered to help secure the release of Alan Henning - but was thwarted when he was arrested and imprisoned for seven months.
Mr Begg, 46, who was freed last week after charges of travelling to Syria to support terrorism were dropped, said he made efforts to contact IS militants after Mr Henning's capture and also offered his help later from prison - but this went unheeded.
He criticised the British government because they "abandon their people and try to look tough" while other countries negotiate and get their citizens released when they take hostages.
Mr Henning was murdered last week. He was the second Briton, after aid worker David Haines, to be beheaded on film by IS in recent weeks.
Two US journalists, James Foley and Steven Sotloff, were also killed in the same way.
Mr Begg's comments come as Mr Foley's parents said the policy of never paying ransom or negotiating with terrorists was "basically condemning our own citizens" and denying those taken hostage "the protection of their government".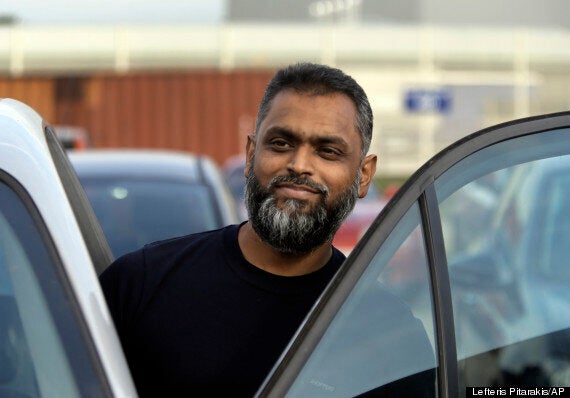 Begg, pictured being released from Belmash Prison last week
CAGE, the human rights lobby group for which Mr Begg has worked, said Mr Henning could have been freed if he had not been detained.
"CAGE, represented by Moazzam Begg, had been approached by the FCO and were actively involved in high levels negotiations to secure the release of Alan Henning up to a week before Moazzam Begg's arrest," a statement said, according to ITV.
"One can only speculate that Alan may have been free if Moazzam had not been incarcerated for seven months and was able to continue his work in Syria.
"We cannot get Alan Henning back but we owe it to his family and friends to get to the truth of the government's role - or lack thereof - in securing his release and why Moazzam Begg, who perhaps could have secured his release, was arrested in the first place."
Speaking on Radio 4's Today Programme on Tuesday, Mr Begg said: "I have advocated for negotiations with the Taliban, al-Qaeda and negotiations with Isis. The Turks have been (talking) with them. They got their people out.
He said he was approached by friends of Mr Henning shortly after his abduction in December.
Mr Henning, a taxi driver from Eccles, was reportedly taken almost immediately after the aid convoy he was driving in entered Syria.
Mr Begg approached then-Foreign Office minister Alistair Burt to say he would be approaching people linked to IS.
"I sat with him and spoke with him for quite some time, we had exchanges, phone calls, text messages; in the end they said that they didn't need my help," he said.
"I said that I didn't come here to seek your help, I simply came to register with you the interventions that I'm going to try to make.
"A few weeks later literally I was arrested."
Mr Begg said he believed Mr Henning was still alive when James Foley was beheaded in August - the first in a succession of videos of IS killing Westerners and contacted Foreign Office from prison offering to help.
He said he wanted to appeal to IS in Arabic in a video, wearing an orange jumpsuit to reflect his history of captivity, to appeal to them to free Mr Henning.
He continued: "(I wanted to) deliver the message in the language, the terminology, the wording, that Islamic State would understand to say that I myself was a former Guantanamo prisoner, dressed in orange, facing execution possibly because the Americans had built the execution chambers.
"(IS leader) Abu Bakr al-Baghdadi himself had been a prisoner of the Americans so it was a very heartfelt, very direct statement that I wanted to make in the Arabic language."
But he said the Foreign Office did not even reply until three weeks later, after Mr Sotloff and Mr Haines had been beheaded and Mr Henning was threatened by IS in its latest video, the first time his captivity became public.
They wanted him to deliver a message through "private channels" rather than a public video, he added.
Mr Begg said he knew of the people "who may have been holding" Mr Henning but denied knowing 'Jihadi John', the militant who speaks with a London accent and appears to have beheaded the hostages in the four videos IS has released so far.
He said the people actually responsible for his captivity were "much higher up the ladder".
He added: "I don't know, I have an idea, I have a view that I think that I know who they are. I don't know for sure.
"But what I do know is that the message that I was going to deliver could probably not have been delivered by anybody else because of the language, the terminology, the understanding, the connection that I could have made to that world was very specific and exclusive to me."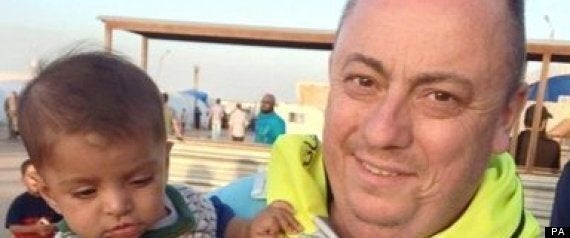 The Foreign Office has declined to comment on Mr Begg's comments, saying it cannot because the "safety of British nationals is paramount".
But a source said the Foreign Office would "speak to anyone who we believe may be able to help kidnap victims".
Diane and John Foley, the parents of murdered journalist James Foley, told the Today Programme that they were threatened with prosecution three times if they attempted to pay a ransom while he was being held.
Mr Foley said: "If this policy continues, we're going to be relegated news and information from countries that protect their journalists and aid workers
We need to rethink that policy. If we continue, we're basically condemning our citizens - the best of America, the best of Great Britain - to death.
"There's relativity. The amounts of money (paid in a ransom) are small compared to the cost of a war. The economy's out there already."
Mrs Foley said: "Anyone who wants to be humanitarian or bring the news to our countries, does not apparently have the protection of our government.
"We hope their deaths will not be in vain. (We need to) really look at our policies to see if they're serving the people."
Related