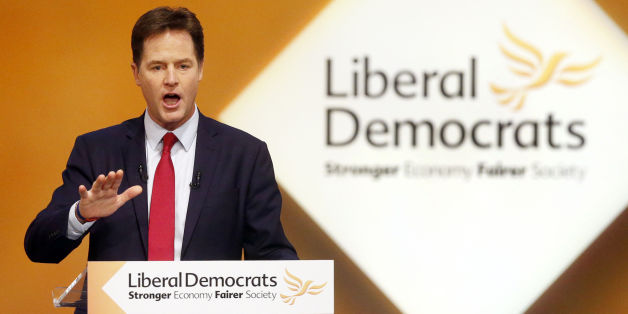 Danny Lawson/PA Wire
Nick Clegg has taken the unusual move of revealing details of his private discussions with George Osborne, as he sought to prevent the Conservatives from taking credit for a prized Lib Dem policy.
In his speech to the Lib Dem conference in Glasgow on Wednesday afternoon, the deputy prime minister attacked Osborne for telling voters it was a Tory rather than a Lib Dem achievement that the income tax threshold had been raised to £10,500. "Apparently it's our tax cut in private, but it's their tax cut in public," he said.
Clegg said far from wanting to take lower earners out of tax, Osborne had instead focused on tax cuts for the rich. The Lib Dem leader told party activists that when he tried to persuade the chancellor to raise the threshold in 2012, Osborne told him: "I don't want to deliver a Lib Dem Budget".
The deputy prime minister's decision to reveal details of the internal coalition Budget negotiations in a party political speech is unlikely to go down well in the Tory half of the Treasury.
SEE ALSO: Clegg Tells Lib Dems Not To 'Wash Their Hands' Of Power

Clegg said he was grateful to both Labour and Tories for their help in setting the scene for his own appearance, thanks to Ed Miliband's failure to mention the state deficit in his speech and to the chancellor's decision to announce plans for benefit cuts for low-income households at the same time as tax cuts for the wealthy.
To laughter and applause from activists, the Lib Dem leader said: "I was thinking before coming to Glasgow, 'How are we going to use this conference to really communicate to people in this country that it's only the Liberal Democrats that can build a stronger economy and a fairer society where there's opportunity for everyone?'
"I've just really seen the hard work that some particular people have done to deliver that message more effectively than we could possibly have hoped for.
"So on your behalf I would like to say a special thanks to two people - thank-you Ed Miliband, thank-you George Osborne." He added: "Let's face it, they couldn't have been more helpful even if they'd tried.
"It's as if Ed Miliband had rung me before the conference and said 'Hey Nick, what can I do to help the Liberal Democrats really underline the point that Labour can't be trusted with the economy?' and I went 'Umm... how about, Ed, if you forgot to say anything about the deficit in your speech?' And he did it!
"Or George Osborne rang me and said 'What can I really do to help you really drive home that message that the Conservatives can't be trusted to create a fair society?' and I said 'What would be tremendously helpful, George, would be if you singled out in your speech that it would be the working-age poor that will pick up the tab for the mistakes made by the bankers in the past'. And he did it!
"So thank-you Ed Miliband, thank-you George Osborne. I don't think there's anybody in the country after this political conference season who's under any illusions now that the only party in British politics that stands for a stronger economy and a fairer society to deliver opportunity for everyone is us, the Liberal Democrats."