This is it, the chance you've all been waiting for - you could have lunch with Britain's top beer-swigging, golf club-swinging Eurosceptic Nigel Farage.
If you have a spare £2k you could be joining the Ukip leader and a guest for a delicious lunch at the swanky Mayfair restaurant Hush.
The lunch (specifically categorised as 'Not dinner') is currently being auctioned off on eBay with 58 bids so far totalling up £1,600 - and there are only 9 hours left to bid.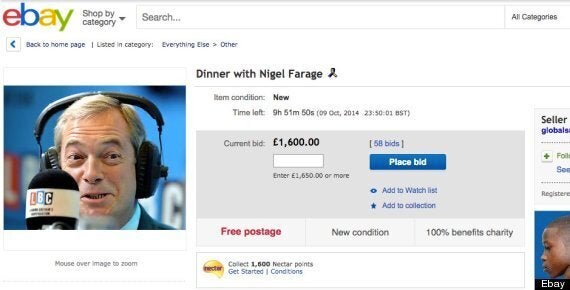 A member of Farage's team may also be present at the event, where filming or photography may be carried out for their purposes… which won't make dinner conversation awkward at all.
The charity fundraiser, launched by the radio station LBC, is set to be "an insightful chat with the politician who has been noted for his passionate and, sometimes, controversial speeches".
The Ukip leader has had a busy day of campaigning in Clacton, which has become a key battlefield in the rise of the party following Douglas Carswell's defection.
Voters are going to the polls today in a pair of by-elections, which could see Ukip, gain its first MP.
Carswell is the overwhelming favourite to retain his seat of Clacton in Essex where he stood down when he changed parties, triggering a by-election.
He held the seat with a majority of more than 12,000 at the 2010 general election and is expected to benefit from a strong personal following.
The Tories go into the vote as underdogs but Prime Minister David Cameron insisted last week that his party could win in Clacton.
Ukip has also been campaigning strongly in the Lancashire constituency of Heywood and Middleton, which is also holding a by-election today.
The poll was triggered by the death of Labour MP Jim Dobbin, who had held the seat since 1997.
While there is anticipation of a strong challenge from Ukip candidate John Bickley, opinion polls put Labour candidate Liz McInnes comfortably in the lead.
A defeat for Labour in Heywood and Middleton would be highly damaging with less than a year to go until the general election.