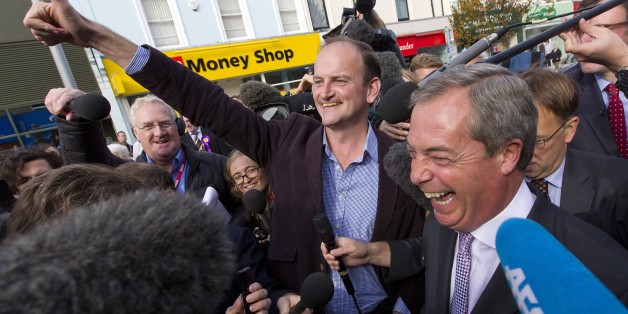 JUSTIN TALLIS via Getty Images
Ukip would "decimate" Britain's aid budget and hamper efforts to tackle the Ebola virus, a Labour MP has suggested.
Speaking in the House of Commons, Scottish Labour MP Fiona O'Donnell was accused of "twisting" the debate on Ebola in order to launch an attack on the Eurosceptic party, just hours after its first elected MP Douglas Carswell was sworn in.
See also: 'Emotional' Farage Watches First Ukip MP Douglas Carswell Sworn In To Parliament
The East Lothian MP was not the only parliamentarian to attack Ukip during the Ebola debate. Tory MP George Freeman, minister for life sciences, mocked Carswell for "saying nothing" after taking his seat in the House of Commons.
Saying nothing? Do you oppose what we're doing on #Ebola? "@DouglasCarswell: 1st tweet from my seat on the opposition benches as a #ukip MP"

— George Freeman MP (@Freeman_George) October 13, 2014
O'Donnell called on health secretary Jeremy Hunt to ask Carswell "why he now supports a party that would decimate the UK's aid budget". She went on to ask Hunt if he felt "a great sense of pride" about the UK's aid budget "saving lives in Liberia, Sierra Leone and in turn keeping people in the UK safe".
READ MORE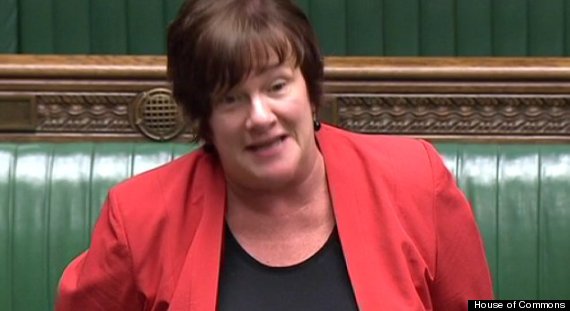 Labour MP Fiona O'Donnell speaking in the Commons today
In response, Hunt praised her for speaking "extremely wisely" and lambasted Ukip for creating an "artificial division between helping people abroad and helping people here".
Hunt said there was "no better example" than the UK's contribution to efforts to fight Ebola. The UK has already pledged £125 million to support the global effort to contain, control and defeat the disease in Sierra Leone, delivering recently delivering beds, personal protection suits, tents and ten vehicles.
MPs have recently suggested that cuts in the UK's aid budget to Sierra Leone and Liberia may be linked to the rapid spread of Ebola.
Liberal Democrat MP Sir Malcolm Bruce, chairman of the Commons international development committee, warned: "The scale of the Ebola crisis now unfolding in Sierra Leone and Liberia may well be connected to declining levels of international support for health system improvements in what remain two of the poorest and least developed countries in the world."
"In the midst of this devastating epidemic, and at a time when the UK has reached its 0.7% target for overseas development assistance, it is wrong for the UK to cut its support to these two countries by nearly a fifth. The planned termination of further UK funding to the Liberian health sector is especially unwise."
Wow the anti-UKIP jibes have already started in the House of Commons, during debate on Ebola... #UKIP #HouseofCommons #DouglasCarswell

— Naomi ✱ (@nomez_7) October 13, 2014
Wow, Fiona O'Donnell managed to twist a debate on Ebola into an attack on Ukip. Talk about desperation.

— George Burrell (@Gamb1993) October 13, 2014
Tory chairman Grant Shapps tried last week to evoke Ebola as a reason to avoid voting Ukip. According to the Sun, he said: "We live in very uncertain times with what's going on with ISIL, what's going on with Ebola at home and with the economic recovery – where this country is actually growing faster than the rest of the Western world.
"All of that would be put at risk with an Ed Miliband Prime Ministership and the Ukip result makes that more likely."
Former Ukip MEP Godfrey Bloom infamously outlined the party's stance on international aid last year when he spoke out against giving money to "Bongo Bongo land".
In the footage of his July speech at the meeting in Wordsley, near Stourbridge, Bloom says: "How we can possibly be giving a billion pounds a month when we're in this sort of debt to bongo bongo land is completely beyond me.
"To buy Ray-Ban sunglasses, apartments in Paris, Ferraris and all the rest of it that goes with most of the foreign aid. F18s for Pakistan. We need a new squadron of F18s.
"Who's got the squadrons? Pakistan, where we send the money."