One of the female veterans of the guerrilla Kurdish forces has warned that the advance of the Islamic State across the Middle East is threatening to take women's rights "back to the dark ages" and is a danger to the entire world.
Diana Nammi, now 50, started fighting in the Kurdish forces, known as the Peshmerga, against the hardline Islamic regime in her home country of Iran when she was just a teenager.
But she warned that the Islamic State's bloody campaign was one of the biggest modern threats to women's rights.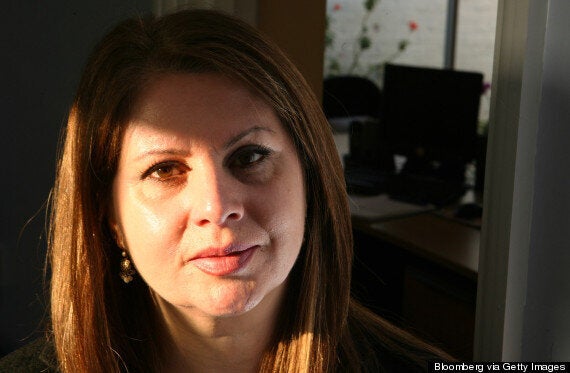 Nammi fears IS will take people back to the dark ages
And she expects to see more young women taking up arms to fight against IS to defend themselves, as she did in the Peshmerga. "It is a very natural reaction for anyone who is in that situation to defend themselves, especially women," she told The Huffington Post UK.
"Because If IS take power, women lose control not only of their lives but of their bodies, they have nothing. Women try to defend their lives, their cities, their families. It's a normal reaction in a bad situation."
"What they have done to women is to take them, to rape them, sell them – and this is just the first thing that they are doing. They force women stay at home, and perform Female Genital Mutilation to women who are not 'cut'," she added.
"They completely cut women's lives out of normal society. They force women to be invisible. They are bringing the dark ages back to us. And it is very dangerous, not only for Iraq and Syria in my opinion, but for the whole world."
Nammi came to the UK in 1996 and is now a tireless campaigner against honour killings and forced marriages, after setting up the Iranian and Kurdish Women's Rights Organisation (IKWRO).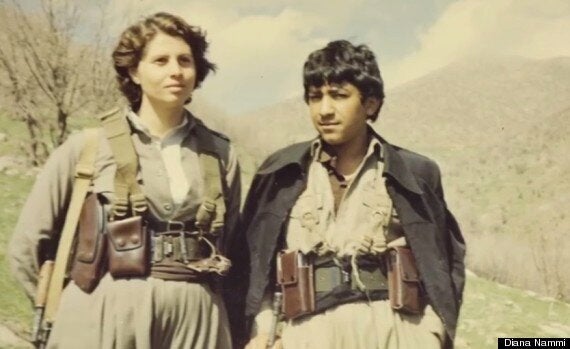 Nammi when she was a peshmerga fighter in Iran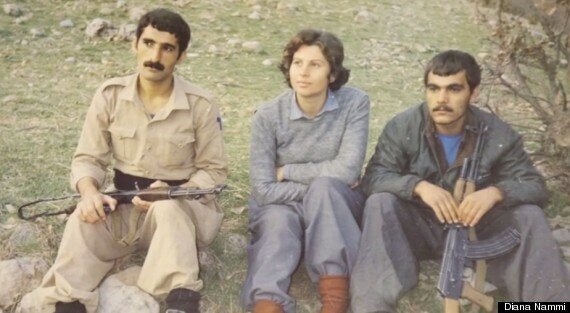 Today, her work in the UK will see her named the Barclays Women of the Year at an awards ceremony in London.
Nammi said the oppressive regime in Iran had many similarities to Islamic State. "The similarity is great, in terms of women's rights. What both of them want is for women to be oppressed and to have no human rights on their own.
"At the moment, IS are trying to be stable. The Iranian government is stable now, and has been in power for 35 years. When they started, they were like IS, and they still are in some ways."
If IS does stabilise as a long-term power in the region, the results will be catastrophic, she warned. "The situation will go back to the stone age or dark ages.
"They want to go back to very, very, very old Islamic culture and an Islamic caliphate, which were very dangerous. They just behead those who are not with them - they are against them. It's just black and white.
"If you just look at the internet, they beat up or imprison women for not covering themselves. Women will not be considered a human but just as a piece of meat to give pleasure to men."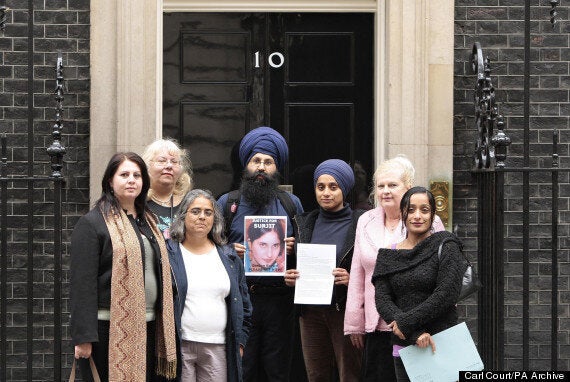 Nammi (left) outside 10 Downing Street with campaigners against honour-based violence
Nammi said the conservative interpretation of Sharia law gives women no right for divorce, no right for custody of their children, and allows polygamy. "Sharia law is happening in the UK for political correctness," she claimed. "But just imagine this law in the hands of extremists. What you see in the news is just a few seconds of the real things that are happening."
Nammi said she felt for the millions of refugees from the violence in Syria and Iraq – which number nearly three million from Syria alone, and called for more help for the staggering numbers. "The winters going to be very cold. People are in need of help. I remember a situation in 1991, in the American war in Iraq," she said.
"There were so many refugees. It's the worst nightmare you can have: running for your life, trying to find a safe place, millions of people homeless and foodless, health is nothing.
"Leaving everything you achieved behind and going with no bright future, you don't know what's going to happen in the next hour, let alone the next day. It is the most devastating thing."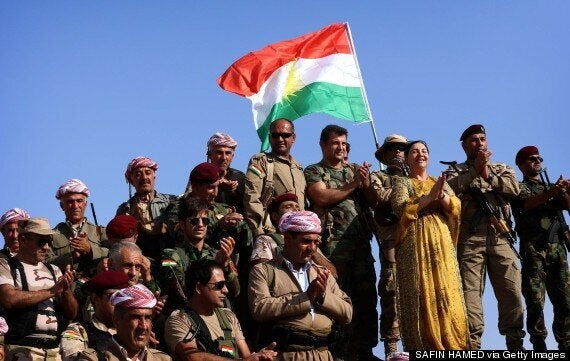 Peshmerga fighters in Iraq pictured last week
Nammi said that in her view, the UK's decision to bomb Iraq would make little difference. "Bombing doesn't help that much. As a charity we cannot go to deep into politics, but my personal view is we need a different action, such as humanitarian action and soldiers. [The UK and US] gave an opportunity to the very brutal groups to come to power, so they should have a responsibility to stop them."
She added: "We need to think about all the human begins living in the area – all the women, all the children, all the people who are disabled. IS have no mercy for anyone.
"For the same of human rights and human beings, women's rights and child protection, the world needs to take action."