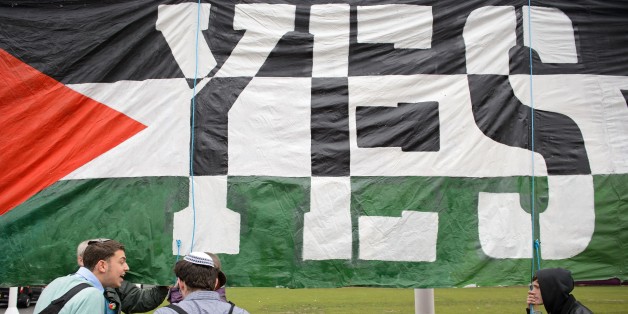 LEON NEAL via Getty Images
MPs are already engaged in war of words as they head to Parliament to vote whether or not to officially recognise Palestine as a state.
David Cameron is believed to be abstaining from the vote. Joining him will be George Galloway - one of the most virulent supporters of the Palestinian cause.
The Respect MP has announced he will not take part in the debate on statehood, as a 'yes' vote would also be recognising Israel.
"Israel was a state born in 1948 out of the blood of the Palestinians who were hounded from their land," Galloway said. "I continue to support the only realistic solution, one democratic and secular state, called Israel-Palestine or Palestine-Israel. The proposed two-state solution is to all intents and purposes dead and is only used in order to provide Israel further breathing space to consolidate the illegal settlements and expand its land grab further."
A motion before MPs urges them to support the view that the Government should recognise Palestine as a state, although an amendment suggests this step should be taken once peace negotiations have successfully concluded.
The motion threatens to split the Labour party, with party leader Ed Miliband forced to backtrack on his original plans to demand a three-line whip on his MPs to support the motion. In practice, the Labour leader may discreetly allow a large number of MPs to stay away from the debate.
The move by Miliband to back the motion has put him at odds with some Jewish communal leaders and with some of his own party's groups.
Vivian Wineman, president of the Board of Deputies of British Jews said MPs should "abandon gestures which provoke but achieve little and instead encourage increased dialogue between the followers of the Abrahamic faiths and the development of a consensus against antisemitism anti-Muslim sentiment and all other forms of prejudice".
Writing for the Huffington Post, Winemann said that the vote as it stood "risks extending legitimacy to one part of the Palestinian administration - Hamas - which is in control of Gaza and which has just been engaged in a conflict with Israel during which it fired over four thousand rockets indiscriminately at her."
Labour Friends of Israel director, Jenny Gerber, opposed the move from the Labour leader: "A unilateral recognition of a Palestinian state may make negotiations less likely to occur as the Palestinian Authority will have less motivation to enter talks to begin with."
It follows the collapse of peace talks between Israel and Palestine and a summer conflict in Gaza, which claimed the lives of more than 2,100 Palestinians - mostly civilians - as well as 70 Israelis, just six of them civilians.
Although the vote is symbolic and will not change government policy, it could lead to other countries following suit.
Former international development minister Sir Alan Duncan declared that Britain has an "historic and moral duty" to recognise Palestine, adding shame had been brought on the UK by its decision to stand back from taking a decision.
Story continues after slideshow...
On Sunday over 300 senior Israeli figures including a Nobel Prize winner and former ministers, sent a letter urging the UK Parliament to vote yes.
It read: "We, Israelis who worry and care for the well-being of the state of Israel, believe that the long-term existence and security of Israel depends on the long-term existence and security of a Palestinian state.
"For this reason we, the undersigned, urge members of the UK parliament to vote in favour of the motion to be debated on Monday 13th October 2014 calling on the British Government to recognise the state of Palestine alongside the state of Israel."
Lisa Nandy MP: Today I will vote to recognise the state of Palestine : http://t.co/mvVsYBeGMu http://t.co/D5CUebS5Ck

— Lisa Nandy (@lisanandy) October 13, 2014
As a longstanding supporter of Two States I will be voting in favour of the recognition of Palestinian statehood in the Commons tonight.

— Stephen Twigg (@StephenTwigg) October 13, 2014
On train down to #Westminster after long conference recess for busy week including voting today to #RecognisePalestine #twostatesolution

— David Ward (@DavidWardMP) October 13, 2014
I'll be voting this evening in the Commons to recognise Palestinian statehood as a contribution to securing a negotiated two state solution

— Chuka Umunna (@ChukaUmunna) October 13, 2014
To all those asking, yes of course I'll be voting to recognise #Palestine today. Thanks for all your tweets & e mails @PSC_Exeter

— Ben Bradshaw (@BenPBradshaw) October 13, 2014
I'm heading for WM where today I will vote to recognise the #Palestine State without preconditions to work towards 2-state solution.

— Mike Crockart MP (@CrockartMP) October 13, 2014
Presenting his bid to debate the issue in the Commons, Labour's Grahame Morris told the backbench Business Committee last month: "I do think it is important that Parliament has an opportunity to express its will. The last time we actually had a full debate on the issue was back in 2012. This is in relation to the recognition of the state of Palestine alongside the state of Israel.
"Can I just point out respectfully to the committee that a lot has happened since we made the original bid?
"The Kerry-led negotiations have collapsed. We know that Gaza has been left devastated by the consequences of the conflict. We have seen the biggest annexation of Palestinian land in the west bank for 30 years.
"There have been enormous protests, not just in London, but all across the UK - demonstrations, large public gatherings, meetings and protests.
"The Foreign and Commonwealth Office says that more than half the correspondence it receives is on this issue. The e-petition that initiated our initial bid has gained more than 111,000 signatures and there are a number of other similar e-petitions on issues specifically related to this that have gained tens of thousands of signatures in a relatively small space of time.
"There is a huge public desire across the UK for MPs to debate the issue and discuss the conflict."
David Cameron's official spokesman confirmed that ministers will abstain in the vote, the result of which will not be binding on the Government.
The spokesman indicated that the Government will not change its position, even if the Commons votes in favour of recognition of Palestinian statehood.
He told a regular Westminster media briefing: "The Government's position is very clear and hasn't changed, so I think that is a very clear indication of the British Government's approach.
"The Government's approach is a long-standing one and is in support of a two-state solution and we will continue to work with a range of international partners - Israel, the Palestinian Authority - in support of that.
"We think that what you should do is you should do everything you can that is supportive of a successful and sustainable outcome based on a two-state solution."
Asked whether the Government's policy could change in response to the vote, the spokesman said: "I've been pretty clear about the Government's position and it won't be changing."