As Oscar Pistorius arrived for the second day of sentencing following his conviction for killing Reeva Steenkamp, a former girlfriend of the double amputee joined the courtroom.
Samantha Taylor, who has previously claimed Pistorius cheated on her with Steenkamp was pictured in the Pretoria High Court as people took their seats.
Wearing a black open-sleeved dress, she appeared to purse her lips as Pistorius made his way past her.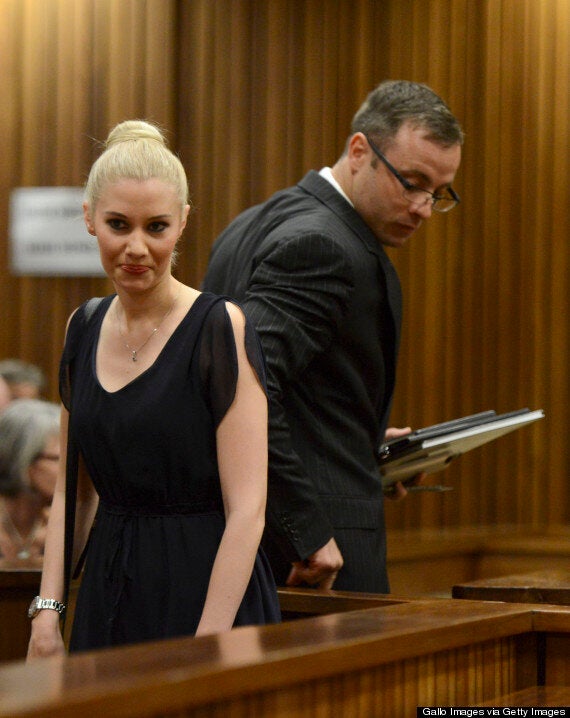 Oscar Pistorius moves past former lover Samantha Taylor in the Pretoria High Court on Tuesday
Last month Pistorius was found guilty of the culpable homicide of Steenkamp.
Sentences for such a crime can range from a suspended sentence and a fine to as many as 15 years in prison.
Pistorius, once a celebrated athlete who ran in the 2012 Olympics, was charged with premeditated murder in a televised trial that transfixed many people around the world, but judge Thokozile Masipa found him not guilty of that charge.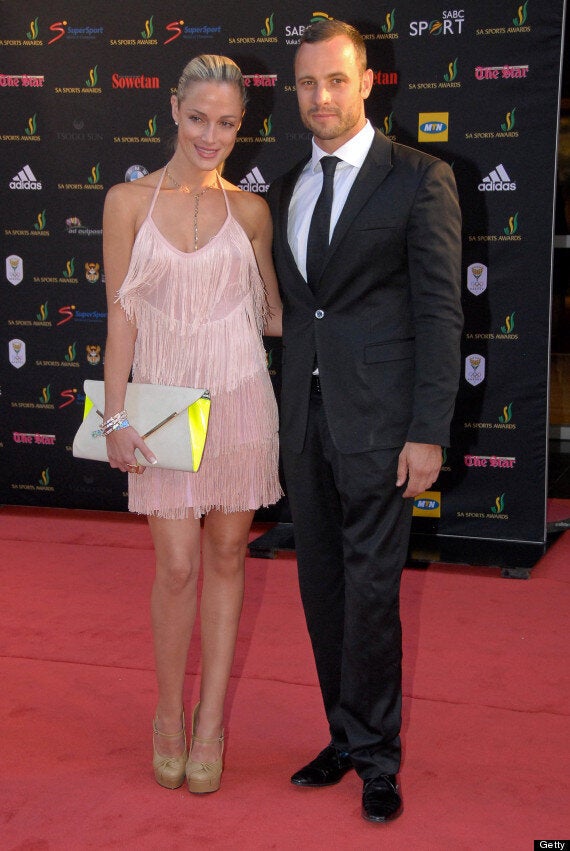 Pistorius and Steenkamp in November 2012, three months before her death
After the verdict, Taylor, 20, told how Pistorius made her fear for her safety and worried "it could have been me."
In an interview aired with Nine's A Current Affair, Taylor claimed Pistorius bit her and locked her in his house while he went out.
She also revealed hiding his gun from him on one occasion after he had been drinking.
She said: "I didn't fear for my life in the sense that I thought he was going to hurt me, but I knew that there was a possibility having a gun around that it might go off. That's why I hid it."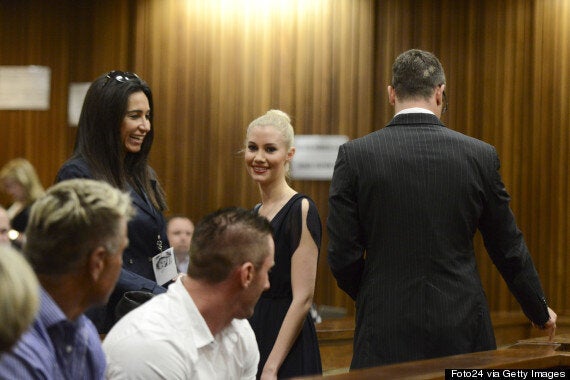 Taylor and Pistorius dated for 18 months
Taylor also gave evidence during the trial, revealing how Pistorius once fired a weapon through an open sunroof after being pulled over for speeding.
When asked why they split, she told the court: "Because he cheated on me with Reeva," the Mirror reported.