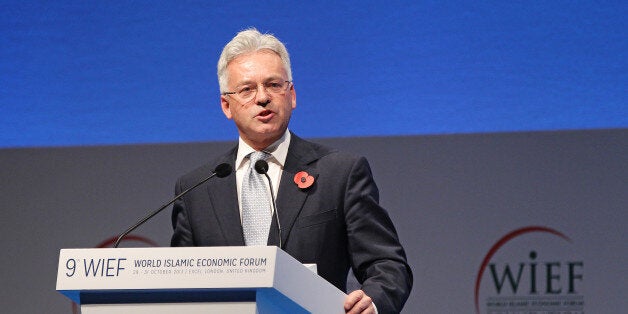 Sections of the Israeli-occupied West Bank resemble the system of apartheid seen in South Africa and "bring shame" on the Benjamin Netanyahu government, former Tory minister Sir Alan Duncan has warned.
Sir Alan, who served as the coalition's international development minister until July, condemn Israel as "reprehensible" for pursuing the "relentless illegal expansion" of its borders through its "illegal colonies".
In a speech at the Royal United Services Institute on Tuesday, Sir Alan said: "Occupation, annexation, illegality, negligence, complicity: this is a wicked cocktail which brings shame to the government of Israel. It would appear that on the West Bank of the Jordan the rule of international law has been shelved."
Sir Alan, who was appointed the prime minister's envoy to Oman and Yemen after leaving government, was "crystal clear" on his support for Israel's right to exist as a "legitimate state" within the original borders agreed at its foundation in 1948.
However, he revealed that he had raised his concerns about Israel's settlements in a letter to David Cameron and the then foreign secretary William Hague last year.
Sir Alan argued: "This illegal construction and habitation is theft, it is annexation, it is a land grab – it is any expression that accurately describes the encroachment which takes from someone else something that is not rightfully owned by the taker. As such it should be called what it is, and not by some euphemistic soft alternative.
"Settlements are illegal colonies built in someone else's country. They are an act of theft, and what is more something which is both initiated and supported by the state of Israel."
Touching on the "amazing city" of Hebron, in the West Bank, where Palestinians have been forced out of the city centre, he said: "One should not use the word apartheid lightly, but as a description of Hebron it is both accurate and undeniable. In South Africa it meant pass cards, no free movement, forbidden areas, and first and second-class citizens. So it is in Hebron.
Sir Alan pointed out that "Palestinian citizens are reduced to having nothing while illegal Israeli colonisers get everything. Water, electricity, access, protection: illegal settlers get the lot, the Palestinians next to nothing".
"Settlement activity is not carried out by some minority group outside the orbit of the Israeli state. Settlement activity is systematically initiated, implemented and supported by the Israeli government, who authorise, implement and protect the relentless illegal expansion of the borders of Israel. This is reprehensible.
The former minister said that anyone who backs Israel's settlements should be seen as an extremist, warning: "Settlement endorsement, meaning the denial that they are illegal and the support for their consequences, is a form of extremism which we should not tolerate. Be it tacit, or be it explicit, such an attitude is simply not acceptable."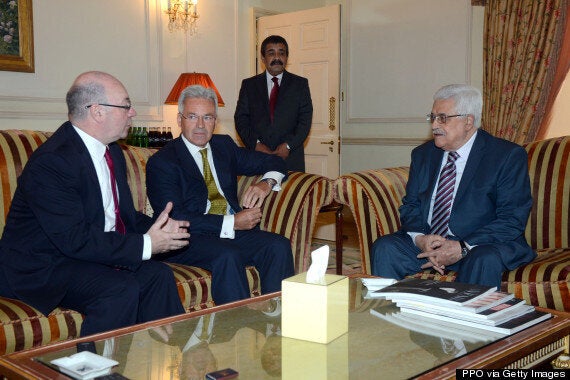 Sir Alan, as a junior minister, meeting Palestinian president Mahmoud Abbas last year
MPs backed a non-binding motion by 274 to 12 in the Commons on Monday evening, which stated: "That this House believes that the Government should recognise the state of Palestine alongside the state of Israel as a contribution to securing a negotiated two-state solution."
The UK government does not classify Palestine as a state, but says it could do so at any time if it believed it would help peace efforts between the Palestinians and Israel. Ministers were told to abstain and the non-binding vote will not force Britain to recognise a Palestinian state.
The vote saw one Tory MP, Mike Freer, leave government in order to vote against the motion. Freer, who was ministerial aide to communities secretary Eric Pickles, said that he supported the two state solution while not "rewarding Hamas".

The Huffington Post UK understands that Sir Alan's speech was scheduled prior to the date for this backbench Commons vote being set.
Speaking to The Huffington Post UK on the day of her resignation, the Tory peer accused the coalition of failing to act as an "honest broker" in the Middle East and called for an immediate arms embargo against Israel.
"The British government can only play a constructive role in solving the Middle East crisis if it is an honest broker," the former Foreign Office minister said, "and at the moment I do not think it is."
Related