The controversy over the footballing return of convicted rapist Ched Evans to Sheffield United has engulfed social media and the British tabloids today, with one Daily Mail columnist asserting "some rapes are worse than others".
The comments come as it emerged that the woman raped by Evans, who was defended as "non-violent" by Loose Women's Judy Finnigan, has been forced to flee her home because of an internet hate campaign.
Journalist and author Sarah Vine, who is the spouse of government chief whip Michael Gove, said in her Wednesday column she had "no wish" to defend Evans, but claimed there was a clear difference between "a cold, predatory rapist and an evening of drunken debauchery that goes badly wrong."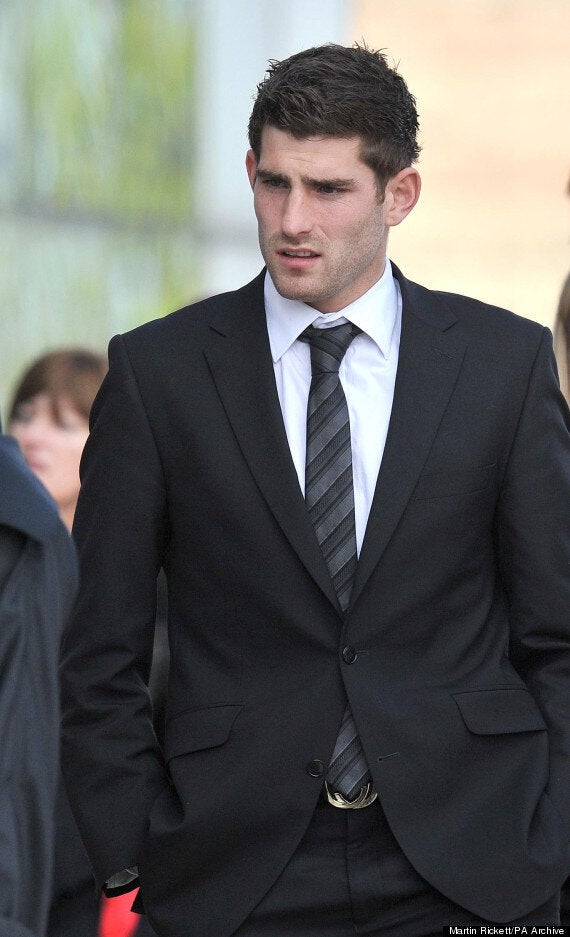 Ched Evans before his trial for rape
Vine said she was "firmly in the Judy Finnigan camp" and said she believed there were "shades of grey" when it came to rape.
"He didn't cause any bodily harm to the person. It was unpleasant, in a hotel room, I believe, and she was – she had far too much to drink."
Vine criticised the "Twitter mob" who attacked Finnigan for her comments. "The fact is that there is a world of difference between a stranger who through the use of violence actively sets out to defile and humiliate a woman and one who oversteps the mark in an already intimate situation.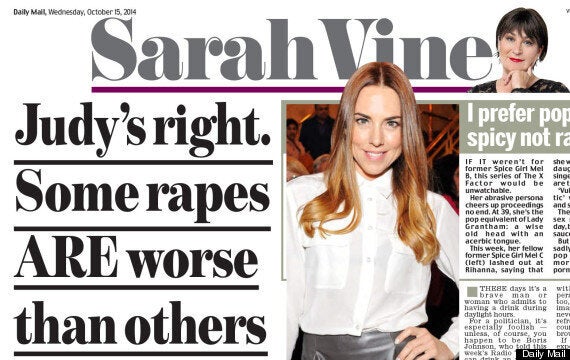 The piece in the Daily Mail
"Women need to accept ownership of their behaviour," she continued. "Assaulting someone while they are drunk is a vile act of cowardice. But it is also incumbent on my sex not to put themselves in such a position when heavily inebriated.
"That is not to say that if something awful does happen, they are to blame; but that they have a responsibility to look after themselves. And that means not getting so blotto that they can't even remember what happened — the all too familiar refrain in so many failed rape prosecutions.
"If I go to a nightclub, get drunk and invite a man home, I should hardly be surprised if he tries it on. I can still change my mind, of course, but if it then all goes horribly wrong I would be hard pushed to argue I was wholly the innocent party. A knife- wielding maniac breaking into my bedroom, however, is totally different."
Vine has previously written columns arguing that women have a responsibility not to get so paralytically drunk that they are at risk of rape. In February, she wrote for the Mail "Sorry sisters, but girls who get blind drunk ARE risking rape".
"Why is that so offensive? It is, after all, the truth. It's not a nice truth, or one that anyone condones. It is, however, a truth that might save some women from a horrific ordeal.
"If a man violates a drunken girl against her will, he is still, of course, guilty of rape.But the best outcome is to ensure that situation never arises.
"In feminist terms, that means accepting responsibility for your own safety. In anti-rape charity terms, that means showing women how to protect themselves, not arguing over semantics. And in common sense terms, that means not getting so drunk that you can't remember your own name."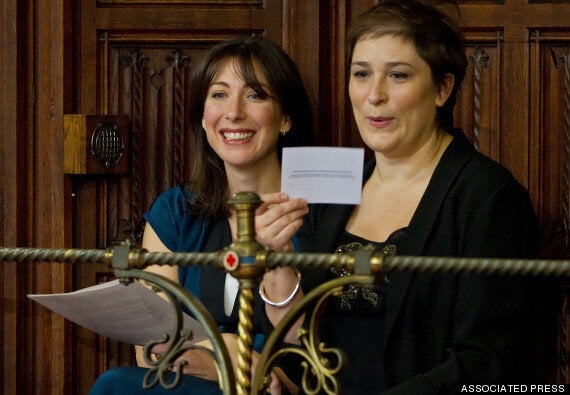 Mail columnist Sarah Vine, pictured here with Samantha Cameron
It was reported this week that Evans' victim, who was illegally named on Twitter by some of the footballers' friends and supporters, has adopted a new identity and been forced to leave her home town because of the abuse. In 2012, when Evans was convicted of raping her in the Premier Inn near Rhyl, Denbughshire. A group of just 21 people were arrested for identifying her on Twitter, with ten pleading guilty, although she was named up to 2,000 times.
Evans is set to be released on Friday, after serving half of his sentence and is said to be keen to rejoin his old club and restart his career in football.
Wednesday morning's Daily Mail also carried a double-page spread with quotes from Evans' mother and girlfriend defending Evans. Helen Roberts, Evans' mother, took to Twitter on Monday thanking Finnigan for being "level-headed" and retweeted several comments questioning if Evans' crime actually constituted rape, including one that asserted there were "many men in prison after joint night of pleasure".
Evans' girlfriend Natasha Massey, who has remained with the footballer throughout his sentence, told This Morning she knew Evans had cheated on her, but that was the only thing he had done wrong. "My thoughts and feelings over the cheating were put to one side and I just stepped in to help through this terrible time," she said. "I know Ched and I know he wouldn't be capable of committing a crime like that."
Wednesday's Sun newspaper carried an interview with Jill Saward, a rape victim and campaigner, criticising Finnigan. "A person isn't any less dead just because they were murdered quickly. The same is true of rape. Judy, like many others, has fallen for the misunderstanding that physical scars are more important than emotional ones. I want to state very clearly that rape is a violent act. It is about humiliation, degradation and controlling, manipulative power."
And Northumbria police and crime commissioner Vera Baird, who campaigns about violence against women, also criticised Finnigan's comments. "He raped her - that is a serious injury and undermines some people for life.
"Ms Finnigan seems to have already forgotten the testimony of the teenage victims of Rolf Harris and others who have said in detail in their victim impact statements how their lives had been ruined. No bodily injury has little relevance, it doesn't have to do physical damage to be rape and it is the essence of violence to force himself upon her."
Finnigan, who was making her debut on the show, released a statement afterwards, saying: "I apologise unreservedly for any offence that I may have caused as a result of the wording I used.
"I absolutely wasn't suggesting that rape was anything other than an horrendous crime and, as I said on the programme, I was in no way attempting to minimise the terrible ordeal that any woman suffers as a result. The point I was attempting to raise as part of the debate was what should happen to someone after they have committed a crime and served their time?"
The argument that rape is a crime with shades of grey has been advanced several times in the past by other public figures. In July, prominent atheist and scientist Richard Dawkins tweeted that "Mild pedophilia [sic] is bad. Violent pedophilia is worse. If you think that's an endorsement of mild pedophilia, go away and learn how to think."
"Date rape is bad. Stranger rape at knifepoint is worse. If you think that's an endorsement of date rape, go away and learn how to think. If you prefer to think date rape is worse than knifepoint, simply reverse my syllogism. To say Y is worse than X is not an endorsement of Y.
"Whether X or Y is worse is a matter of opinion. But it is a matter of LOGIC that to express that opinion doesn't mean you approve of either."
When criticised on Twitter, he continued: "'Mild date rape is bad. Violent date rape is worse.' Is it really so hard to understand that that doesn't constitute endorsement of either? Yes, I can imagine circumstances where rape by a friend is worse than by a stranger. The logic remains. It doesn't imply approval of either."
When interviewer Victoria Derbyshire interrupted him to say "Rape is rape, with respect", Clarke retorted: "No it's not, if an 18-year-old has sex with a 15-year-old and she's perfectly willing, that is rape. Because she is under age, she can't consent.
"What you and I are talking about is we are talking about a man forcibly having sex with a woman and she doesn't want to - a serious crime."
"Date rape can be as serious as the worst rapes but date rapes... in my very old experience of being in trials, they do vary extraordinarily one from another."