David Cameron is set to demand tough curbs on European immigration as a "red line" ultimatum for Britain staying the European Union, sparking accusations from his deputy that the Tories were in a "blind panic" about Ukip.
A YouGov poll for The Sun put Ukip on 19%, with Labour and the Tories on 33% and 31% - the lowest combined score for the two main parties in this Parliament so far.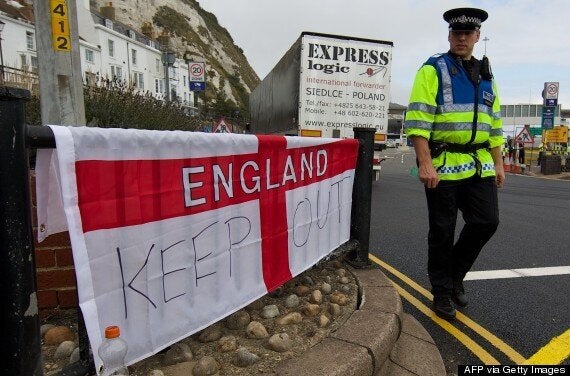 A police officer walks past a flag draped over a barrier at the Port of Dover
The Sun reported that the measures could involve caps on arrivals from certain EU nations, perhaps using an Australian-inspired 'points' system, quoting a senior Whitehall source as saying: "Attitudes across Europe are changing fast, faster than a lot of people think, and David is now convinced he can achieve this in the renegotiation. If he cannot, then he will make it equally clear that we will be prepared to go our own way.
"It is now clear that reasserting some control on the level of immigration from other EU countries is the only way we can get the numbers down to practicable levels again, which is what people want. So he will make it clear that this is what Britain wants, and it is no longer negotiable."
Deputy Prime Minister Nick Clegg said he had heard none of it, and that Cameron and his party were in a "total flap" about Ukip. "No Conservative has put any proposals to me, they haven't breathed a word of this within government," he told LBC Radio. "The Conservative Party has got a fundamental problem. They are running after Ukip in a complete panic."
He added that the Conservatives would "become interchangeable with Ukip" if they continued with the tactic. "This constant shilly-shallying, where every week they say 'We'll edge a little bit closer to Ukip', I think is a disastrous political strategy," he said.
Ukip migration spokesman Steven Woolfe called the tactic "hot air from a cold, hard, calculating politician".
"The Prime Minister is running scared of Ukip and the voters who have called for total control of our borders from Europe," he said.
"With this latest PR trick he is seeking to pull the wool over our eyes for he knows in advance that the EU will never restrict free movement of European migrants."
Matthew Elliott, chief executive of Business for Britain, which campaigns for fundamental reform of the EU said: "The PM has to secure changes to freedom of movement as he knows otherwise, the public will simply vote 'Out' come what may in an EU referendum. The EU must reform and become more competitive, otherwise Britain will and should leave because the status quo is becoming increasingly unacceptable to both business and the public."
Mats Persson, director of the Open Europe think-tank, said: "David Cameron needs to be careful not to talk up what he can achieve on EU migration in Europe, not least since Ukip can always move the goalposts.
"There's support in Europe for changing the rules on access to benefits, which can be done without changing the EU treaties and which will go a long way to address people's concerns. An emergency brake on numbers will be very hard and risky but may just be possible to achieve if that's the only thing Cameron goes for, given that there are precedents for other areas in the EU treaties.
"A points-based system would be an extremely difficult task, involving fundamentally rewriting the EU treaties. Cameron should also point out that EU free movement does come with benefits."
Related