In a battle of egos so epic that it could cause the internet to implode, Piers Morgan has waded into Donald Trump's feud with Russell Brand.
It was perhaps only a matter of time until three of Twitter's biggest self-promoters finally came to blows, but, in an interesting twist - Morgan has sided with Trump in a cutting rebuke of Brand's 'Revolution'.
Brand, who was dismissed by Sex Pistols frontman John Lydon earlier this week as a "bum hole", has been accused of encouraging political apathy in the UK by urging people not to vote in the 2015 General Election.
Now, Morgan has called Brand's anti-capitalist political stance "a load of old sanctimonious hog-wash."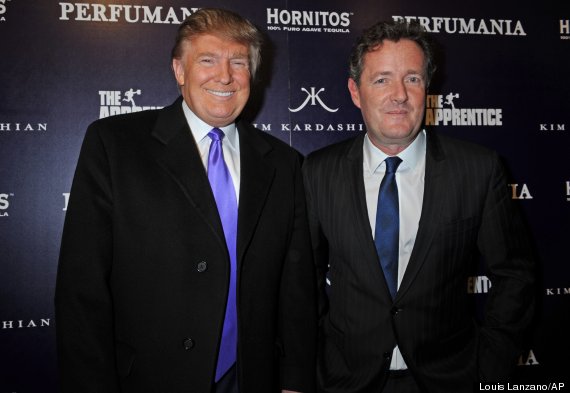 Morgan and Trump together in New York in 2010
Brand, Morgan states, views Trump "as the personification of capitalist evil." But, he argues, both men are more similar than they would like to admit.
"Two rich, successful, teetotal white men with healthy egos and a penchant for beautiful women, appearing on television, writing best-selling books and saying controversial things," he says.
But whereas Trump is "supremely comfortable in his own skin, fame and wealth," Morgan adds, Brand "wants us to believe he's now trapped in the vice-like grip of a tormented celebrity-loathing freedom fighter."
Writing in the Mail, the former CNN host highlights a recent interview with the Guardian, where Brand said he wouldn't be giving his cash away - this, Morgan argues, proves that "like most great revolutionaries, he's quite happy wallowing in his own hypocrisy."
Johnny Rotten, aka John Lydon, also accused Brand of hypocrisy this week, calling the actor's call not to vote "a ratpile of laziness. What he's preaching is a lifestyle of cardboard boxes down by the river. And he's preaching all this from a mansion."
Discussing the Hollywood star-come-political commentator's spat with Trump, Morgan admitted he "thoroughly enjoyed" the dispute, but stated that "when I hear Brand ranting away, I hear someone who wants us to believe he's something he's not as he rides his highly profitable global wave of self-delusion."
"The bottom line is that if I were to be stuck on a desert island with either Brand or Trump, I'd choose Trump any day," he concluded.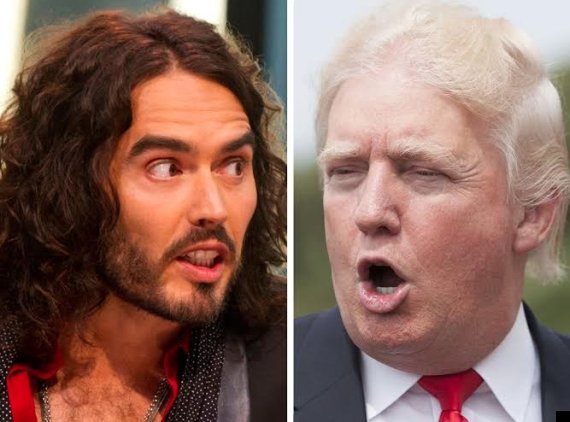 Brand vs. Trump
It all started when Trump tweeted Thursday that he had watched Brand on a recent episode of Jimmy Fallon's show and found him to be a "major loser." He quickly suggested that Katy Perry must have been drunk when she married the British actor.
The star of the US version of The Apprentice started the row after saying he had watched Brand, who is busy plugging his book in New York, on a late-night chat show in the US.
The millionaire business magnate then derided the actor and author, calling him a "loser" and making things personal.
I watched Russell Brand @rustyrockets on the @jimmyfallon show the other night—what the hell do people see in Russell—a major loser!

— Donald J. Trump (@realDonaldTrump) October 16, 2014
Trump's attack on Brand may have been sparked after the comedian described the tycoon in a US radio interview this week as a "bit daft" adding: "It's not like he's a person who's a super guy or anything. He's just good at hungry hippo, and we live in hungry hippo land."
Dragging Brand's ex-wife Katy Perry into the Twitter dispute, Trump added:
.@katyperry must have been drunk when she married Russell Brand @rustyrockets – but he did send me a really nice letter of apology!

— Donald J. Trump (@realDonaldTrump) October 16, 2014
SEE ALSO:
It was not immediately clear what "letter of apology" Trump was referring to, but it appeared to get Brand's attention, with the comedian-come-political commentator hitting back with a sassy retort.
.@realDonaldTrump are you drunk when you write these tweets? Or does that foam you spray on your bald head make you high?

— Russell Brand (@rustyrockets) October 16, 2014
Brand then sent Trump some biting reading material and attributed Trump's fortune to his "daddy" rather than any entrepreneurial skill.
.@realDonaldTrump I don't think your daddy left you any witty ripostes, and everything you have you inherited. http://t.co/q5cJzu9OiW

— Russell Brand (@rustyrockets) October 16, 2014
Just to rub salt in the wound, Brand then shared an online piece that would have left Trump tearing off his toupee in fury, titled: "In Financial Circles, It's Pretty Well Known That Trump Is a Deadbeat."
The devastating report suggests Trump's record was "replete with bankruptcies, lawsuits, and aggrieved former investors".
.@realDonaldTrump Also - http://t.co/Jq10umVKLF

— Russell Brand (@rustyrockets) October 16, 2014
Trump responded in perfect playground fashion by repeatedly goading Brand by spitefully tweeting Perry about her ex-husband.
.@katyperry Katy, what the hell were you thinking when you married loser Russell Brand. There is a guy who has got nothing going, a waste!

— Donald J. Trump (@realDonaldTrump) October 16, 2014
.@katyperry I watched Russell Brand and I think his mind is fried - he looks really bad. Russell is a total joke, a dummy who is lost!

— Donald J. Trump (@realDonaldTrump) October 17, 2014
Trump wasn't the only right-wing, Obama-hating, capitalist to face Brand's wrath this week after the comedian took on the entire Fox News network.
Brand, who has been engaged in a three-month war of words with the broadcaster, fronted an episode of his news magazine show The Trews from outside Fox News headquarters at the Rockefeller Center in midtown New York, discussing immigration and Islamophobia before security guards pounced, escorting Brand from the lot.
"We'll run this building one day," joked the comic before jumping in a car.