A pedestrian has died after being hit by a tree that fell into a road as the remnants of Hurricane Gonzalo brought high winds to Britain.
The woman died at the scene in Kensington, west London, London Ambulance Service said.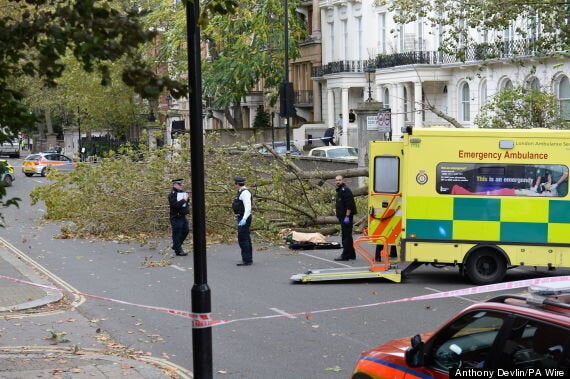 Police and London Ambulance services at the scene
A spokeswoman said: "We were called at 11.40am to reports of a tree fallen on a person on Kensington Road.
"We sent an ambulance crew, a responder by car, an advanced paramedic, a medical team from London's Air Ambulance by car and a duty officer to the scene.
"Sadly, despite our attempts to resuscitate the patient, a woman died at the scene."
The London Fire Brigade also attended the incident and was working to remove the tree.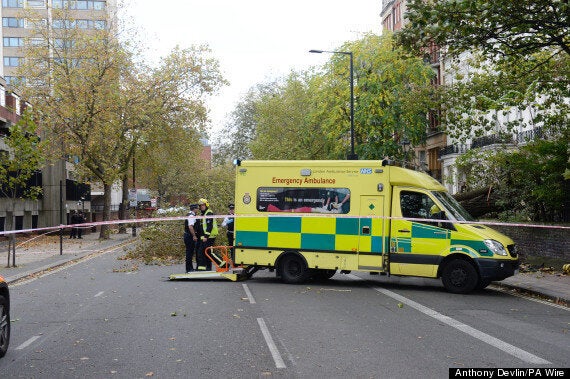 Kensington Road, Kensington, west London where a woman has died
Elsewhere, three people were reportedly injured by a fallen tree at Southwick Recreation Ground in West Sussex.
The Daily Mail reported that just before 10am two women were taken to the Royal Sussex County Hospital in Brighton after being trapped under a fallen tree. A third casualty was taken to Worthing Hospital by ambulance, the paper added.
Wind and rain, with some of the worst conditions being experienced in Scotland, led to 110 flights being axed at Heathrow airport.
On the railways, poor conditions resulted in delays to commuter services in southern England and elsewhere, while on the roads some bridges in Scotland were closed to high-sided vehicles.
Some areas were subjected to gusts of wind up to 65mph, but forecasters predicted that the worst of the weather will be over after today.
Hurricane Gonzalo caused widespread damage and a power blackout last week when it hit Bermuda.
Today, the tail-end of the hurricane was particularly severe in Scotland where heavy rain led to poor visibility on the A90 south of Aberdeen, and the Forth Road Bridge, the A87 Skye Bridge and the A898 Erskine Bridge were among the bridges closed to high-sided vehicles.
In England, a section of the A1(M) in Cambridgeshire was closed due to an overturned lorry and there was heavy traffic on a number of motorways and A-roads.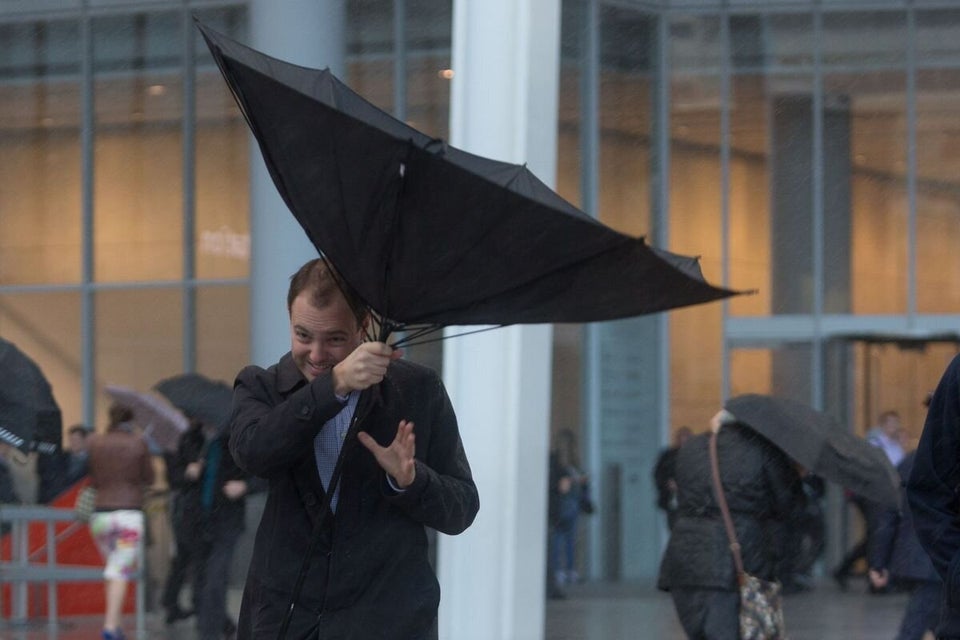 Hurricane Gonzalo
On the railways, signalling problems led to delays to all routes through Sydenham in south east London. This affected passengers travelling with the London Overground, Southern and Thameslink train companies.
To add to passengers' difficulties, a broken-down freight train led to delays between Crewe and Shrewsbury, while an obstruction on the line near Little Sutton in Cheshire caused hold-ups between Ellesmere Port and Hooton.
Sean Penston, a forecaster with weather company MeteoGroup, said: "The area of rainy, windy weather will move eastwards, varying in intensity across the UK, with the strongest gusts on the coasts. We can expect gusts up to 65mph in the north west this morning, and up to 50mph in central and eastern parts of England in the afternoon."
It will remain windy this evening, but winds will gradually die down as the weather system passes.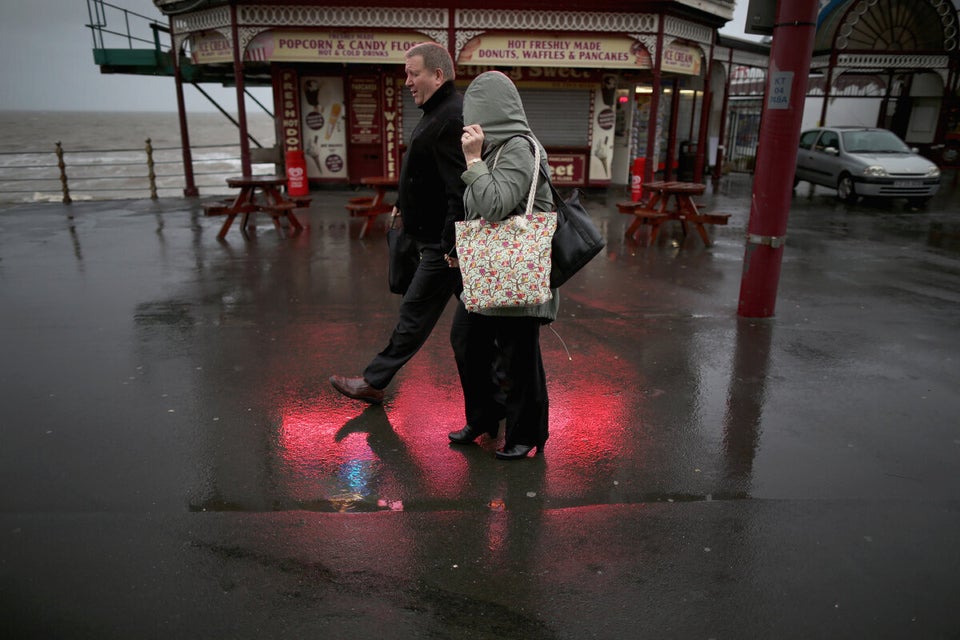 Hurricane Gonzalo reaches UK
East Anglia rail passengers had a particularly difficult morning.
The 8am Norwich to London train broke down, leading to long delays for passengers on that route.
The Greater Anglia train company warned that services between Norwich and London could be cancelled or delayed by up to 60 minutes.
Another broken-down train resulted in delays between Sheffield and Derby/Nottingham, with those travelling with the CrossCountry, East Midlands Trains and Northern Rail companies affected.
Hurricane Gonzalo last week caused widespread damage and a power blackout when it hit Bermuda.
The Bermuda weather service had warned residents not to go outside when the storm's calm eye moved in, but some ventured out anyway to do quick damage assessments, noting that porches were destroyed and power lines were downed.
Royal Navy frigate HMS Argyll has arrived at the tiny British territory to assist in the relief effort if required.
The vessel is equipped with a helicopter and a number of small boats to help with reconnaissance and transport, and is also able to assist with power generation, communication and water supplies, the Ministry of Defence said.
Defence Secretary Michael Fallon said: "Royal Navy personnel are trained to respond to situations such as this and HMS Argyll is well resourced and ready to provide assistance to the people of Bermuda."