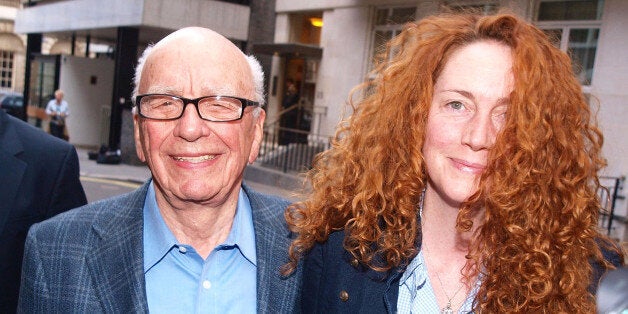 NEW YORK -- Rebekah Brooks, the former Chief Executive at News International, washed up in New York this week, exploring possible job opportunities, according to a News Corp spokesperson.
A News Corp statement read: "She and her husband are here in the United States for a visit, reconnecting with friends and meeting with businesses as she explores and considers her professional future."
News of Brooks' possible return to Rupert Murdoch's empire comes ahead of the criminal trials of several Sun journalists due in court later this year on charges of making illegal payments to public officials.
Reinstatement for Brooks is likely to cause anger amongst those standing trial; the accused journalists are reportedly bitter at the disparity between their treatment by News Corp management and that of their former boss.
A long-term factotum of Murdoch, Brooks was embroiled in a seven-month trial at the Old Bailey, emerging innocent of charges of conspiracy to hack phones and the authorising of illegal payments to a public official. Her husband, 51-year-old Charlie Brooks, was also acquitted.
Brooks stepped down from her position at News International in 2011 following revelations about phone hacking that rocked British media and led to the culling of one of Murdoch's most successful British tabloids; Brooks reportedly received a payout of £16 million following her departure.
Her former lover, Andy Coulson, who worked as Prime Minister David Cameron's director of communications following his time as editor at the News of the World, was convicted of charges relating to phone hacking and is currently serving an 18-month sentence in Belmarsh Prison.
In 2011, Cameron told parliament: "I have said very clearly that if it turns out Andy Coulson knew about the hacking at the News of the World he will not only have lied to me but he will have lied to the police, to a select committee, to the Press Complaints Commission and, of course, perjured himself in a court of law."
There are a number of jobs Brooks could take within the Murdoch establishment, including a role at Dow Jones - currently edited by Will Lewis, the former Daily Telegraph editor and a close friend of Brooks.