Russell Brand has faced a fierce backlash after appearing in a combative BBC Newsnight interview about his "alternative to corporate hegemony" where he suggested that he is open minded about 9/11 conspiracy theories.
In a heated discussion with presenter Evan Davis that ultimately descended into a lot of shouting, Brand was queried over whether or not he was giving credence to conspiracy theories by discussing how the explosion at Twin Towers was "controlled" in his new book.
"We have to remain open-minded to any kind of possibility." Brand said when asked if the September 11 disaster had been orchestrated by the American government.
"I think it is interesting at this time when we have so little trust in our political figures, where ordinary people have so little trust in their media, we have to remain open-minded to any kind of possibility," he said.
"Do you trust the American government? Do you trust the British government? What I do think is very interesting is the relationship that the Bush family have had for a long time with the bin Laden family."
He then appeared to change tack, saying that he did not want to discuss "daft" conspiracy theories.
Brand added that the BBC "shamefully sabotaged" the outcome of the Scottish Referrendum and was reporting on the attack in Ottawa this week in a way to build an "anti-Islamic narrative."
"These tragic events are used to enforce further controls on us," he said.
Russell Brand. Shouting at a man who is questioning his political views, and then not ruling out 9/11 conspiracies.

Viva la revolución...

— Atheist Blobfish (@AtheistBlobfish) October 23, 2014
Russell Brand just lost me at "9/11 was an inside job" no #newsnight

— ✨Princess✨ (@SuicidalLolita) October 23, 2014
So Russell Brand is basically a 9/11 truther. Jesus Christ. Some 'revolution'.

— James Bloodworth (@J_Bloodworth) October 23, 2014
russell brand not coming across particularly well is he on newsnight #stopbullyingevan

— Matthew Brown-Bolton (@mbbmotion) October 23, 2014
Russell Brand comes out as a 9/11 truther. Just when I thought he couldn't get any worse.

— Kira Des (@MedievalSwan) October 23, 2014
The tense interview culminated with Brand clutching the presenter, clapping his hands at him and launching into a tirade about a graph.
At one point in the exchange, Davis was reduced to almost pleading with Brand: "I'm trying to take you seriously."
Davis, attempting to quiz the comic about his ownership proposals for General Motors, was told it was a "silly administrative quibble".
"Now Evan, I hope you are not going to use this opportunity, an Oxford-educated man to come on TV and be rude to me?" Brand asked.
Davis then tried to show the Hollywood actor a graph, to which he responded "I don't want to look at a graph mate, I haven't got time to look at a bloody graph."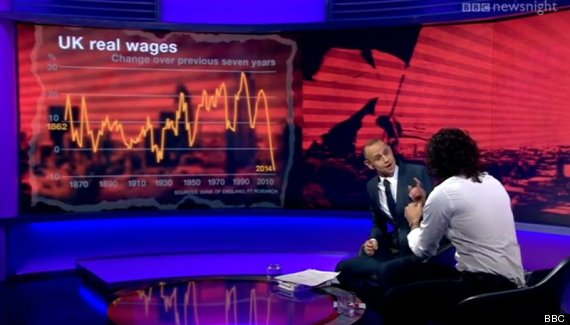 The trouble-causing graph
"I want to take this opportunity to talk to the people of this country and tell them to get involved in creating direct action."
"It's a lovely graph mate, well done, this is the kind of thing that people like you use to confuse people like us."
"Evan do you ever go outside?" he asked as Davis pleaded with him to look at the graph.
Haven't we all got time for a graph?#RussellBrand

— Daniel Cheetham (@DanCheetham) October 23, 2014
Davis, clearly losing patience with Brand's accusations asked him "do you want to overthrow John Lewis?"
Telling him to "sharpen up", Brand said he was there to represent "ordinary people", but, it seemed, many rejected that offer:
Any sympathy I once had for Russell Brand disappeared with that interview last night. Bullying, hectoring, messianic.

— Ian Dunt (@IanDunt) October 24, 2014
Russell Brand is basically becoming a Left wing Nigel Farage. A cult leader.

— Dan Hodges (@DPJHodges) October 24, 2014
If Russell Brand hates capitalism so much why doesn't he ask to be paid minimum wage for his film roles instead of £5mill? #justasking

— Julia Hartley-Brewer (@JuliaHB1) October 23, 2014
@rustyrockets I wish you would stop thinking you represent 'ordinary people' and start listening to people who are willing to debate issues

— Tim Talbot (@tim_titu) October 23, 2014
Chaotic meltdown on #Newsnight tonight as Evan Davis tries to interview Russell Brand. An unedifying spectacle.

— Simon Miller (@simonfgmiller) October 23, 2014
Russell brand is TERRIBLE now. He has no mandate at all. And him comparing parliament sq protestors to Hong Kong is offensive.

— Owen Bennett (@owenjbennett) October 23, 2014
"i am trying hard to take you seriously" great put down from @EvanHD to #RussellBrand Ranting is not a serious political discussion.

— Olly Stevens (@oliverst75) October 23, 2014
Oh dear: Russell Brand on theories that US was responsible for 9/11: "We have to remain open-minded to any possibility" #newsnight"

— Andrew Smith (@andrew_graeme) October 23, 2014
#Newsnight just proved what a fraud and a mountebank Russell Brand really is.

— Duncan_Brown (@DuncanBrown3) October 23, 2014
Please someone warn me if Russell Brand is due to give an interview again. I never want to have to go through that again #newsnight

— Lummel (@fuzzle7777) October 23, 2014
Evan Davis brilliant on #newsnight once again. Showed Russell brand to be the complete fool that he is

— Jamie Stinson (@jamie_stinson) October 23, 2014
Russell Brand is not selling his revolution on @BBCNewsnight it's an inarticulate squawk strewn with sound bites #RussellBrand #Revolution

— Colm McAfee (@mcafee77) October 23, 2014
"I'm different from all these self-serving politicians" says Russell Brand, promoting his own book and ignoring the questions in fine style.

— Chris Jones (@ChrisJones28) October 23, 2014
His host launched the interview by bringing up the recent furore surrounding Brand and his revolution one year after the comedian seemingly encouraged people not to vote in a similarly terse discussion with Davis' predecessor Jeremy Paxman.
Dismissing his critics, Brand says Revolution is clear to anyone who doesn't want to pursue a "nihilistic apathetic argument deliberately," what he is trying to do is encourage people to embrace their "own political destiny."
Brand, having reiterated his dislike for the current state of the political elite, was then asked by Davis to point out what he is actually going to do about it.
Quickly shutdown by Davis, who calls Brand's ideas "piecemeal", Brand was seen to get agitated, touching the presenter and saying people like him "don't understand."
"You don't understand. We don't want hegemonic figures coming in and didactically shouting at us, we want to organise ourselves," he said.
The comedian said he would not be standing in 2015 arguing "my energies and efforts are best spent supporting people."
Brand also launched into an attack on the BBC, who have often given the comedian airtime, saying the corporation gives "enough of a voice to conventional wisdom, I'm here to give a voice to ordinary people."
"The BBC missed the mark, you don't know what ordinary people care about," he said before starting to plug his YouTube show "The Trews - News you can trust."
Brand also released a new 'Trews' video this week where talked about the recent attacks in Canada, where he accused the media of encouraging Islamophobia.