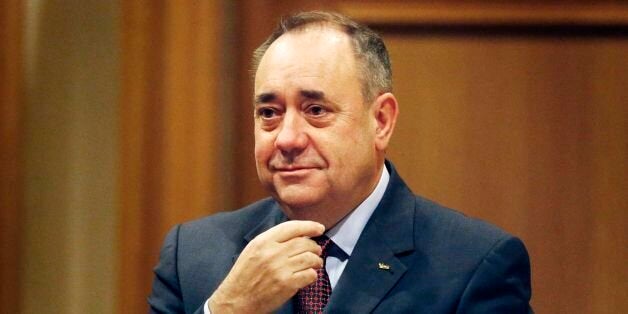 Alex Salmond has not ruled out running for a seat at Westminster in next year's general election as he prepares to stand down as Scotland's First Minister.
Salmond, who will leave his office and that of SNP party leader next month, was asked on BBC's Question Time programme if he would consider a return to Westminster.
He told host David Dimbleby: "The answer to your question David, absolutely decisively I can tell you I haven't made up my mind. So you'll have to wait and see. But I tell you what, when I do make up my mind, you invite me back on to Question Time and I'll tell you why I did it."
Dimbleby then said: "So at least it's not a closed door?" Salmond replied: "You can take that from what I've just told you David, that's right".
The First Minister previously served as an SNP MP for Banff and Buchan, but returned to Holyrood when elected as SNP leader for the second time.
After losing the independence referendum last month, Salmond announced he would be standing down as First Minister and will be replaced by deputy Nicola Sturgeon at the SNP party conference in Perth in November.
He said that he would "continue to offer to serve" as MSP for Aberdeenshire East after standing down with the next Scottish election being held in May 2016.
The end of the referendum campaign has also raised questions about the future of other Scottish political leaders. Former chancellor Alistair Darling and former prime minister Gordon Brown both said they would decide whether to remain MPs once the campaign was over.
Related