Ed Miliband's approval rating has dropped to an all-time low, according to a YouGov survey for The Sunday Times.
It found just 18% of voters thought Mr Miliband was doing a good job, while 73% said he was doing badly. The overall rating of -55 is one point worse than Nick Clegg.
In contrast, the poll showed David Cameron leading the race among the main party leaders - on a staggering -14.
Despite the figures, Shadow Home Secretary Yvette Cooper said she believed he was doing a "good job".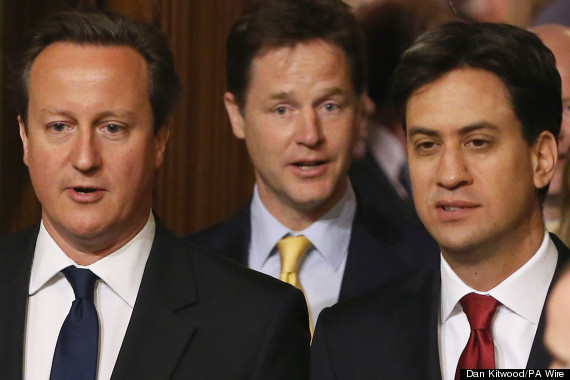 The three party leaders organised in descending order of popularity, left to right
She told Sky News' Murnaghan programme: "I think the work he has done has been really important over the last few years, holding the party together after the last general election, but also building up the policies we have been calling for.
"On dealing with the cost of living crisis, on what more we need to do to support the National Health Service, on immigration.
"There are a wide range of areas where I think people across the country are not getting a fair deal at the moment, working people not getting a fair deal, and that is exactly the things that Ed Miliband is championing."
Overall, Labour has just a one-point lead in the polls, with the party on 32%, the joint lowest support recorded since Mr Miliband became leader in 2010.
YouGov surveyed 1,808 British adults on October 30 and 31.
Shadow communities secretary Hilary Benn denied suggestions Labour had been "lumbered with a loser" in Mr Miliband but acknowledged that the party faced a "tough fight".
"People who are attacking Ed Miliband - newspapers and others who do not want Labour to win the next election - they are trying to attack his personality and they are trying to attack the party and to attack him and it is going to be a tough fight," he told BBC 1's Sunday Politics.
"But what really matters is how people vote in real elections."
SEE ALSO:
Asked about the poll, Energy Secretary Ed Davey said: "It doesn't cheer me that politicians are disliked.
"It 's anti-Westminster. I think that's the challenge to Westminster politicians. We have got to show we are on the side of the people.
"There are people who are angry out there. I don't think Westminster politicians have realised that enough."
He also admitted that the Liberal Democrats were no longer seen as the anti-establishment party, but insisted they would be an "insurgent force" moving forward.
Story continues beneath slideshow
He told the BBC's Sunday Politics: "Because we are in government that has gone.
"We have in government and will in the future take on vested interests and be the insurgent force in British politics."
To do that he said the party needed to ensure it received credit for its role in the economic recovery and show the Liberal Democrats were the party of reform.
Asked about Mr Clegg's unpopularity, he replied: "I think we will see a change in this and we will have a much more positive view of Nick Clegg as we go in [to the general election]."
He accepted there would not be a return to "Cleggmania" but predicted the emergence of "Clegg respect" as the public recognised the tough decisions he had taken.