One of the most senior Muslims working with the British military has backed the controversial poppy hijab, saying Muslims who try to emphasise their Britishness and counter the "extremists'" view of Islam by wearing poppies are doing "a great thing" that should be celebrated.
Imam Asim Hafiz was responding to a question about whether the poppy hijab was, as some have suggested, Islamophobic for singling out Muslims and implying they were under particular pressure to show they remembered Britain's war dead.
The poppy hijab was designed by a 24-year-old Muslim fashion student and backed by the Islamic Society of Britain, whose president Sughra Ahmed said "ordinary Muslims" could wear it to take attention away from "the angry minority who spout hatred and offend everyone".
Mr Hafiz, who became the first Muslim chaplain to the British Armed Forces in 2005 and is now Islamic religious advisor to the Chief of the Defence Staff, the professional head of the armed forces, disagreed.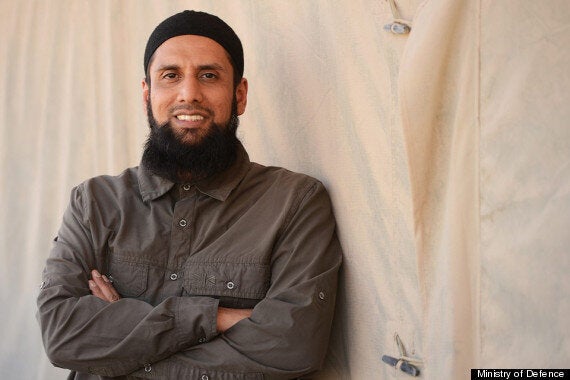 In an interview with The Huffington Post UK - the full text of which will be published as part of our Beyond Belief series - Mr Hafiz said he did not feel Muslims were under particular pressure to wear poppies but said those who try to show "we're as British as everyone else" to shut out "extremists" who try to say otherwise, were doing good work.
Mr Hafiz, who was himself wearing a poppy, said: "Unfortunately, there are individuals out there on both sides of the divide who are going to misrepresent and Islam and Muslims. I think Muslims want to get their voice heard in an environment where good stories don't make stories.
"Therefore, they feel the need to shout louder than a minority who want to portray Muslims in a particular light.
"Therefore, to ensure that (Muslims are) not tarnished with an unfavourable brush, it's only right that we do as much as we can... that we raise awareness that the vast majority of Muslims just want to get on with their everyday life, that we're just as British everyone else. We need to shut out radicals and extremists on all sides of the divide, so that they are a minority and they are no longer heard."
He added: "I think it's a great thing that there are Muslims out there trying to get their voice heard and if poppies is something that represents this new-found identity, I think it should be celebrated."
Mr Hafiz, whose parents were born in India, said younger, British-born Muslims were starting to engage more with British history and suggested more would wear the poppy in future years.
He added: "I knew nothing about the poppy growing up. Now we see the second generation understanding what it represents, which means they are more comfortable to engage with the poppy and to also understand the history behind it."
The full text of our interview with Mr Hafiz, where he describes how fellow Muslims reacted to him becoming the British military's first imam, will be published later this week as part of the Huffington Post UK Beyond Belief series on Britons using their faith to change society.
Related