The first impression that a group of migrants had as their boat approached Europe was one that might have convinced them to turn back again after they landed on a nudist beach in the Canary Islands.
The 19 migrants then proceeded to spark panic among the birthday besuited tourists by announcing they had symptoms of Ebola and were seeking care.
The migrants travelled on a fishing boat from Sierra Leone and Guinea, two of the countries most severely affected by the epidemic, to the Gran Canaria beach of Maspalomas.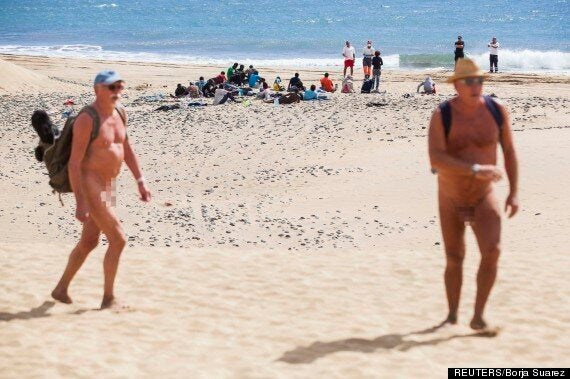 Nudists leave the beach where the migrants washed up
Red Cross officials scrambled to isolate them from the starkers sunbathers, gingerly laying down masks, food and water for the migrants to collect.
The arrivals were persuaded to remain on the beach while authorities deliberated whether to enact emergency restrictions to keep tourists away from potential infection.
Gran Canaria authorities then authorised a truck to come to take the migrants to an immigration holding centre, where none tested positive for Ebola.
Spanish newspaper El Mundo quoted Marco Aurelio Perez, the mayor of San Bartolome, as saying he had initially been very concerned about the unexpected arrivals. "It presents risks because it is an established destination. Unfortunately, illegal immigration has become a common sight in the West."
Maspalomas beach is an isolated beach spot, requiring a mile walk across sand dunes to reach the private spot. The resort area is popular with Brits and home to the island's only English language paper.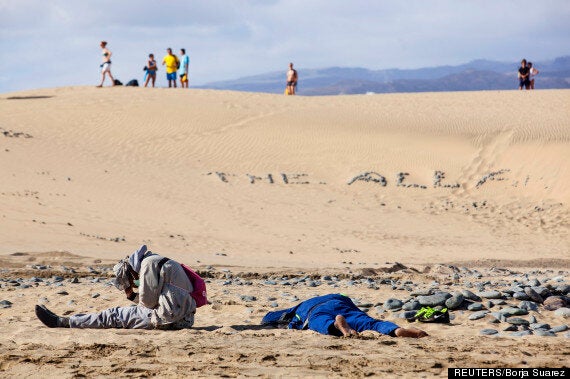 The men later tested negative for Ebola
For a year, the Italian Navy has worked to rescue people who try to cross the Mediterranean on boats that are not seaworthy, leading to hundreds dying - including 500 in one incident when a boat sank off the island of Lampedusa in October last year.
After rescuing an estimated 150,000 people, the operation - called Mare Nostrum, 'Our Sea' - has ended, with the Italian government saying it is unsustainable to keep committing so much of its navy to proactive search and rescue.
The government's position, that rescue missions create a "pull factor" for desperate migrants, was sharply criticised by refugee groups.
Related