Britain's decision to not support efforts to save desperate immigrants who risk drowning will see "more people needlessly and shamefully dying on Europe's doorstep," it has been claimed.
The Foreign Office has said it will not support search and rescue operations to proactively rescue people trying to cross the Mediterranean because this "encourages" more people fleeing countries like Libya, Eritrea and Syria to attempt the dangerous journey.
For a year, the Italian Navy has worked to rescue people who try to cross the Mediterranean on boats that are not seaworthy, leading to hundreds dying - including 500 in one incident when a boat sank off the island of Lampedusa in October last year.
After rescuing an estimated 150,000 people, the operation - called Mare Nostrum, 'Our Sea' - will end this week, with the Italian government saying it is unsustainable to keep committing so much of its navy to proactive search and rescue.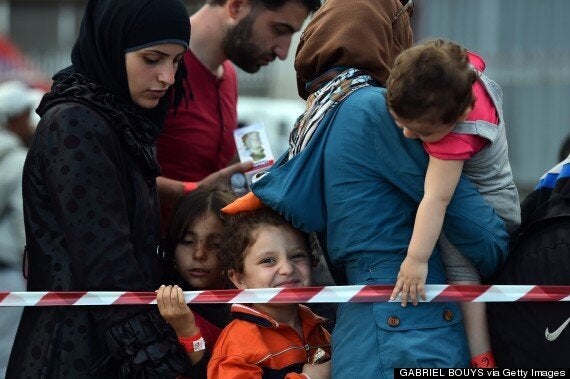 A family of immigrants saved by the Italian Navy last weekend, in the last days of the Mare Nostrum operation that has rescued 150,000 people
The UK Government's position was laid out quietly in a written answer to questions in the House of Lords.
Baroness Anelay, a junior Foreign Office minister, said: "We do not support planned search and rescue operations in the Mediterranean.
"We believe that they create an unintended 'pull factor', encouraging more migrants to attempt the dangerous sea crossing and thereby leading to more tragic and unnecessary deaths.
"The government believes the most effective way to prevent refugees and migrants attempting this dangerous crossing is to focus our attention on countries of origin and transit, as well as taking steps to fight the people smugglers who willfully put lives at risk by packing migrants into unseaworthy boats."
Maurice Wren, the chief executive of the Refugee Council, said the British policy would mean more deaths.
"The only outcome of withdrawing help will be to witness more people needlessly and shamefully dying on Europe's doorstep," he said.
"The British Government seems oblivious to the fact that the world is in the grip of the greatest refugee crisis since the Second World War.
"People fleeing atrocities will not stop coming if we stop throwing them life rings; boarding a rickety boat in Libya will remain a seemingly rational decision if you're running for your life and your country is in flames.
"The answer isn't to build the walls of fortress Europe higher, it's to provide more safe and legal channels for people to access protection."
When Mare Nostrum ends, the EU border agency Frontex will begin an operation that will be smaller in scale, codenamed Triton.
"While saving lives is an absolute priority in all maritime operations coordinated by Frontex, the focus of Triton will be primarily border management," the agency said.
In September, Frontex appealed for "all member states of the European Union to contribute the necessary equipment — including aircraft and a variety of patrol vessels — to support the Italian authorities".
A Home Office spokesman said the only commitment Britain had made so far to this operation so far is one immigration officer, who will gather intelligence about those still attempting the journey.
Despite the Mare Nostrum saving tens of thousands of people, 2,500 have died or gone missing on the Mediterranean since the start of 2014.
A sharp rise in migrant landings over the summer was attributed to the calm summer weather and growing lawlessness in Libya, with hundreds of migrants now being intercepted by Italian authorities every day.