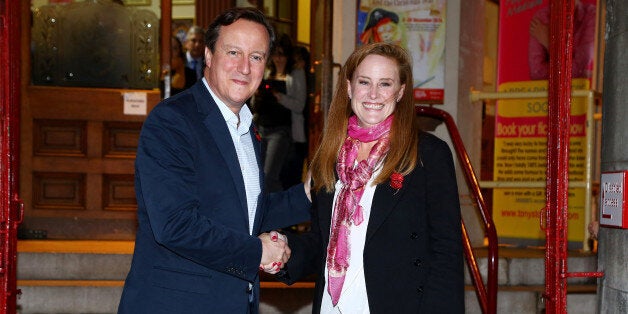 Nigel Farage has gleefully branded David Cameron "desperate", after the prime minister took the unusual step of asking Labour and Lib Dem supporters to vote tactically for the Conservatives in the Rochester by-election to prevent Ukip from winning.
The latest polls indicate Mark Reckless is set to become Ukip's second ever elected MP on 20 November. The result would be a second damaging blow for the prime minister and likely lead to more discord on his backbenches.
On a campaign visit to the Kent constituency yesterday, Cameron made a direct appeal to supporters of other parties to lend their vote to Tory candidate Kelly Tolhurst in a bid to stop Ukip's "great caravan" rolling on.
One Labour MP who has campaigned in the seat told The Huffington Post there was evidence that "Labour voters are going to vote Tory to stop Ukip". By-elections, the MP said, become an "inevitable choice between the two front runners".
Farage said this morning: "Mr Cameron is now begging voters from other parties to vote Tory to keep out Ukip. Desperate stuff for a prime minister to be doing."
Cameron told the Kent Messenger newspaper: "I would say to people who have previously voted Labour, Liberal, Green or anything, that if you want a strong local candidate and don't want some Ukip boost and all the uncertainty and instability that leads to, then Kelly is the choice.
"The campaign is going to shape up in the next ten days into a very clear choice: you can vote for Ukip and be part of the national campaign and another notch for them in their development and then the great caravan will move on, or you can vote for Kelly, who is a hard-working, local person, born and raised locally.
"We have got to focus people on that choice. It is a two horse race; those are the only two real choices and the more we can get people to focus on who is the right person for the job, with the issues that people are caring about, the more people we can get voting for Kelly."
He aded: "I think there will be lots of Labour supporters in Rochester and Strood who don't want to see Ukip with their divisiveness and their message succeed here."
Ukip appears to be heading for a comfortable victory in the by-election with a 12% advantage over the Tories, according to a poll conducted by Lord Ashcroft and published yesterday. Reckless - whose defection triggered the contest - is on 44% while Tolhurst is on 32%. Labour candidate Naushabah Khan is trailing on 17%, with the Liberal Democrats attracting just 2% support.
Popular in the Community