David Cameron has accused Vladimir Putin of "machismo" after the Russian president rather unsubtly sent an entire fleet of warships to the Australian coast to coincide with the gathering of the G20 group of world leaders in Brisbane.
The deployment of the cruiser Varyag and three support vessels on exercises in the Coral Sea has sparked outrage in Australia, with Prime Minister Tony Abbott describing it as part of a "regrettable pattern" of Russian military assertiveness which appeared to be trying to recreate the "lost glories" of the Soviet Union.
Cameron described the vessels' presence as an attempt to project "international machismo" but played down their significance, joking: "I didn't feel it necessary to bring a warship myself to keep myself safe at this G20, and I'm sure that Putin won't be in any danger."
The Prime Minister will use a planned meeting with Putin on the fringe of the summit of the world's 20 leading economies to warn the Russian President that Moscow risks an intensification of Western sanctions if it continues to flex its military muscles in Ukraine.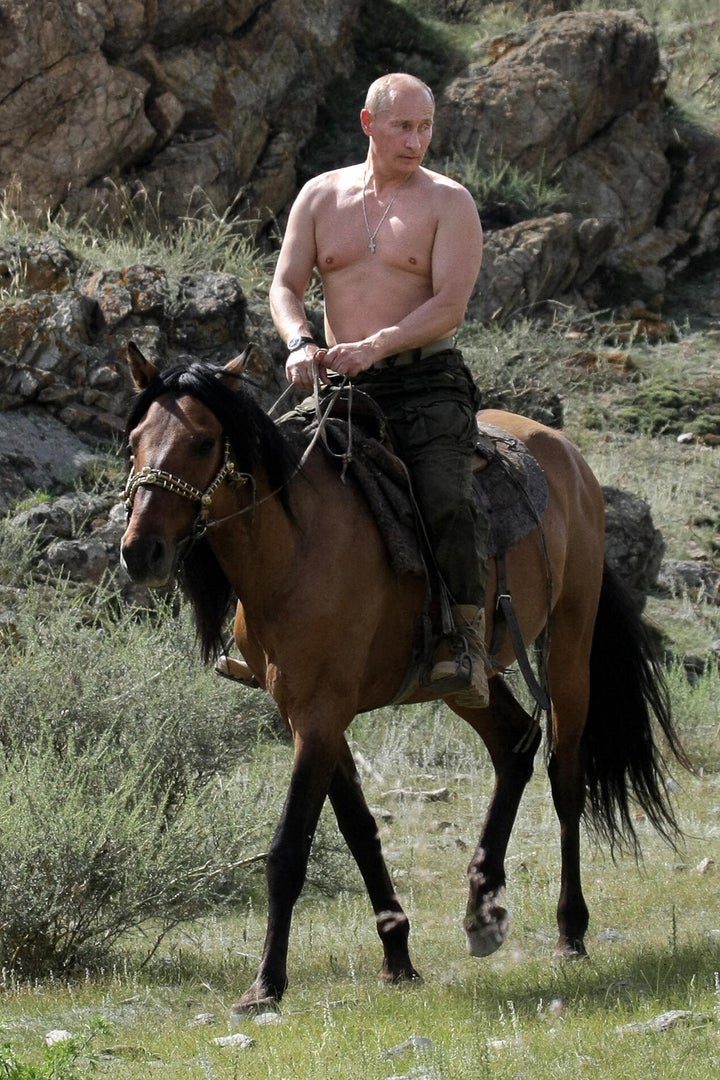 Putin flexing his other muscles
European Union foreign ministers are meeting on Monday in Brussels to discuss the possibility of extending sanctions, which Mr Cameron said were already having an effect on the Russian rouble and the ability of its banks to raise investment.
He said the situation in Ukraine was "heading in the wrong direction" and Russia risked worsening its relations with the West if it persisted with efforts to "bully" its smaller neighbour.
But asked if the world was heading towards the sort of frosty relations between East and West seen during the Soviet era, he told Sky News: ''I don't call it a Cold War, but obviously it won't be in anybody's interests for this to happen and least of all Russia.''
Dismissing the significance of the Russian ships, he replied: ''What we should focus on is what's actually happening in Ukraine rather than on some of the symbols of international machismo.''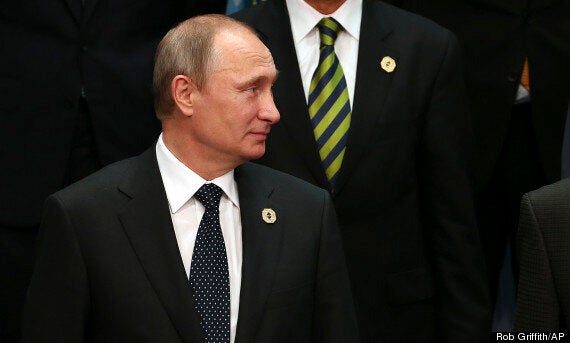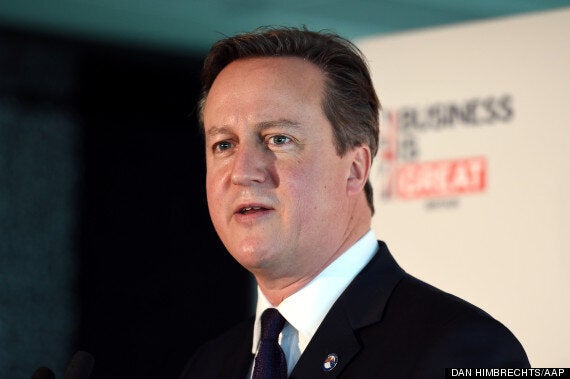 In a round of TV interviews at the summit, Cameron warned that the peace agreement between Ukraine, Russia and pro-Moscow rebels sealed in Minsk in September had not delivered the required de-escalation of the conflict.
''We're heading at the moment in the wrong direction," said the Prime Minister. "What we need is for Russia to change track and to stop destabilising Ukraine, to respect the Minsk agreement, to recognise that there's only one legitimate government in Ukraine and that's the elected government, and to allow that country to make its own choices about its own future. That's not the direction we're heading in.
''It's important to warn of the dangers if Russia continues to head in the other direction.
''If that path continues and if that destabilisation gets worse, the rest of the world, Europe, America, Britain, will have no choice but to take further action in terms of sanctions.''
Cameron made clear that Putin had a "real choice" over Ukraine.
"There's a different and better way for Russia to behave that could lead to an easing of relations, but at the moment he's not taking that path," said the PM.
''Clearly President Putin believes very strongly in the history and identity of the nation of which he is president and we have to understand that, but at the same time we have to be very clear that standing up for your country and your interests, you're not serving that country if at the end of the day the result is an economy under pressure, banks that can't raise money, a falling rouble, a stock market under pressure. In the end I don't believe what is happening is in Russia's best interests.''
The PM declined to speculate on what form future sanctions might take, but said: "What I think Europe has shown, and Britain's played a leading part in this, is that every time there's been a step in the wrong direction - whether that was an illegal referendum in Crimea, whether it was the incursion of Russian troops, whether it was destabilisation - every time there's been a step in the wrong direction, Europe has taken a step in a firm direction."
The G20 summit's official agenda is focused on economic growth and jobs, but the gathering has developed into a showdown between Russia and other world powers.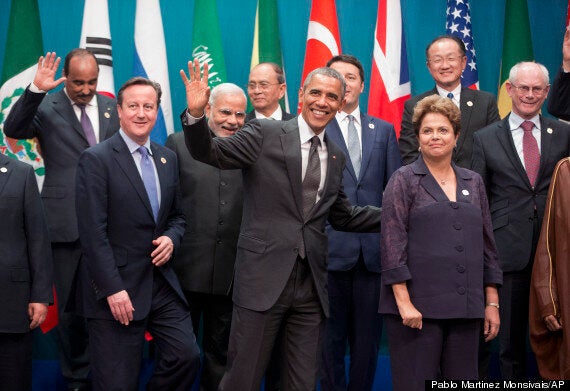 Mr Putin's invitation to Brisbane sparked protests by Ukrainian groups - as well as a counter-demonstration by members of Australia's Russian expatriate community.
The Australian press reacted with fury to the deployment of the Russian ships, with one popular newspaper splashing Mr Putin's face in front of a Cold War-era Soviet hammer and sickle on its front page.
Summit host Abbott is still awaiting an apology he has demanded from Russia for the shooting down of a Malaysia Airlines jet over Ukraine in July, which killed 38 Australians.
Speaking alongside Cameron at a pre-summit press conference in Canberra, Mr Abbott said that, while investigations continue into the MH17 disaster, "it is our clear understanding on the evidence so far that clearly this was shot down by Russian-backed rebels, most likely using Russian-supplied equipment, so I think there is a heavy responsibility on Russia to come clean and atone".
The Australian PM, who spoke to Mr Putin at this week's Asia-Pacific APEC summit in Beijing, said: "One of the points that I tried to make to President Putin is that Russia would be so much more attractive if it was aspiring to be a superpower for peace and prosperity, if it was trying to be a superpower for ideas and for values, instead of trying to recreate the lost glories of tsarism or the old Soviet Union."
He added: "It is part of a regrettable pattern. Whether it's the bullying of Ukraine, whether it's the increasing Russian military aircraft flying into the air space of Japan and European countries, whether it's the naval task group which is now in the South Pacific, Russia is being much more assertive than it has been for a very long time.
"Interestingly, Russia's economy is declining even as Russia's assertiveness is increasing."
Sir Roderick Lyne, a former ambassador to Russia, said Mr Putin would endure further sanctions because he is waiting for Ukraine to "capitulate".
He told the BBC Radio 4's Today programme: "I don't think Putin is in the mood at the moment to step back from what he is doing and there is really very little momentum towards a resolution of this question.
"Threatening him with more sanctions isn't going to solve it. The sanctions are hurting - everybody I spoke to in Moscow spoke about the damage, the huge costs of this operation.
"But everybody believes that Putin is playing a waiting game - he is waiting for a very weak Ukraine to essentially capitulate and he is waiting until such time as the West loses interest and, maybe next year some time, sanctions start to weaken.
"So I see very little that can emerge of a positive kind between David Cameron and Putin in Brisbane today."