More than half of people driven by acute poverty to apply for emergency food aid are there because of delays, sudden cuts or sanctions imposed on welfare payments, according to new research
The Trussell Trust's findings are a direct challenge to the coalition government's insistence that the meteoric rise in the numbers of food bank users is unconnected to the cuts to the social security system, and is only linked to the growth in provision.
The charity, which runs the country's largest network of food banks, analysed more than 900 different users at a range of facilities across the country, as well as conducting 40 more in-depth interviews and 178 different caseloads from people accessing one of their advice services.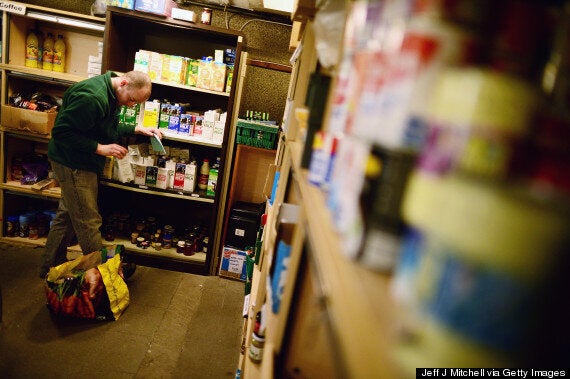 A Stuart Little volunteer packs food at a food bank
Up to two-thirds of those analysed by the study, which was commissioned by the charity along with the Church of England, Oxfam and the Child Poverty Action Group, said they were waiting for their benefits which had been delayed, because they had been sanctioned by jobcentres or because they had been suddenly hit by the so-called bedroom tax.
"The promise of a social security safety net that is there to protect people at times of crisis is something that can, and must be, preserved and protected. Food banks, whilst providing a vital and welcoming lifeline to many, should not become a readily accepted part of that formal provision," the study says.
The Trust has handed out food parcels to at least 913,000 people from 2013-2014, a threefold increase. The Trust says those figures are a low estimate for the numbers suffering from acute personal finance crisis, many more are likely to be relying on help from friends or neighbours.
Conservative ministers have consistently denied the link between welfare cuts and food bank use. Work and Pensions minister said earlier this year that there was "actually no evidence as to whether the use of food banks is supply led or demand led.
"Food from a food bank—the supply—is a free good, and by definition there is an almost infinite demand for a free good," he told the House of Commons.
The Department for Work and Pensions said that today's research "itself concludes it can't 'prove anything' – it uses self-selecting data and recognises there are complex underlying issues.
"We have a strong safety net in place, spending £94bn a year on working age benefits, and we provide a wide range of advice and assistance for anyone in need of additional support."
The Bishop of Southwark, Christopher Chessun, who was at the launch of the report at the House of Commons, dismissed the DWP's response, saying they needed to actually "read the report". And David McAuley, chief executive of Trussell Trust, said DWP junior minister Steve Webb had pulled out of attending the launch at the last minute. "They absolutely do not want to hear the story," he said.
Conservative MP Jeremy Lefroy, who hosted the launch, said he had "no doubt" that cuts to welfare were having an impact, citing his own experience in his constituency surgery in Stafford. "These are not the headline things like benefit cap, but things like sanctions, the smaller things that go below the radar where people cannot get any kind of help."
The study found that, in contrast to several assertions by Conservatives over the past year that people turn up to food banks in order to get 'free food', people found going to get help from the food bank was "often difficult, and was described by participants as being 'unnatural', 'embarrassing' and 'shameful'."
Many of those accessing the service had been thrown into "an immediate, acute financial crisis – either a complete loss of income or a very significant reduction in their income had left them at crisis point, with little or no money to put food on the table".
That crisis was likely to to be prompted by welfare changes, but could be sudden unemployment, family breakdown, bereavement or homelessness. Many of those in crisis were waiting for benefit payments after a sudden change in circumstance, but were unable to feed themselves in the interim.
"The emergency support available to people at a time of crisis was not sufficient to prevent them having to turn to a food bank," the study found. "Many participants were not aware of the various emergency payments available in different circumstances, and even fewer were receiving them.
"Only half (or less) of the users we spoke to knew they could seek support from the Local Welfare Assistance Scheme; very few of those potentially eligible had been awarded short-term benefit advances or hardship payments."
'I THOUGHT THE SYSTEM WOULD PROTECT ME'

Kath lives with her three teenage sons. Her youngest son has several serious medical conditions and requires intensive support. After her partner left 4 years ago, Kath gave up work to become his full-time carer. This left the family finances in precarious financial position.

'We live very close to the edge... we don't have many things. My 17-year-old needed a passport to get a part-time job and I had to say no. My youngest, who's 14, has never been on a school trip, and I can't afford the art supplies my other son needs for his course.'

The family were just about managing when their Child Tax Credits were halved without notice. Kath had arranged her finances so that she relied on her tax credits to pay for food and other daily necessities, so the effect was catastrophic.

"When Kath contacted HMRC, she was told her credits had been cut because she had failed to tell them that her two older sons were staying in education. Kath says she did update them. She was assigned a case worker and given a number to call, 'and that's where the problem started'.

"I called them every day all day and couldn't get through. And every time I got put through to the answer machine we got charged. It was awful. I'd go back to the helpline and say "I can't get through", and they said "Well, that's the number". They didn't help at all. It went on for eight weeks."

Kath was horrified by how she was treated. "When our money was stopped, there was no compassion, there was no way to get support."

Meanwhile, she was getting into more and more debt: "We got behind on all our bills; everything just got swallowed up, and my direct debits were bouncing."

She became unable to meet the family's basic needs. "It was freezing cold, there was no wood for the fire, I was on the emergency on the meter and I knew the lights were about to go out, and I had no food." To attempt to make ends meet, Kath had to rehouse a much-loved family pet, a decision which she described as 'heart-breaking'. But this was still not enough: "I had no money to get my children to school... I was desperate."

To compound their problems, her youngest son's conditions mean he needs to eat healthily, which Kath found challenging on a small budget. "He can't eat fast food; he would have ended up in hospital."

Kath and her family survived with the help of donations from her local Citizens Advice Bureau and food bank. It took eight weeks for the decision to cut her Child Tax Credits to be overturned. She said of her experience: "I thought the system would protect me. I never thought I would be completely ignored. I feel I was let down hugely. My benefits are my safety net – if they're removed, how are families like ours meant to survive?"