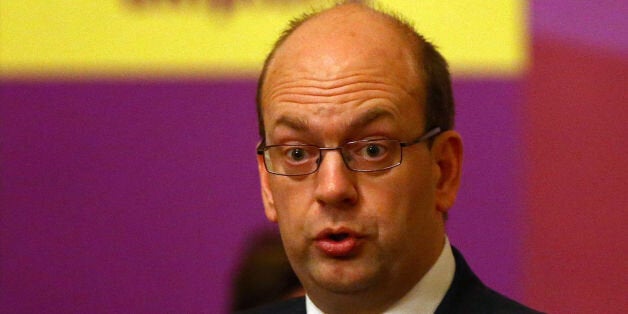 The British National Party has said that the Conservative's immigration policy is "identical" to their own after Ukip and the Tories were both accused of behaving like the far-right party.
As the battle for the crucial Rochester and Strood by-election gets nasty, Ukip candidate Mark Reckless accused his former Tory colleagues of being "BNP-lite" following a heated debate on migration in the UK.
The Tory defector, who is expected to reclaim his seat tomorrow, sparked a furious backlash Tuesday night after he suggested that some EU citizens who have settled in Britain should be repatriated - a suggestion compared by some to something out of "the BNP's manifesto."
Reckless' comments were met with disbelief and jeers as he addressed an audience of local residents at an ITV hustings, while reporters at the scene described it as "jaw-dropping."
But in a fierce rebuttal, Reckless claimed his words - which were filmed - had been "twisted", supposedly as some sort of Tory plot.
He then accused the Conservatives of being the party more like the BNP, condemning its "disgraceful" by-election literature that apparently blamed "uncontrolled immigration" for people not feeling safe walking down the street.
"I call on the Conservatives to disassociate themselves from this BNP-lite campaign," he said.
The BNP agree. The far-right party told The Huffington Post UK on Wednesday afternoon that the Tory party's rhetoric on immigration was "identical" to their own.
Here is how the two parties compare according to statements on their websites:
The Tory immigration policy is:

-Clamping down on benefits tourism and health tourism - so that the UK only welcomes those who want to work hard and contribute to our society

-Cutting net immigration from outside the EU to levels not seen since the late 1990s - to ease pressure on the schools and hospitals that all hardworking taxpayers rely on

-Introducing a new citizen test with British values at its heart

The BNP's immigration policy is:

- Stop ALL immigration

- Deport bogus asylum seekers, 'ethnic' criminals and Islamists

- End discrimination against the indigenous majority

- Halt the controlled media's deliberate promotion of miscegenation

- Research and fund a raft of measures to ensure that the indigenous people of our islands remain the majority

- Britain – love it, or leave it!
BNP spokesman Steve Squire said the mainstream political parties were "useless zombie parties". Squire also denied his party had a repatriation policy and said Ukip's immigration policy is racially biased against white Europeans.
Discussing his party's policy on immigration, Squire said Ukip, the Tories and Labour "all want to be like the BNP because we're right."
Unlike his own party, Ukip are racist he argued. "They're a bunch of 60 year old cowards," who are "picking on" Romanians and Bulgarians, Squire said. "Our policy is we don't discriminate, it's a fair and equal policy because for us it has always been about the sheer numbers. Not about where they're from or what colour they are."
The Tories, meanwhile, have been quick to condemn Reckless' comments, accusing him of trying to "grab a headline."
"Such comments are beneath contempt and show how desperate Mark Reckless is. He'll do anything to grab a headline and nothing to help the people of Rochester and Strood," a spokesman told The Huffington Post UK.
Last week, Reckless made a blistering attack against his former party's pledge to cut the level of net migration to the tens of thousands by next May - which looks increasingly likely to not be met.
He accused Tory ministers of trying to "squeeze [non-EU migrants] harder and harder" in order to try and get the number of net migrants down below the target.
But asked yesterday if his party would want to deport a plumber from Poland who owned a home and had children at local schools Reckless did not rule it out.
"I think in the near term we'd have to have a transitional period, and I think we should probably allow people who are currently here to have a work permit at least for a fixed period," he said.
Labour frontbencher Chris Bryant, who attended the debate said: "Jaws dropped on the floor when he said it. They are advocating repatriation, but it's not clear of whom.
"It sounds like a kangaroo court of Ukip officials would decide who stays and who goes. This shows how dangerous ill-thought out populism can be."
Others also voiced their disgust on social media:
Former home office minister Damian Green, the Conservative MP for Ashford, added that Reckless had come "perilously close" to a policy of repatriation.
"However strongly people feel about immigration this kind of policy is completely unacceptable," he said.
Yvette Cooper MP, Labour's Shadow Home Secretary, said that "once again, a UKIP candidate has let the mask slip to show the extent of their nasty and divisive views, and their outdated vision for Britain.
"To hear the language of repatriation coming from someone they hope will be their second MP is shameful.
"It's a policy that comes straight out of the last BNP manifesto and does not reflect British values. Be it Mark Reckless talking about repatriation, council candidates who attack Lenny Henry for the colour of his skin, or party thugs who overturn other parties' street stalls, nasty views are not far below the surface."
Related