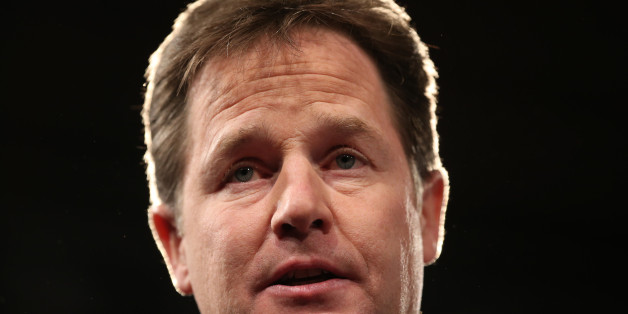 Peter Macdiarmid via Getty Images
MPs are used to receiving scathing retorts when they post anything earnest - or sometimes anything at all - on Twitter.
So when Nick Clegg sent a call-out for questions about family and parenting, he must have been prepared for some less than helpful responses. And he got some.
Tweet me your questions on childcare, paternity leave & family-friendly issues. I'll be answering them live in about 20 mins.

— Nick Clegg (@nick_clegg) November 17, 2014
@nick_clegg Will you be available for childcare when you're dismissed by the electorate in May?

— Chris Coulson (@chrisccoulson) November 17, 2014
@nick_clegg When the children of today are uni age, do you think they'll hate you as much as today's student aged generation do?

— . (@___Q__) November 17, 2014
.@nick_clegg where do you think, personally, your parents went wrong?

— Huw Lemmey (@spitzenprodukte) November 17, 2014
Luckily, there were plenty of serious responses as well, and the Deputy Prime Minister set about answering them.
.@JKOOMO @nick_clegg 15 hrs free help to all 3s and 4s, 15 hrs free help to all 2s from poorer families, tax free childcare next yr

— Nick Clegg (@nick_clegg) November 17, 2014
@VivaLaTisha Stone Age.

— Nick Clegg (@nick_clegg) November 17, 2014
Although some people, it seems, will never be impressed:
@nick_clegg You're still an arsehole!

— David Metcalfe (@DJMetcalfe) November 17, 2014
READ MORE:

Nick Clegg Is Plotting A Parenting 'Revolution'

Nick Clegg Reveals Flexible Parental Leave Will Be Introduced In 2015