The SNP could team up with parties such as Plaid Cymru and the Greens at Westminster to build a new alliance in a bid to bring an end to the "austerity economics" pursued by the major parties there, Scotland's new First Minister said.
Nicola Sturgeon, who was formally sworn in to the top job in Scottish politics on Thursday, revealed her party would "seek to build alliances with progressive forces across these islands" if there is a hung parliament after next May's general election.
The SNP has already set itself the target of winning the majority of Scottish MPs - which would almost certainly reduce Ed Miliband's chances of becoming the next prime minister. Ms Sturgeon told a rally of more than 10,000 people in Glasgow: "The old Westminster system doesn't work for Scotland, we know that all too well.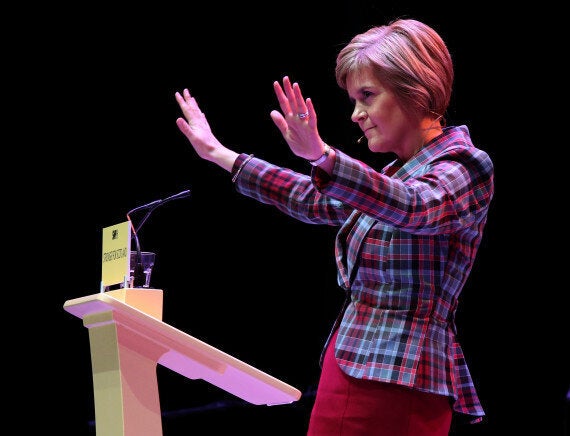 First Minister of Scotland Nicola Sturgeon speaks at the Nicola Sturgeon rally at the SSE Hydro in Glasgow, where she outlined her vision for the SNP and Scotland
"But you know what, it doesn't work for many other parties other UK either. So when we send a strong team of SNP MPs to Westminster, we will seek to build alliances with progressive forces across these islands." She stated: "My aim is that the SNP wins the general election in Scotland, and there is every prospect of a hung parliament at Westminster.
"The SNP would never act to put the Tories in power. In these circumstances, our constructive approach is that the SNP will seek common cause in a balanced parliament with progressive forces across the regions of England, Wales and Northern Ireland to rebalance the UK in political and economic terms. Scotland can play a leading role in this process, and bring an end to the failed austerity economics which has gripped the front benches of the Tories, Labour and Lib Dems at Westminster.
"In turn, we can build wider support for some of Scotland's priorities - such as achieving the powers we were promised by the No campaign, and preventing a new generation of Trident nuclear weapons being dumped on the Clyde." She added: "That is the outward-looking, forward-looking perspective we will bring to the general election campaign - which I believe will carry huge support in Scotland, and be welcomed by most people south of the border too."
She highlighted the possibility of SNP MPs working with Welsh nationalists in Plaid Cymru and the Green Party at Westminster. With both these parties led by women - Leanne Wood of Plaid Cymru and Natalie Bennett for the Greens - Ms Sturgeon said: "Westminster be warned, the age of female politics is here and it's not going away."
Ms Sturgeon spoke out at a massive rally staged by the SNP at the SSE Hydro in Glasgow - a venue which normally plays host to rock and pop stars such as Kylie Minogue and Lady Gaga. Since the referendum the party's membership has grown from 25,000 to more than 92,000, with Ms Sturgeon stating this was more than the combined total for the Liberal Democrats and Ukip across the UK.
"We are incredible, dynamic movement for change in our country," she declared. "Truly a national movement seeking to build a renewed and reinvigorated Scotland." She added: "We have reached into every workplace, every street, every community, every faith group, every pub in our country. We are truly, truly the national party of Scotland."
Ms Sturgeon will announce her first legislative programme to Holyrood in just a few days time. Ahead of that she set out some of the priorities for her government, saying: "As First Minister I shall govern for each and every part of this great country of ours, work to empower our great cities, renew and reinvent our towns and to bring a new spirit to all of our communities.
"Land reform will mean much needed change in the Highlands and other rural areas. For all there will be radical social protection, a huge increase in free childcare, helping parents return to work and giving their kids the best start in life. New funds for our NHS, mitigation of the hated 'bedroom tax' and a pledge that wherever and whenever we can this party, this Government will work to protect the poor, the disabled and the vulnerable.
"This is social democracy in action, progressive, vibrant and with purpose." She said: "The desire to see positive change, social justice, burns in this country. By its own passion and belief in itself this ancient nation has been made young again."
After Westminster leaders vowed substantial new powers would be transferred to Holyrood if Scotland voted to stay in the UK, Ms Sturgeon said her party would work to ensure this was delivered.
To that end the First Minister said: "Victory for the SNP in the Westminster election next May will keep alive that dream of a better country." She told the audience: "If the Westminster parties win they will go back to business as usual, the promise of more powers will evaporate, the vow will be broken.
"But every SNP MP we elect will turn up the pressure for the delivery of substantial new powers. A vote for the SNP is a vote for Scotland's interests. It is as simple as that. So I humbly and respectfully ask Labour supports to lend us their vote, because that way and only that way will they win the socially just country that we all seek."
More powers for Holyrood would "give us more leverage to make this country a better place," Ms Sturgeon added. But she said: "There is still only one master key which unlocks all of the doors to a better, fairer, greener and more prosperous Scotland, and that key is independence."
She added: "We are already a better nation because of the referendum. Now let's work together and move towards the Scotland we seek, an even better Scotland."
Former first minster Alex Salmond also spoke at the rally, hailing his successor as "the most brilliant young woman in Scottish politics". Both he and new SNP depute leader Stewart Hosie MP said the party stressed the need to ensure Westminster delivers on its promise of more devolution for Scotland. Mr Salmond said: "It's our task as a party to make sure the vow is delivered, that Scotland gets what it was promised only two months ago."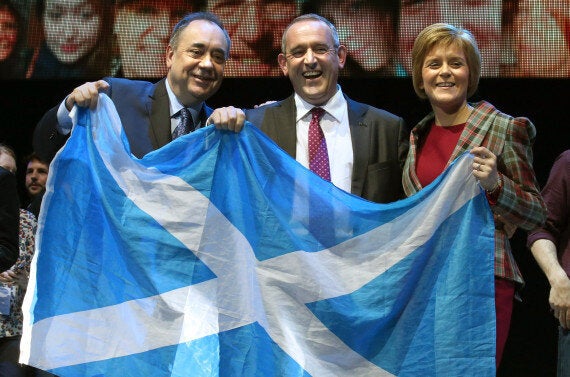 First Minister of Scotland Nicola Sturgeon with with SNP deputy Leader Stuart Hosie and former First Minister Alex Salmond (left) on stage during the Nicola Sturgeon rally at the SSE Hydro in Glasgow
Mr Hosie, who was last week elected depute leader, said next year's general election "will not be a re-run of the referendum, it will be a chance to hold Westminster to account, to hold their feet to the fire to ensure they keep the promise, fulfil the pledge, honour the vow they made to the Scottish people".
He added: "The only way to do that is to deliver a record number of independence supporting MPs next year. A record number of SNP MPs next year will make us the guarantors of the new powers for Scotland." Scotland needed more powers to "improve the economy and the life chances of the Scottish people," he said.
"If we do not take decisions here ourselves they will be taken for us somewhere else by other people, and we've seen what that means - an austerity programme from an austerity government which has failed to balance the books so far and is intent on balancing the books on the back of the poor. We reject that, that is wrong."
Mr Hosie added: "We need to win next year, we need to harness and turn that desire for change into votes for change."
Popular in the Community