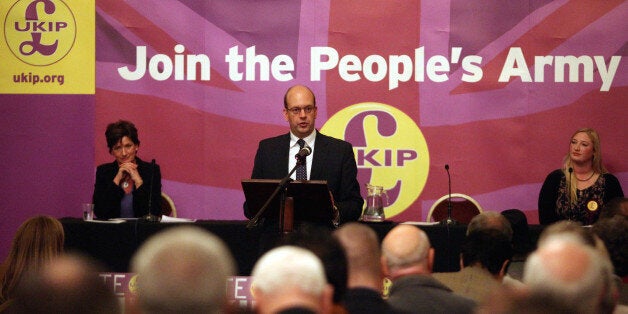 Ukip's latest MP Mark Reckless has suggested he wasn't overly happy about his party's policy on migrants admitting it was "changed" after a furious row erupted over comments he made about turfing European migrants out of the UK in a disastrous pre-election hustings.
Now, in a slightly awkward turn of events, the newly re-elected MP has now admitted that Farage changed the controversial proposed policy after the debate in a move that has left him "sore".
"Until Nigel changed it on Wednesday, the policy of the party was everyone can stay for the transitional period, no doubt about that, that there would then be a permanent arrangement which would be part of the EU negotiation," he told the Times.
"The policy changed on Wednesday and I'm a bit sore about how I sort of came out of that, because I don't actually think I said I was only talking about welcoming people of particular circumstances.
"I've always thought we should allow people to stay permanently, regardless, because that's the right thing to do by them and it's also the right thing for our party in terms of how we want to look to the country."
Asked on Wednesday if his party would want to deport a plumber from Poland who owned a home and had children at local schools, Reckless did not rule it out.
"I think in the near term we'd have to have a transitional period, and I think we should probably allow people who are currently here to have a work permit at least for a fixed period," he said during the debate, which was aired on local television.
As the audience jeered, he added that this would be a case Ukip "would look sympathetically at."
Farage later said he had been referring to the negotiations which would take place during a "transitional period" between a vote to leave the EU and actual withdrawal, while Mr Reckless said his words had been "twisted".
After Reckless was sworn in as Ukip's second MP on Friday, the veteran Labour backbencher tore into him during a debate on the National Health Service.
"We dragged the National Health Service from the depths of degradation," he said. "I've got a United Nations heart bypass to prove it and it was done by a Syrian cardiologist, a Malaysian surgeon, a Dutch doctor and a Nigerian registrar."
To loud shouts from his fellow Labour MPs, Skinner went on to savage Carswell and Reckless for their "talk about sending them [foreigners] back".
Meanwhile, as the Tories continue to lick their wounds after another humiliating Ukip defeat, Farage has said he would be "very surprised" if more Tory MPs did not now shift the allegiance to his party.
David Cameron has vowed to win back Rochester and Strood for the Conservatives after they suffered their second damaging by-election defeat at the hands of Ukip in the space of six weeks.
But Farage has warned that he has been in talks with both Conservative and Labour MPs considering whether to jump ship and join his party in the run-up to the general election next year.
Farage said he would "love these by-elections to continue forever".
Among the Conservative high command, there was some relief that the final margin of defeat was narrower than many commentators had been predicting. And in the aftermath of the vote, a number of prominent Tory Eurosceptics - including John Baron, Philip Davies and Stewart Jackson - came out to declare their continuing allegiance to the party.
But the Rochester result was nevertheless another wounding blow for Mr Cameron, following the victory of Mr Reckless's fellow Conservative defector Douglas Carswell in Clacton, Essex.
Reckless gained 16,867 votes, 2,920 more than Conservative Kelly Tolhurst's 13,947, with Labour's Naushabah Khan on 6,713 - ahead of the Green Party.
Conservative Chief Whip Michael Gove has insisted he remained "100% certain" there would be no more defections to Ukip, although Leader of the Commons William Hague sounded less sure, saying: "I don't have a crystal ball about what every MP will do."
Carswell, the party's first directly eleted MP, has predicted UKIP could win dozens more seats in the May election - replacing Labour as the main opposition.
"If Ukip can win in Rochester, the 271st most Ukip-friendly seat in the country, Ukip can win in dozens of other seats too," he said.
Farage yesterday said the result - in Ukip's 271st target seat - showed that his party was now capable of winning anywhere in the country.
"We have beaten the governing party of the day in this sort of life-and-death struggle. It represents a huge, huge victory," he told Sky News.
"I would be very surprised, given where we are, if there weren't more defections between now and the next general election.
"They won't happen today, they won't happen tomorrow, but over the course of the next few weeks people will be thinking and perhaps some of them saying to themselves 'You know what, I have got a better chance of winning on a purple ticket than I have on a blue ticket'."